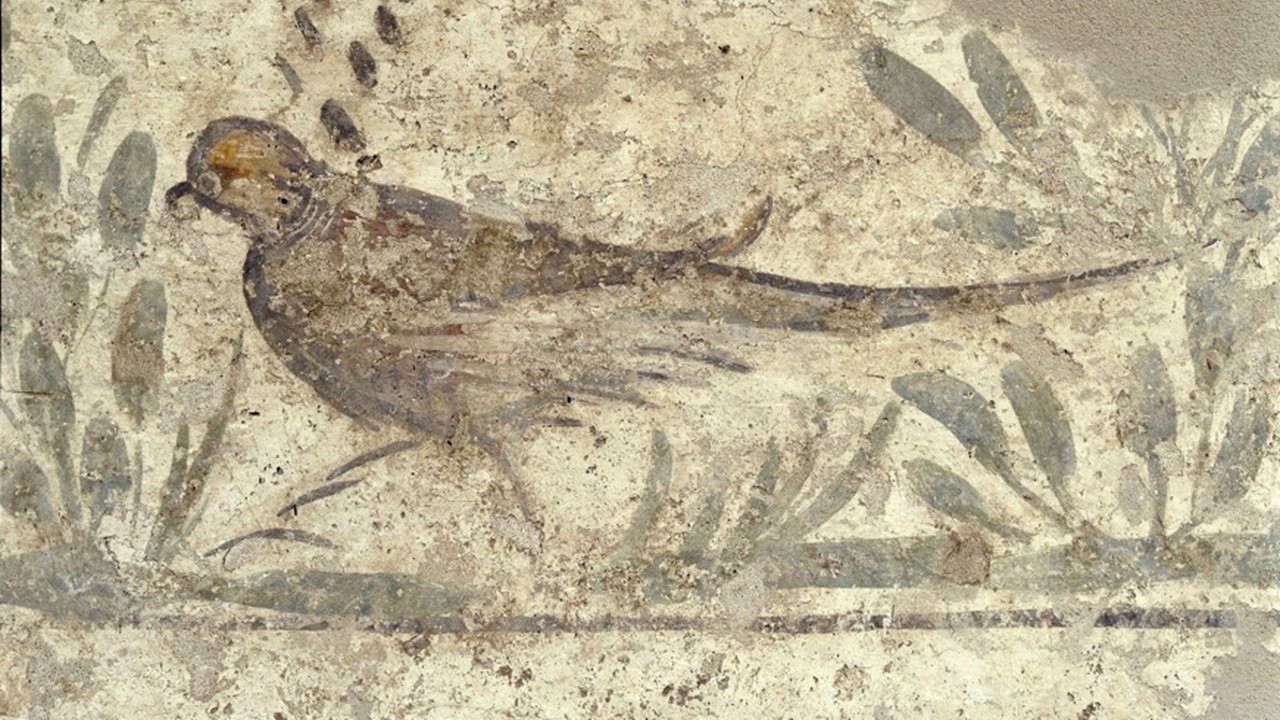 "A Work of Art which did not begin in Emotion is not Art" Paul Cezanne said… and I think of him every time I visit Room 3, "From the Elysian Fields to the Christian Paradise" in the Museum of Byzantine Culture in Thessaloniki, to admire the exhibited Early Christian Funerary Paintings. http://mbp.gr/en/room-3-elysian-fields-christian-paradise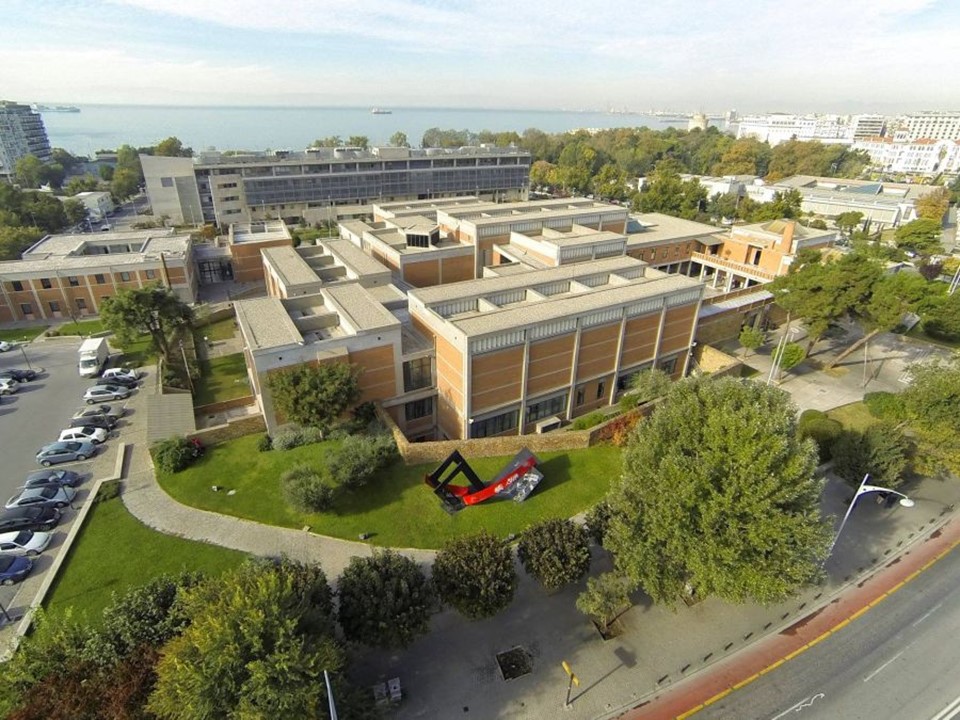 Visiting the Thessaloniki Museum of Byzantine Culture is a true cultural experience. For years now, I have visited it with my Pinewood students, trying to instil upon them the fine essence of Byzantine art and culture. The actual Museum building comes to my assistance… every time! In 1989, the Museum's architect, Kyriakos Krokos, wrote: I wanted a space within which movement would create a feeling of freedom, stirring up the senses, and where the exhibit would be a surprise within the movement. Walking through the Museum with my students, one surprise surpasses the other. The floor and wall mosaics in the first Early Christian Period Room, attract everybody's attention, the Byzantine tunics with their fine embroideries are eye-catching, the icons and the intricately illuminated manuscript in the Middle Byzantine Period Room are definitely noticed. Finally, as we are about to leave, one last surprise: a beautiful Post-Byzantine golden eikonostaasi, one last startling work of art to ponder. After each visit, my students, pencils, notebooks and cameras, in hand, surprised and dazzled, come one step closer to understanding our Byzantine heritage! What more can I ask…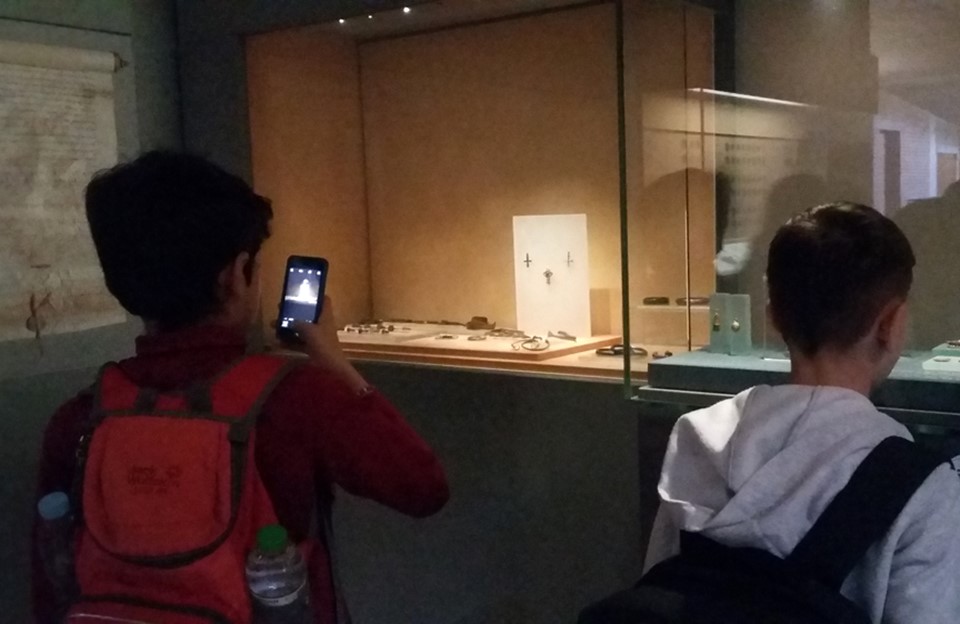 When I visit the Museum of Byzantine Culture alone and am in a mood, I cannot fully describe, my steps take me directly to Room 3: "From the Elysian Fields to the Christian Paradise." Dimly lit, usually very quiet, full of elusive treasures to discover, this is my place, the Room, I love…
Room 3: "From the Elysian Fields to the Christian Paradise" was the first Exhibition Room in the Museum to open, back on the 29th of March 1997. It was the result of an EU funded Research Program,  titled "The Transformation of the Roman World AD 400-900." As the title of the Exhibition Room connotates, this is an area dedicated to afterlife during Late Antiquity. All exhibited items come from tombs in cemeteries excavated outside the Walls of Thessaloniki. They consist of funerary gifts, inscriptions, and items of worship of the dead. According to the Museum experts "The exhibit is complete with a series of extremely rare and unique funerary paintings. These illustrate in an exceptional way the transition from the Late Antiquity concept of the afterlife into a heavenly place of material prosperity, along with the shift from the funerary customs and decoration of Antiquity that still survives to the final triumph of the Cross with the emergence of the New Religion and the establishment of the belief for the Last Judgment and the Resurrection of the Dead." http://mbp.gr/en/room-3-elysian-fields-christian-paradise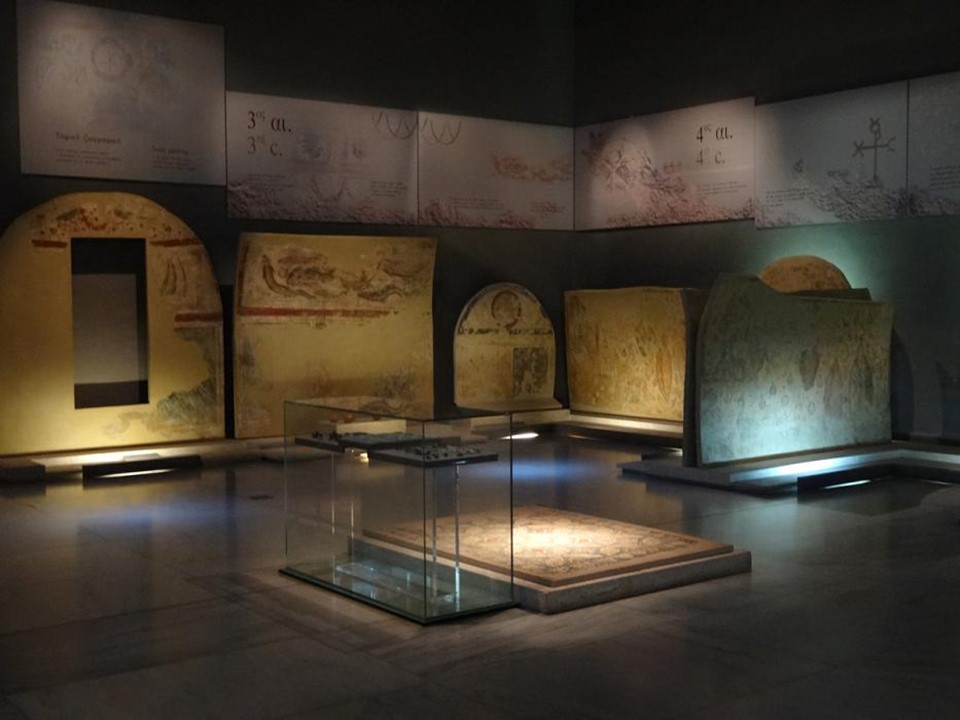 It is these unique funerary paintings I seek out every time I visit my favourite Museum in Thessaloniki. They carry Hellenistic Naturalism and Roman Verism, traditional Late Antique or novel Christian subject matter, higher or poorer quality craftsmanship… all together, these amazing frescoes transfer me to an exciting world of unwavering changes and exciting cultural developments… the world of the Early Christian period and the artistic milieu of Thessaloniki, a city worth visiting!
Articles you might find interesting about Early Christian Funerary Paintings in Thessaloniki:    https://www.academia.edu/24852527/Iconographic_Programs_of_the_Early_Christian_Tombs_of_Thessaloniki_in_the_Context_of_the_Contemporary_Traditions_of_the_Funerary_Art_English_translation_     and    https://bookonlime.ru/lecture/8-early-christian-funerary-painting-thessaloniki-macedonian-and-roman-traditions    and    https://www.didaktorika.gr/eadd/handle/10442/13516
For a Student Activity on Early Christian Funerary Painting, please… Click HERE!