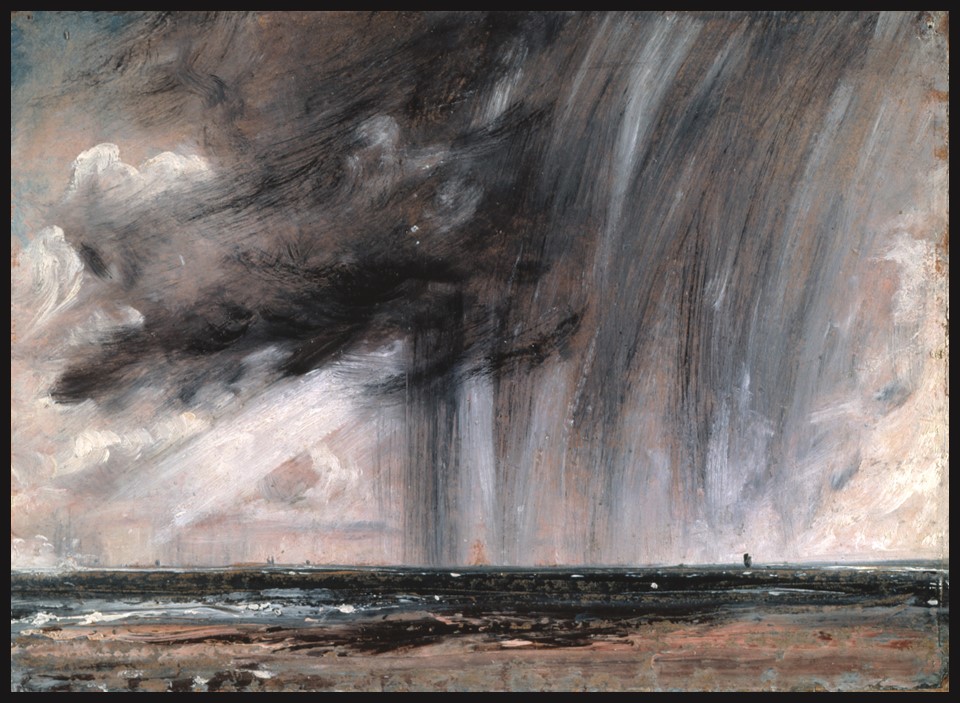 …Look! look! that livid flash! / And instantly follows the rattling thunder, / As if some cloud-crag, split asunder, / Fell, splintering with a ruinous crash, / On the Earth, which crouches in silence under; / And now a solid gray wall of rain / Shuts off the landscape, mile by mile; / For a breath's space I see the blue wood again, / And, ere the next heart-beat, the wind-hurled pile… writes James Russell Lowell and the Seascape Study with Rain Cloud by John Constable in the Royal Academy of Arts comes to my mind. https://www.gutenberg.org/files/38520/38520-h/38520-h.htm, page 97
John Constable, a British landscape painter who was known for his beautiful paintings of the English countryside, was also fond of rendering the dramatic English sky. In fact, in a letter to fellow artist and friend John Fisher, he wrote back in 1821… It will be difficult to name a class of landscape in which the sky is not the keynote, the standard of scale, and the chief organ of sentiment. The sky is the source of light in nature, and it governs everything. If you paint the colours of the sky and reflected light, you cannot do otherwise than produce beautiful pictures. https://artsandculture.google.com/asset/clouds-john-constable/IwH3AnjdEZxMEg
Constable believed that clouds were an essential element in creating a sense of atmosphere and mood in landscape paintings. He studied them carefully and believed that they were constantly changing, creating an ever-evolving and dynamic landscape. In his paintings, he often depicted large, billowing clouds that filled the sky, adding drama and depth to his compositions. He used a variety of techniques to capture the fleeting nature of clouds, including layering paint and using bold brushstrokes to create texture and movement. His works continue to inspire artists today, and his philosophy on the importance of capturing the ever-changing beauty of nature, including clouds, remains relevant.
Constable's love for clouds is evident in his many paintings, including Seascape Study with Rain Cloud, a painting created between 1822 and 1824 in Brighton, and currently held in the collection of the Royal Academy of Arts in London. According to the Museum experts… This is one of the most dramatic studies of sea and sky that Constable sketched at Brighton. The thunderous black clouds and torrential downpour have been painted rapidly to capture the fleeting nature of the scene. https://www.royalacademy.org.uk/art-artists/work-of-art/rainstorm-over-the-sea
The painting depicts a seascape with a large rain cloud looming in the distance. The sea is choppy, and the waves are rough, with white caps visible on the surface of the water. The sky is dark and moody, with the rain cloud dominating the upper half of the painting. The lower half of the painting features the sea and the horizon, with a few distant boats visible on the horizon.
The painting is a study of mood and atmosphere, with Constable expertly capturing the power of nature. The sky has been created with a series of hasty sweeps of the brush. The surface of the sea has been given emphasis by a number of horizontal incisions perhaps with the end of the brush. The dark, stormy sky and the shaft of sunlight suddenly breaking through the glowering black clouds is beautiful, uplifting… sublime! https://www.royalacademy.org.uk/art-artists/work-of-art/rainstorm-over-the-sea
Seascape Study with Rain Cloud by John Constable is considered to be one of the artist's masterpieces and a prime example of his ability to capture the beauty and power of nature in his paintings. It is a significant work in the history of British landscape painting and remains a popular piece in the Royal Academy's collection.
For a Student Activity, please… Check HERE!