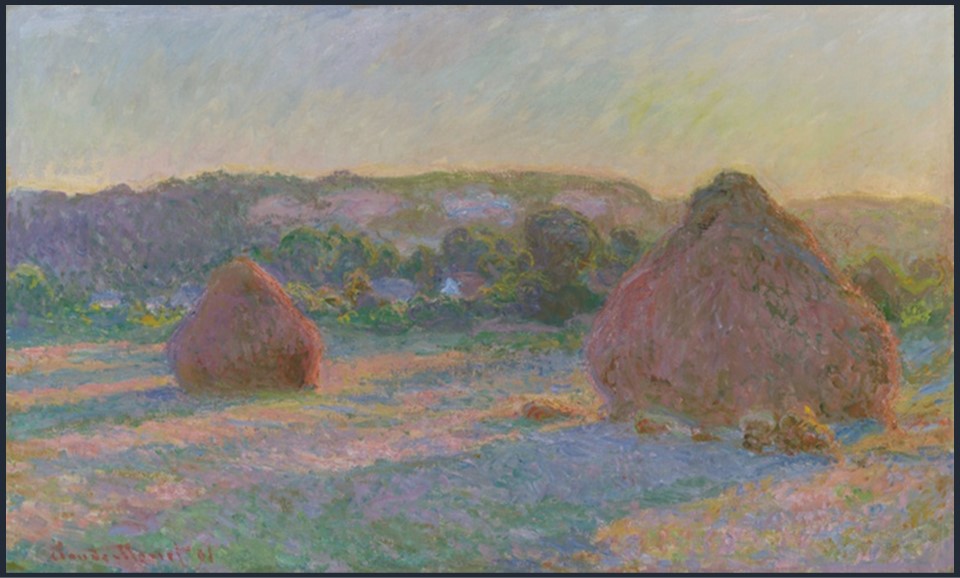 My new BLOG POST title,  Les Meules à Giverny simply means The Stacks at Giverny,  refers to twenty-five paintings that Claude Monet began near the end of the summer, the month of August, of 1890, and continued through the following spring… Information about Les Meules à Giverny comes from Monet Paintings and Drawings at the Art Institute of Chicago | Cats. 27–33  Stacks of Wheat, 1890/91 (artic.edu) Cats. 27–33  Stacks of Wheat, 1890/91, and Monet's Haystacks Reconsidered by Richard R. Brettell, Art Institute of Chicago Museum Studies, Vol. 11, No. 1 (Autumn, 1984), pp. 4-21 (19 pages) https://www.jstor.org/stable/4115885?read-now=1#page_scan_tab_contents, and https://www.sothebys.com/en/auctions/ecatalogue/2019/impressionist-modern-art-evening-n10067/lot.8.html
Claude Monet painted his famous series Les Meules, or Stacks of Wheat, also commonly referred to as Haystacks series, in his house at Giverny in France, where he saw large stacks of wheat in his neighbor's farm, a field adjacent to his property. The decade starting in 1890 was a happy one for the artist. He turned fifty, he was established as an artist and was considered to be the leader of the Impressionist movement. He bought the house in Giverny, a beautiful place he had rented since 1883, a life-long source of inspiration, and a property and gardens he loved. It was also in 1890 that he began work on his famous Meules series.
I'm working away at a series of different effects (of stacks), but at this time of year, the sun sets so quickly that I can't keep up with it… Monet explained to his friend Gustave Geffroy, journalist, art critic, historian, and novelist, on October 7, 1890. I'm becoming so slow in my work that it makes me despair, but the further I go, the better I see that it takes a great deal of work to succeed in rendering what I want to render: 'instantaneity,' above all the enveloppe, the same light diffused over everything, and I'm more than ever disgusted at things that come easily, at the first attempt… he continued.
Claude Monet first exhibited his series of paintings titled Les Meules, in Paris on the 4th of May, 1891. The exhibition, along with seven more paintings by the artist, took place at the Galerie Durand-Ruel, a prominent art gallery in the city. Fifteen paintings of the 'Haystacks'  series were placed together and hung in the same small Gallery room. The exhibition of Monet's 'Haystacks' series was met with a positive critical response, and it achieved significant financial success.
Let me present you with two 1891 critical reviews of Les Meules à Giverny simply means The Stacks at Giverny.
The famed art critic, gallery director, art collector, and anarchist, Felix Fénéon, the man who introduced the term Neo-Impressionist, wrote about Monet in rhapsodic prose… When did Monet's colors ever come together in more harmonious clamor, with more sparkling impetus? It was the evening sun that most exalted Grainstacks: in summer they were haloed in purple flakes of ire; in winter, their phosphorescent shadows rippled in the sun, and, a sudden frost enameling them blue, they glittered on a sky first pink, then gold (F. Fénéon quoted in D. Wildenstein, Monet or the Triumph of Impressionism, Cologne, 1996, pp. 279-80).
Les Meules à Giverny by Claude Monet made the critic Gustave Geffroy wonder if Monet, a dear friend of his, saw the poetry of the universe in the restricted space of a field… I love it!
Today, experts on Claude Monet's achievements, and particularly the famous Meules, examine the series as a whole and draw favorable conclusions about the artist's ability in capturing the transient nature of light, the ever-changing atmosphere, and the passage of time, and Monet's mastery in depicting the subtle variations of color and light. The general consensus is that Monet skillfully depicted the interplay between sunlight and shadows, creating a luminous quality in the 'Heystacks'paintings. His use of broken color and loose brushwork allows the viewer's eye to blend the colors optically, resulting in a vibrant and harmonious visual experience.
I particularly like how Paul Hays Tucker describes Monet's organization… The compositions are all strongly geometric—the fields, hills, and sky being reduced to parallel bands that in most cases extend across the entire canvas, with the fields occupying approximately half the surface, and the hills and sky, a quarter each. When fifteen of these canvases were exhibited at Durand-Ruel's in Paris between May 4 and May 18, 1891, their impact was as forceful as their elemental motifs and the show was an enormous success…. In moving from one canvas to another, one senses not only the many artful choices Monet made, but also his deep engagement with the stacks themselves. They are never overwhelmed by the light or obscured by the atmosphere, and thus they never lose their identity as forms. Monet even goes so far as to outline them, often in bold colors, and to define their conical tops by rivulets of light that run down their undulating edges. Although inert, the stacks seem to be invested with great feeling… P. H. Tucker, Monet in the '90s, The Series Paintings (exhibition catalog), Museum of Fine Arts, Boston, 1989, pp. 77 & 82 https://archive.org/details/monetin90sseries00tuck
For a Student Activity on Les Meules à Giverny, simply means The Stacks at Giverny, please… Check HERE!