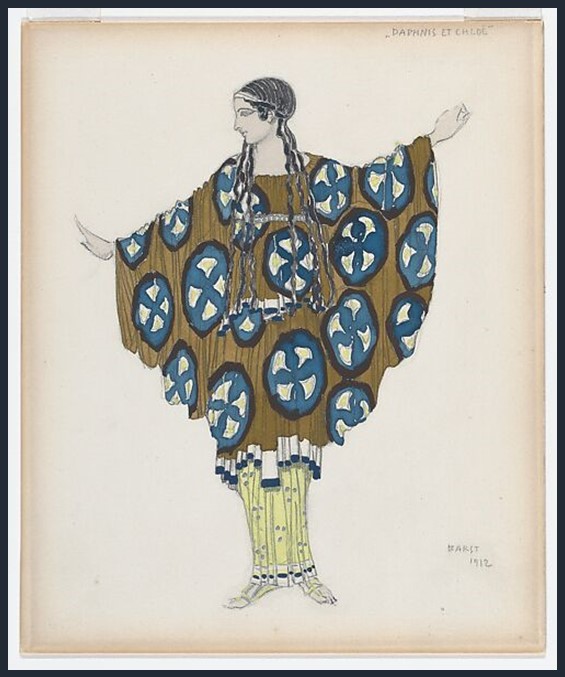 It is goodbye to scenery designed by a painter blindly subjected to one part of the work, to costumes made by any old dressmaker who strikes a false and foreign note in the production; it is goodbye to the kind of acting, movements, false notes and that terrible, purely literary wealth of details which make modern theatrical production a collection of tiny impressions, without that unique simplicity which emanates from a true work of art… wrote Léon Bakst… and my students loved him!https://www.vam.ac.uk/articles/l%C3%A9on-bakst-design-for-the-ballet
Léon Bakst (Lev Samoylovich Rosenberg, 1866-1924) was a Russian artist and designer, best known for his work in the fields of theatrical and costume design. He was born in Grodno, now in modern-day Belarus, and studied at the St. Petersburg Academy of Arts. Bakst's most significant contributions were to the Diaghilev Ballets Russes, a Russian ballet company that performed throughout Europe in the early 20th century. Bakst designed sets and costumes for many of the company's most famous productions, including "The Firebird," "Petrouchka," and "The Rite of Spring." In addition to his work with the Ballets Russes, Bakst also designed costumes for the Moscow Art Theatre and for various operas and plays. He was also an accomplished painter, creating works in a variety of styles including Art Nouveau, Symbolism, Art Deco, and Orientalism.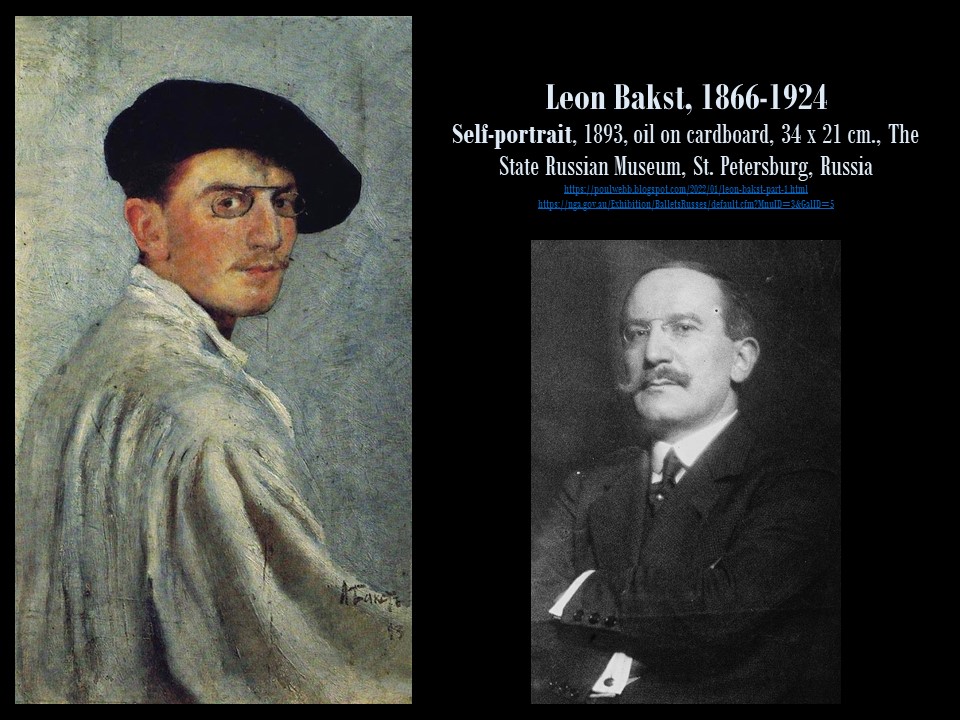 I am intrigued by the artist's research into the art of ancient Greece which began in St Petersburg when preparing designs for productions of the Greek tragedies Hippolytus, Antigone, and Oedipus at Colonus in 1902 and 1904. It was apparently further enhanced in 1907 when Léon Bakst visited Greece with Valentin Serov, a journey which 'had the most profound effect on the artist as it radically affected his palette and inspired his decorative imagination΄. In the Archaeological Museum in Olympia, looking at the statues of female figures, Bakst wrote… I want terribly to run my hand over the marble, to find out what Niobe's(?) shoulders are like… https://hyperallergic.com/501125/hymn-to-apollo-ancient-greek-art-ballet-russes/ and https://poulwebb.blogspot.com/2022/01/leon-bakst-part-1.html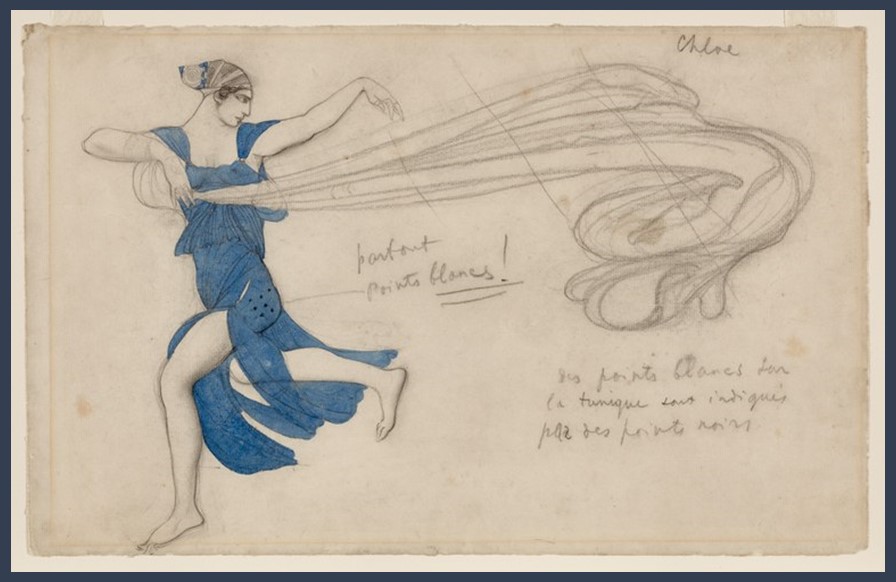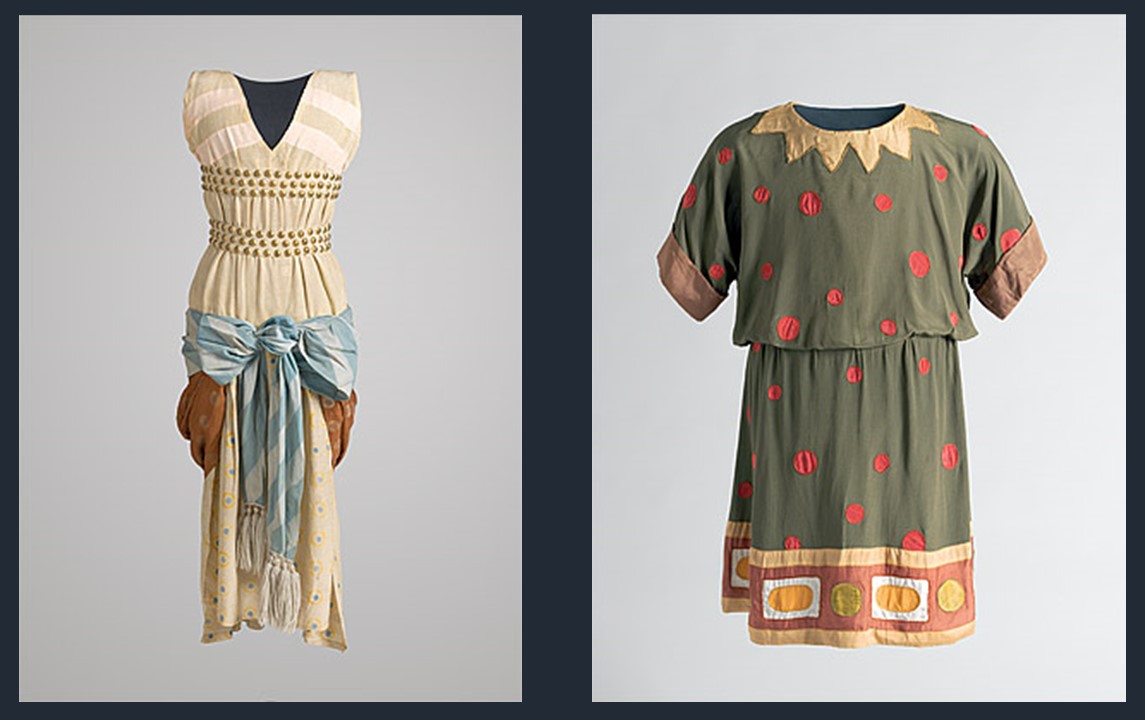 The artist's talent was boundless, wrote the State Tretyakov Gallery experts, reaching the very top in every field of art he touched upon – be it stage design, costume designs, graphics, or painting. There was much to explore… but my 4-Steps to Success Lesson Plan kept me… on track! https://artsandculture.google.com/story/the-collector-of-success-leon-bakst/VQUBSXEITyGILA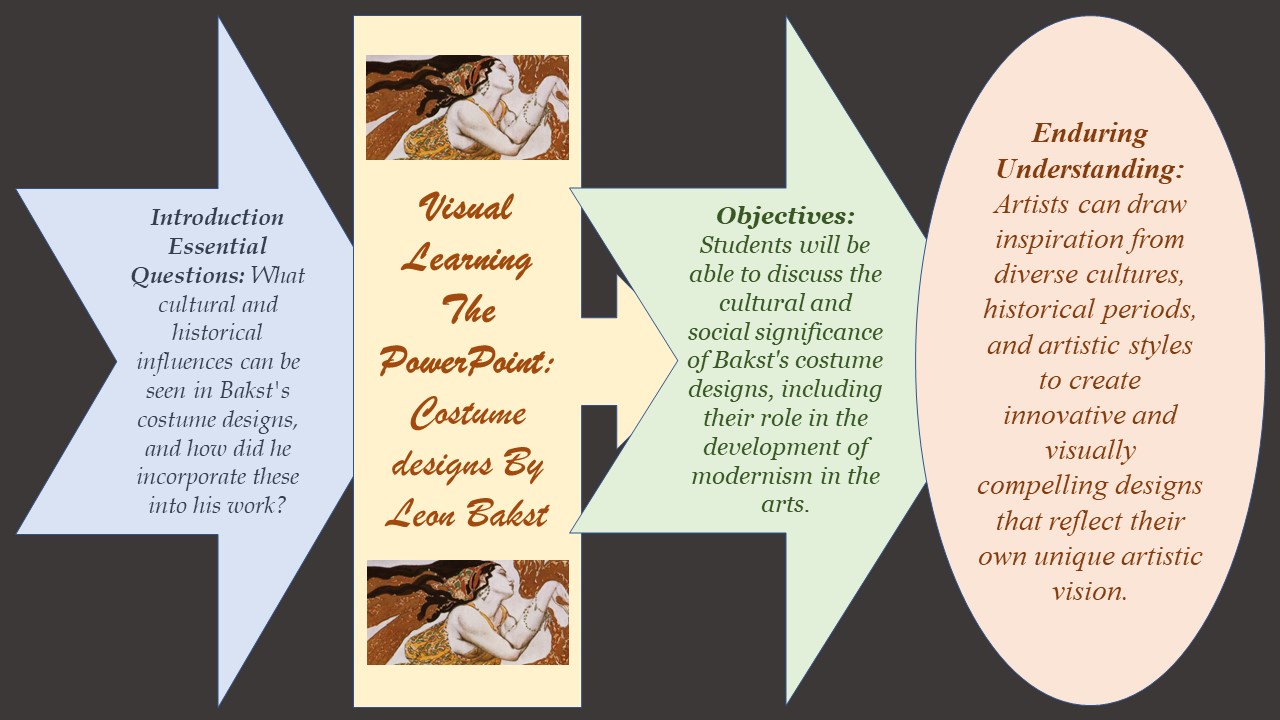 My students were enthused by Bakst's style characterized by bold colors, sinuous lines, intricate patterns, and the use of exotic motifs. They were fascinated by his ability to draw inspiration from Russian folk art, Middle Eastern and East Asian cultures, and Classical Antiquity. His projects, they understood, were revolutionary at the time, and helped to establish a new standard for theatrical design. They were impressed by how contemporary his oeuvre appears and how his work continues to inspire designers and artists today.
A RWAP Student Activity (RWAP stands for: Research – Writing – Art – Project) in a PowerPoint format with eighteen examples of Designs and actual Costumes by Léon Bakst … HERE!
For a PowerPoint, please… Check https://www.teachercurator.com/wp-content/uploads/2023/05/LBakst-Art-PP.pdf