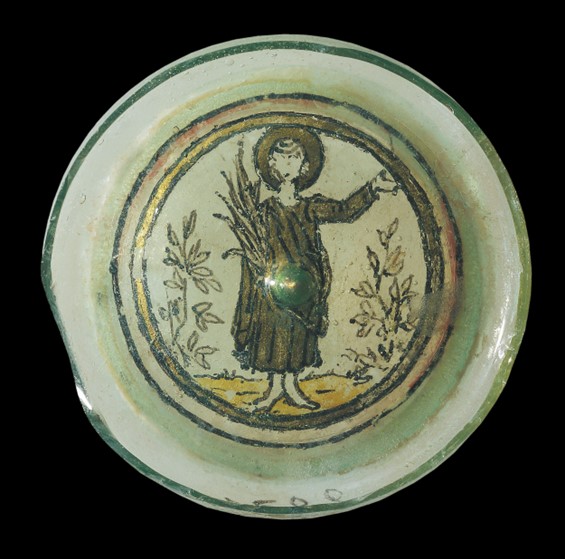 The Gold Sandwich-Glass Vase at the Canellopoulos Museum in Athens is a truly rare and precious exhibit. Also referred to as Verre Églomisé, Gold Sandwich-Glass is a decorative technique with a rich history dating back to antiquity, used to craft stunning and opulent objects. The example on display at the Canellopoulos Museum stands as a unique treasure in Greece, inviting keen exploration and admiration!
Displayed at the Canellopoulos Museum in Athens, Greece, this remarkable piece is organized within a tondo, defined by concentric rings, and embellished with gold leaf in the space between the innermost pair. The composition takes on a triangular form, exhibiting simplicity, stability, and balance. Positioned at the very center of the tondo is a male figure, devoid of a beard but adorned with a luminous halo. In his lowered right hand, he clasps a palm branch, a Christian symbol of victory over death, while his left hand extends upward in a gesture of acclamation. The figure, portrayed in a strikingly naturalistic manner, stands upright and is flanked by laurel bushes on either side. The combination of brown hues and gold against a background of transparent glass creates an aethereal, and delicate composition, suitable for a religious shallow bowl (phiale).
According to Constantine Scampavias, the Canellopoulos Museum expert… Although the piece is not inscribed, the halo and the palm branch (as well as the two bushes if they are laurels) identify the figure as a Christian martyr. Perhaps it is the martyr Gereon, whose cult was widespread in the Rhineland and particularly in Cologne, where this bowl was possibly made. https://camu.gr/en/item/pythmenas-amfyalou-chrysografimenou-angeiou/
The Gold Sandwich-Glass technique was particularly popular throughout the Roman Empire during the 4th century AD. Images in this technique were etched in gold leaf and then, the leaf was fused between two layers of glass… like a sandwich! Items of Gold Glass were usually created into circular bottoms of luxurious drinking vessels since the Hellenistic period. A popular practice for the Romans of the later period, was to cut out the Gold Glass decorated roundel of a cup and cemented it to the wall of a catacomb Grave to serve as a grave marker for the small recesses where bodies were buried. In Rome, where this practice was particularly popular, archaeologists discovered over 500 pieces of Gold Glass used in this way. Decoration themes for Gold Sandwich-Glass items vary from pagan mythology and portraits to purely Jewish or Christian imagery. Chapter 13 Making Late Antique Gold Glass by Daniel Thomas Howells, pp.112-120https://webarchive.nationalarchives.gov.uk/20190801105206/https://www.britishmuseum.org/research/publications/research_publications_series.aspx#AllResearchPublications
For a PowerPoint on 10 artifacts of Gold Sandwich-Grass, please… Check HERE!
A Teacher Curator POST, on another famous Gold Sandwich-Glass roundel, titled Portrait Medallion of Gennadios… https://www.teachercurator.com/uncategorized/portrait-medallion-of-gennadios/?fbclid=IwAR2gufFAvOMcFrz9j2sGH55wP-ajBQUA4ELpGgXpTpp-SRTXMIzyr0GUVTw
A wonderful Video on the Gold Sandwich-Glass making technique created by the Corning Museum of Glass https://www.youtube.com/watch?v=ALNMn6DGQJg