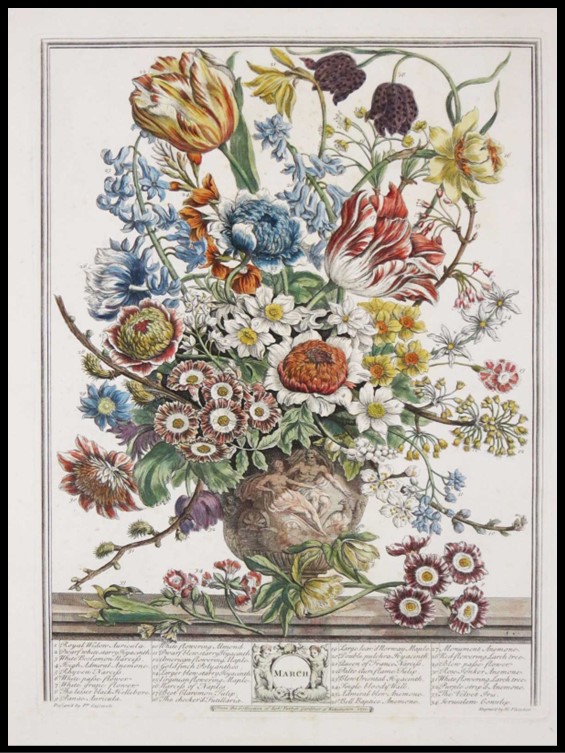 Snowy, Flowy, Blowy,     /     Showery, Flowery, Bowery,     /     Hoppy, Croppy, Droppy,     /     Breezy, Sneezy, Freezy… wrote George Ellis, best known as a satirical writer in both prose and verse, and I think of The Twelve Months of Flowers, March… the wonderful set of hand coloured engravings masterminded by Pieter Casteels III, Henry Fletcher, and Robert Furber! https://allpoetry.com/The-Twelve-Months
Who was Pieter Casteels III? Pieter Casteels III was a leading Flemish artist of lavish Still Life paintings. He was born in Antwerp, the son of Pieter Casteels II, a painter of landscapes and history paintings. He trained with his father, but soon, as early as 1708, he traveled to England where he established himself first as a copyist of Old Masters, and later, after 1717, as a successful painter of exotic Still Life paintings of flowers, game, and birds that chiefly served a decorative purpose, as over-door and over-chimney pieces of ornamentation. In England, Pieter became an active participant in London's artistic community, subscribing to the Kneller Academy of Painting and Drawing in 1711 and becoming a member of the Rose and Crown Club. https://en.artsdot.com/@@/A2686B-Pieter-Casteels-Iii-Bouquet-of-flowers-in-an-urn-on-postamente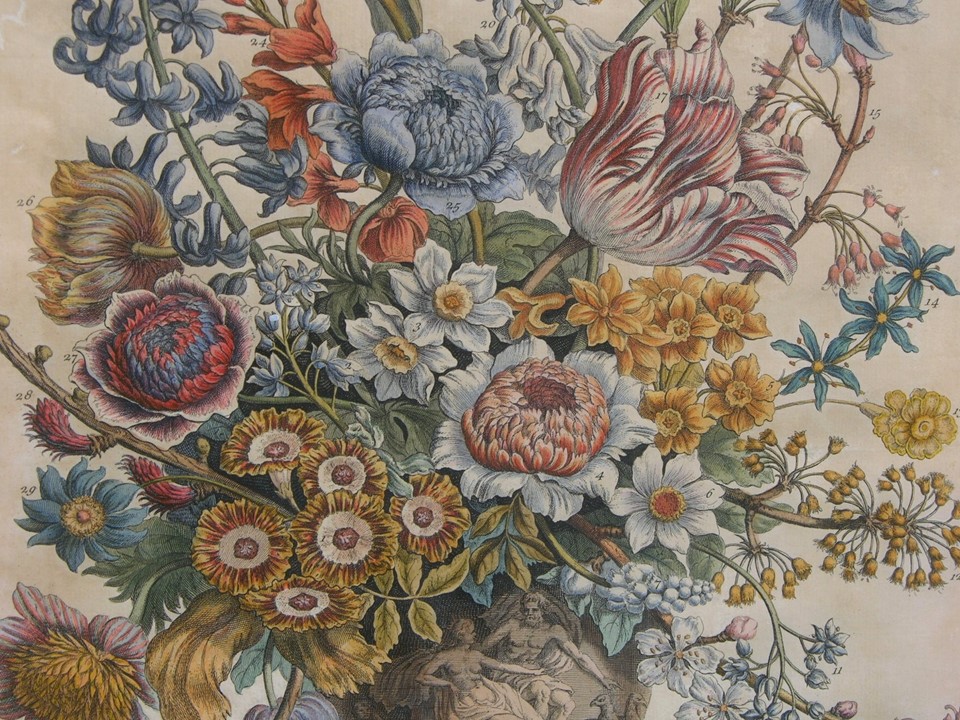 Who was Henry Fletcher? Fletcher was a London-based engraver possessing artistic merit. He excelled as an engraver of flowers, notably The Twelve Months of Flowers and The Twelve Months of Fruits, engraved from drawings by Pieter Casteels, made in 1730 for a publication by Robert Furber, the well-known gardener. His vignettes for the first edition of Voltaire's Henriade, published in London in 1728, were equally noted by the art critics of the time, along with his set of Views of Venice, engraved after Canaletto. https://en.wikipedia.org/wiki/Henry_Fletcher_(engraver)
Who was Robert Furber? Robert Furber was a British horticulturist and the author of the first seed catalogue produced in England. He had a nursery in Kensington in London, near modern Hyde Park Gate, from around 1700 until his death in 1756. Furber was also a member of the "English Society of Gardners", a group formed in 1724 to protect the reputations of plant growers.
During the 1730s Casteels became interested in the business of printing and came into partnership with leading professionals like the engraver Henry Fletcher, and the nurseryman Robert Furber. Each one of the three invested £500, and undertook the commercial venture of designing, producing, and selling sets of hand-coloured engravings to a group of subscribers. The Twelve Months of the Year is one such set, the most popular and ambitious of all sets, the team had created.
The Twelve Months of Flowers, March is the third month of the year presentation of the first illustrated nursery catalogue published in England. It presents twelve pages of different flower arrangements, one for every month of the year, that illustrate seasonal flowers, more than 400 different species, that could be ordered from Furber's nursery. To facilitate the subscriber of the set, each presented flower is marked by a number, and the list of the corresponding species names is provided at the bottom of each page. No wonder the well thought and carefully executed business venture by Casteels, Fletcher, and Furber became an instant artistic hit and a great economic success! https://en.artsdot.com/@@/A2686B-Pieter-Casteels-Iii-Bouquet-of-flowers-in-an-urn-on-postamente
For a PowerPoint of the set The Twelve Months of Flowers, March, please… Check HERE!