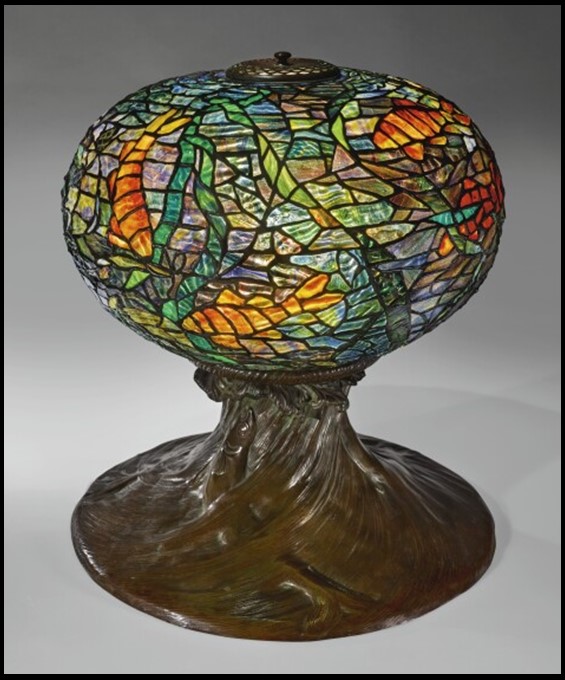 In a 1917 Harper's Bazaar article, Louis Comfort Tiffany explained how he combined his love of water and his appreciation of Asian art and symbolism, in the decoration and landscaping of his home, Laurelton Hall: "Well, you see…here water is used as an element of beauty, following the methods of the Far East. The Orientals worship water. To them, it is a treasure rare, a guest they honor. Here it not only harmonizes with the architectural scheme, but the vital liquid suggests hope, a message even to those living in the arid places of life. So here I have a cascade. Just listen to its merry music as it splashes over the rockery. It is the quick movement of the water that interests me, constant and pure as sunlight. I glory in its whimsicality. Fish and Waves by Louis Comfort Tiffany, the artist's rare and iconic Table Lamp, best exemplifies his belief. https://www.sothebys.com/en/articles/tiffanys-aquarium-in-stained-glass
When I think of Louis Comfort Tiffany, I think of nature's power, its brittleness, and joy. I think of radiance, luminosity, and brilliance in colour… Let's start by answering some questions about the great American creator, starting with Who …
Who was Louis Comfort Tiffany (1848-1933)? He was an American artist and designer best known for his work in stained glass. He was born in New York City to a family of artists and craftsmen and was educated at the Pennsylvania Academy of the Fine Arts and the National Academy of Design. Tiffany began his career as a painter but soon turned his attention to decorative arts and design. In 1879, he founded the Louis Comfort Tiffany and Associated Artists, which produced furniture, ceramics, and metalwork, as well as stained glass. Tiffany's most famous work is his stained glass, which he began producing in the 1880s. He developed a technique for producing iridescent glass, known as Favrile glass, which became one of his trademarks. In addition to his work in stained glass, Tiffany was also a prolific interior designer and created a number of luxurious and ornate interiors for wealthy clients. He was also involved in the design of jewelry, particularly in the Art Nouveau style. Tiffany was a prominent figure in the art world of his time and received numerous awards and honors throughout his career.
Who were the artists or craftsmen who worked with Tiffany to create his iconic stained glass artworks? Tiffany had a team of skilled artisans and craftsmen who worked with him at his studio, the Tiffany Studios, in New York City. These artisans and craftsmen were responsible for creating the various components of the stained glass window, including cutting and assembling the glass pieces, creating the metal framework, and painting and firing the glass. Some of the notable artisans who worked at the Tiffany Studios were women, like Agnes F. Northrop, who was the head of the Women's Glass Cutting Department, and Clara Driscoll, who was the head of the Women's Glass Decorating Department. Other skilled workers at the studio included glass cutters, glass painters, and metalworkers who helped bring Tiffany's designs to life.
Who was Clara Driscoll, the head of the Women's Glass Decorating Department at Louis Comfort Tiffany Studio? Clara Driscoll was an American artist and designer who worked for Louis Comfort Tiffany's studio, primarily designing lamps and mosaics. She was born in 1861 in Tallmadge, Ohio, and studied art and design at the Western Reserve College in Hudson, Ohio, and the Metropolitan Museum of Art in New York City. Driscoll began working for Tiffany in 1888 and quickly rose through the ranks to become the head of the Women's Glass Cutting Department. She was responsible for designing many of Tiffany's most famous lamps, including the Dragonfly, Wisteria, Peony lamps, and Fish and Waves Table Lamp. Driscoll's contributions to Tiffany's studio were largely uncredited during her lifetime. However, in recent years, her contributions have been more widely recognized, and she is now considered to be one of the most important designers of the Art Nouveau period. In 2007, a collection of her personal letters was discovered, shedding new light on her contributions to Tiffany's studio and her life as a female artist in the early 20th century.
Tiffany's Table Lamp 'Fish and Waves' is perhaps the finest representation of water's ever-changing beauty, Tiffany's fascination with the Orient, and goldfish vigorously swimming among the seaweed. This is a fine example of how Tiffany brilliantly combined the Art of Glass and Metalwork. Let's finish this presentation with questions starting with How…
How can we introduce Tiffany's Table Lamp 'Fish and Waves'? Dated circa 1900-1903, the 'Fish and Waves' Table Lamp is known for its intricate and colorful design featuring a school of goldfish swimming among waves of blue and green glass. The designer is believed to be Clara Driscoll. The inspiration comes from Tiffany's fascination with the Far East, and particularly Koi, the Japanese goldfish that symbolizes perseverance and inner strength as well as prosperity.
How does Clara Driscoll describe Tiffany's fascination with Japanese Art? In a letter in 1898, she revealingly notes that Tiffany's home was filled with Japanese art… 'like a dream of poetry and harmony that might have come out of the East. It is somewhat oriental in effect but not in detail. As if Mr. Tiffany had gone to the same great sources of inspiration but had evolved his own conception of their great principles. I told him that I felt that his work was in some ways suggestive of Eastern thought, which seemed to please him – and he said, 'Yes I have always been influenced by the oriental idea of form and color'. He said he thought that I was gaining in my work and that I was thinking in the right direction.' https://www.ngv.vic.gov.au/essay/tiffany-studio-clara-driscoll/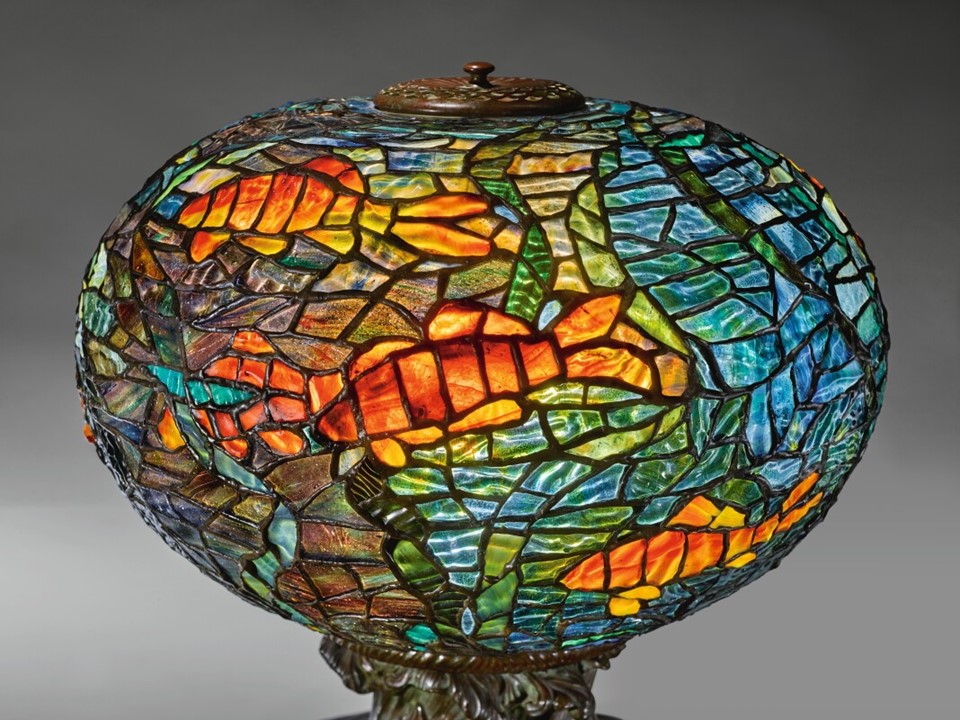 How would the 'Fish and Waves' Table Lamp Shade be described? The shade, of a 'circular' shape with a diameter of around 40.6 cm, is made up of hundreds of individual pieces of stained glass, each carefully cut and soldered together to create the complex design of an unsurpassed sense of motion. The depicted goldfish, brilliantly rendered in amber and orange-streaked yellow glass, swim counter-clockwise, among the sinuous vertical strands of seaweed, in glorious shades of green, aquamarine, teal, and blue, that sway gently upwards, with some overlapping a few of the goldfish. The glass selected for the background water passages is equally exceptional. Composed of rippled transparent green-streaked navy and blue glass, the pieces were placed so that the ripples go in a number of different directions, greatly adding to the overall effect of moving water. Mauve glass streaked with brilliant jewel-tone hues is selectively interspersed, evoking the sense of light reflecting on the water's surface.
How would the 'Fish and Waves' Table Lamp cast bronze base be described? The base of the lamp is typically made of cast bronze, and it features three large fish swimming upwards against the current towards cresting waves surmounted by a rope-twist collar that supports the shade. The casting is of phenomenal quality, as is the applied rich brown patina with green highlights. https://www.sothebys.com/en/articles/tiffanys-aquarium-in-stained-glass
In 2019, Paul Doros, presenting the Fish and Waves by Louis Comfort Tiffany Table Lamp for Sotheby's, wrote… A major aspect of Tiffany Studios' marketing at the turn of the 20th Century was to proclaim that their glass and lamps were true works of art, the equivalent of any great painting or sculpture. This unique example of their Fish and Waves lamp superbly exemplifies that claim and highlights the firm's remarkable standards of excellence in both manufacturing and aesthetics. It is indeed a masterwork and an object to be revered and treasured by all admirers of Tiffany's oeuvre. https://www.sothebys.com/en/articles/tiffanys-aquarium-in-stained-glass
For a Student Activity inspired by Fish and Waves by Louis Comfort Tiffany, please… Check HERE!