Michael Axelos's painting oeuvre attests to his solid technique and undeniable talent. It was not by chance, writes Yannis Stournaras, Governor of the Bank of Greece, that he was the first Greek artist to be entrusted, initially by the National Bank of Greece and subsequently by the Bank of Greece, with the design of banknotes and coins, which he imbued with an aesthetic quality. The Exhibition Michael Axelos (1877-1965) – Between two worlds (December 22, 2015 – July 6, 2017), organized by the Bank of Greece – Centre for Culture, Research, and Documentation, shed new light on both known and unknown aspects of the artist's life. Going through the Exhibition Catalogue, the painting Swimmers at Palaio Faliro Beach caught my attention, and curiosity… how different, or similar, is the Greek artist's painting compared to George Wesley Bellows composition 42 Kids? A new BLOG POST, Swimmers on a Wooden Pier, will not give you the decisive answer. Maybe information to reflect upon… https://www.bankofgreece.gr/MediaAttachments/AXELOS_CATALOGUE.pdf
Michael Axelos, an artist of exceptional skill, whose significant output spanned different genres, was a graduate of the Athens Law School and of the Athens School of Fine Arts. From 1911 to 1914 he continued his studies in Paris, at the Académie Julian and the Académie de la Grande Chaumière where his rather conservative initial training was infused with the new artistic developments, on one hand, Fauvism, and on the other hand Cubism, as presented in the Salons of 1910 and 1911. Axelos devoted a large part of his life and work to the Bank of Greece, where he designed banknotes, coins, and security documents. His retirement in 1846 starts a new period in his artistic life. Without changing his style radically, his painting becomes somehow liberated, is less strict, and escapes from the conservative framework where he had consciously placed it. https://museum.bankofgreece.gr/en/exhibitions/5/–18771965—–?ctx=9b1ea4a74a6d7c70df84ae52cbab3c959873d6f8&idx=4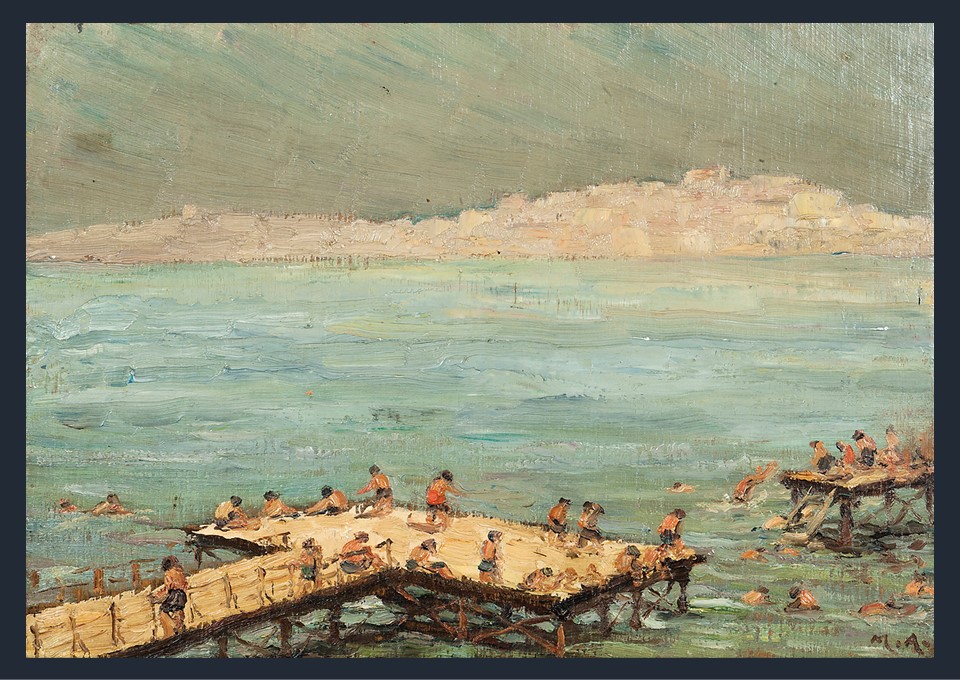 In 1935, while still working for the Bank of Greece, Axelos painted Swimmers at Palaio Faliro beach, one of my favorite, most charming paintings. Palaio Faliro is a coastal suburb of Athens and a popular destination for beachgoers. Axelos' painting depicts a group of swimmers, with the blue sky, the sea, and the not-so-distant Athenian coast, forming a prominent part of the composition. The swimmers are portrayed in a gestural and loose manner, emphasizing movement and dynamism. They take advantage of the well-constructed wooden piers and enjoy a typical Greek summer day, diving into the sea, splashing with joy in the water, and sunbathing. Axelos' use of tints and little shade, expressive brushstrokes, and direct sunlight, creates a delightful, persuasive composition of a classic Greek summer morning.
George Wesley Bellows was an American artist known for his depictions of New York City life. He was born in Columbus, Ohio, and studied at the Ohio State University before moving to New York City in 1904 to study at the New York School of Art under Robert Henri. Bellows quickly became known for his bold and expressive style, which captured the energy and dynamism of the city. His early work focused on the working-class neighborhoods of New York, depicting scenes of tenement life, street vendors, and labor strikes. He was a member of the Ashcan School, a group of artists who sought to depict the realities of modern life in their work. Tragically, Bellows died at the age of 42 from a ruptured appendix. Despite his short career, he left a lasting impact on American art and is considered one of the most important artists of the early 20th century.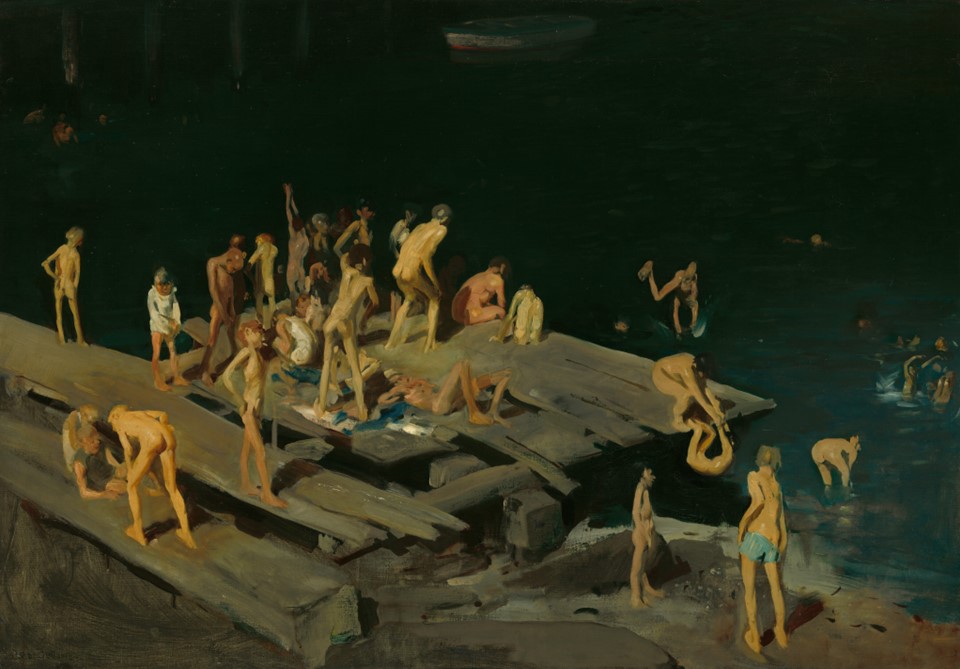 In August 1907 Bellows painted Forty-Two Kids, which depicts a band of nude and partially clothed boys engaged in a variety of antics—swimming, diving, sunbathing, smoking, and possibly urinating—on and near a dilapidated wharf jutting out over New York City's East River. https://www.nga.gov/collection/art-object-page.134485.html
In terms of aesthetics, Bellows has used bold brushstrokes and vibrant colors to capture the energy and excitement of the children. The figures are depicted in dynamic poses that convey their movement and joy. The composition is carefully balanced, with the rough wooden pier stretching out to the right of the canvas, and the water and sky occupying the upper two-thirds of the painting. The use of color is particularly striking in this painting. The boys' gangly bodies are loosely painted and brightly lit from the upper left. Most are nude, and Bellows employs hues of bright, cream white to medium brown to capture their skin tones. For the rest of the painting, the river in particular, Bellows uses intense shades of blue, emerald green, and yellow that convey a sense of summertime and warmth. The reflections of the children in the water create a sense of depth and perspective, and the overall effect is one of a moment frozen in time, capturing the exuberance of roaming young boys from New York's Lower East Side tenements. https://www.nga.gov/collection/art-object-page.134485.html
Do you see similarities or differences? The decision is yours…
For a Student Activity, titled Swimmers on a Wooden Pier, please… Check HERE!