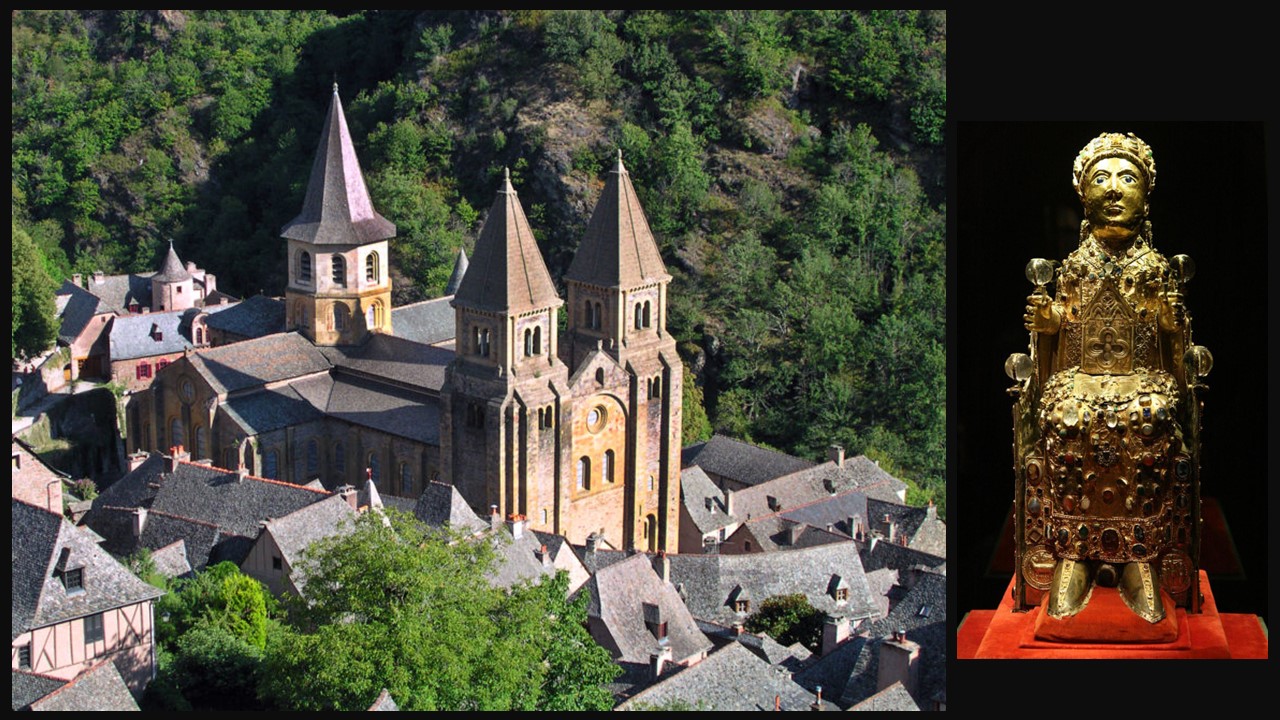 The Romanesque Period, spanning roughly from the 11th through the 12th century in Europe, was characterized by a distinct style of art (in sculpture and painting) and architecture. During this time, the construction of massive, fortress-like buildings with thick stone or stone-and-brick walls was prevalent. Rounded arches, barrel and groin vaults, and small, often semicircular windows were common architectural features. Romanesque art and architecture were marked by an emphasis on symmetry, simplicity, and sculptural decoration, particularly on church facades. These structures, often adorned with intricate stone carvings depicting religious and historical scenes, were designed to inspire and educate the largely illiterate medieval populace. The Romanesque style was closely associated with the power and influence of the Christian Church, but it also found expression in secular structures like castles. It eventually evolved into the more elaborate and vertical Gothic style, but the Romanesque period remains a testament to the medieval European quest for stability, security, and spiritual enlightenment.
Architecture
Romanesque architecture is often associated with the construction of churches and monastic buildings, reflecting the strong influence of the Christian Church during this period. However, the style was also used in the construction of castles, bridges, and other secular structures. It eventually gave way to the Gothic style, which introduced more complex and innovative architectural elements, such as pointed arches, flying buttresses, and larger stained-glass windows. Romanesque art and architecture remain an important part of Europe's cultural heritage and a testament to the creative and architectural achievements of the medieval period.
Here are key characteristics of Romanesque architecture… Thick, massive walls: Romanesque buildings are known for their thick and sturdy walls, which often incorporate a combination of stone and brick. These walls provided stability and a sense of security, which was important during a period marked by political and social instability. Rounded arches: Romanesque architecture typically features rounded arches, both in doorways and windows. This contrasts with the later Gothic style, which is known for its pointed arches. Barrel vaults and groin vaults: Romanesque churches often have barrel vaults in their naves and aisles, with thick columns or piers supporting the ceiling. In some cases, groin vaults (intersecting barrel vaults) were used, which allowed for larger, more open spaces. Symmetry and order: The Romanesque church plan reflects a desire for symmetry and order, with a focus on creating a sacred space conducive to worship and religious rituals. The cruciform layout, combined with elements like thick walls, rounded arches, and decorative carvings, contributes to the overall solidity and spiritual significance of Romanesque architecture.
Sculpture
Romanesque sculpture, a prominent aspect of the Romanesque period's artistic expression, is characterized by its highly ornate and intricate stone carvings. These sculptures adorned the facades, portals, and interior spaces of Romanesque churches and other buildings, serving both decorative and didactic purposes.
Key features of Romanesque sculpture include… Religious Themes: Romanesque sculpture predominantly featured religious subjects, such as biblical narratives, saints, and religious symbols. These carvings aimed to convey Christian teachings to an often illiterate medieval audience. Portals and Tympana: One of the most significant areas for Romanesque sculpture was the tympanum, the semicircular space above a church's entrance. Here, intricate scenes from the Bible, such as the Last Judgment or the Nativity, were depicted in detail. Capital Sculpture: Sculpted capitals, found on the columns or piers within churches, were another prominent location for Romanesque sculpture. These carvings often portrayed various scenes and figures, both religious and secular, and were known for their expressive and stylized designs. Symbolism: Romanesque sculpture was rich in symbolism, with each element carefully chosen to convey a deeper message. For example, animals, grotesque figures, and intricate foliage were often used to represent moral lessons and the struggle between good and evil. Stylized Figures: The figures in Romanesque sculpture often exhibited a certain stiffness and formality, with elongated proportions and simplified facial features. This reflected the artistic conventions of the time and was influenced by the Byzantine and Carolingian traditions.
Romanesque sculpture played a vital role in conveying religious and moral messages to a largely non-literate medieval population. It also demonstrated the artistic and creative achievements of the period, setting the stage for the more dynamic and naturalistic sculptural traditions that emerged in the subsequent Gothic period.
For a PowerPoint on French Romanesque Art, please… Check HERE!
Bibliography: https://smarthistory.org/a-beginners-guide-to-romanesque-art/ and https://smarthistory.org/medieval-europe-byzantium/romanesque-art-2/