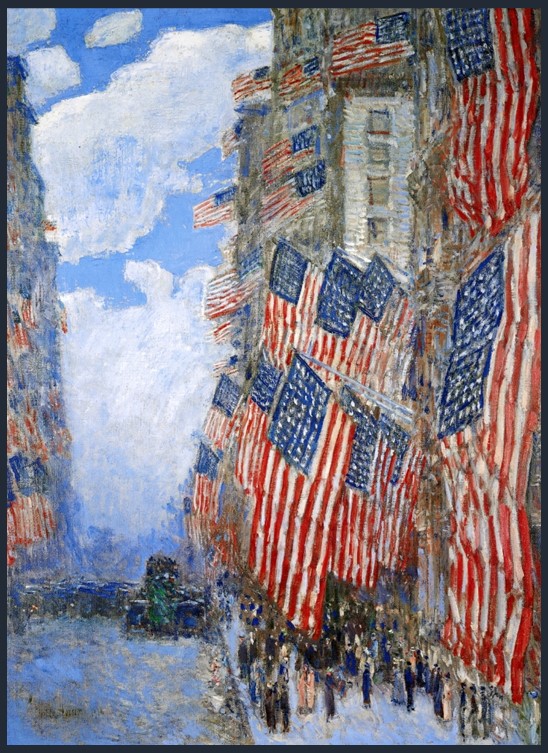 A glorious sea of American flags, crowded streets, and Fifth Avenue skyscrapers, The Fourth of July 1916 (The Greatest Display of the American Flag Ever Seen in New York, Climax of the Preparedness Parade in May) by Childe Hassam (1859-1935) is a beloved work of American Impressionism. It was painted at the height of Hassam's powers and is one of some 30 related paintings of flag-decorated streets that the artist produced between 1916 and 1919, during and immediately after the First World War. That they are intensely patriotic works is patent, while aesthetically they bear witness to the example of Claude Monet, both in the subject (Monet created two paintings of flag-bedecked avenues on a single day in 1878) and in the concept (a series of paintings of a motif, such as haystacks or Rouen Cathedral). https://www.nyhistory.org/exhibitions/fourth-july-1916 and https://www.whitehousehistory.org/photos/treasures-of-the-white-house-avenue-in-the-rain
Childe Hassam (1859-1935) was an American Impressionist painter known for his depictions of urban landscapes, cityscapes, and seascapes. He was born Frederick Childe Hassam in Dorchester, Massachusetts, and grew up in a middle-class family. Hassam showed an early interest in art and studied at the Boston Art Club and the Lowell Institute. He worked as an apprentice in a wood engraving firm and began his career as a freelance illustrator, creating illustrations for magazines and newspapers. In the spring of 1886, along with his wife Kathleen Maude Doane, he traveled to Paris to study painting at the Académie Julian. While in Paris, Hassam was greatly influenced by the Impressionist movement, which was then emerging in France. He was particularly drawn to the work of Claude Monet and the French Impressionists, and he began to incorporate their techniques into his own work. He returned to the United States in 1889 and recognizing the prominence of New York as an international art center, he settled in New York City, where he established himself as a leading American Impressionist painter. https://www.nga.gov/collection/artist-info.1379.html
Throughout his career, Hassam painted a wide range of subjects, including landscapes, cityscapes, seascapes, and portraits. He was especially known for his depictions of urban life in New York City, and his paintings capture the energy and vibrancy of the city. Hassam was also deeply patriotic and painted many works featuring the American flag, which he saw as a symbol of national unity and identity. https://www.nga.gov/collection/artist-info.1379.html
As a prominent member of the US Preparedness Movement, Hassam created a series of paintings known as the Flag Series, which featured American flags prominently displayed in various settings, including urban landscapes and rural scenes. These paintings were seen as a way of promoting patriotism and support for the US Preparedness Movement.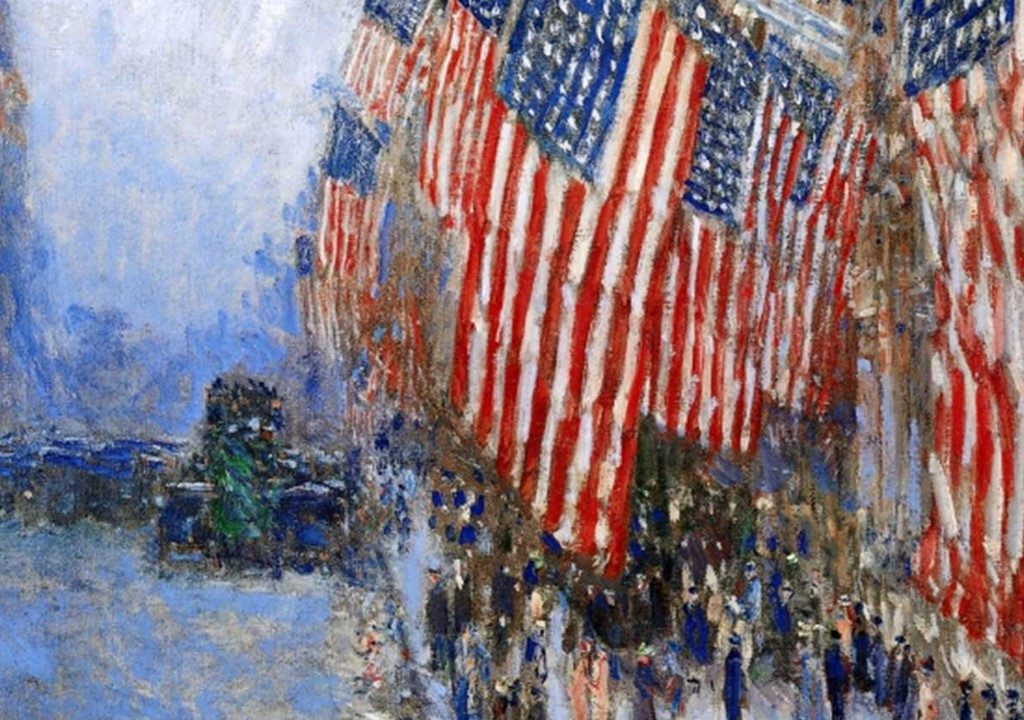 The Fourth of July 1916 (The Greatest Display of the American Flag Ever Seen in New York, Climax of the Preparedness Parade in May), is one of the first paintings created for the Flag Series. It shows the bustling 5th Avenue decorated for the July 4th, Independence Day holiday. Hassam's brushwork is loose and expressive, creating a sense of movement and energy within the painting, his gestural brushwork, expressive and spontaneous, generates movement and energy, and his color choice of primarily red, white, and blue keenly echoes the colors of the American flag, adding to the lively and vibrant feel of the composition. As Dr. William H. Gerdts has noted, "Hassam was already recognized as one of the artists most identified with 'Americanness,' but it was in these works that he was able to give the modern cityscape patriotic and spiritual resonance. This pictorial sequence constitutes one of the greatest achievements of American art." https://www.christies.com/en/lot/lot-5793601
For a Student Activity, inspired by Childe Hassam's, The Fourth of July 1916, please… Check HERE!