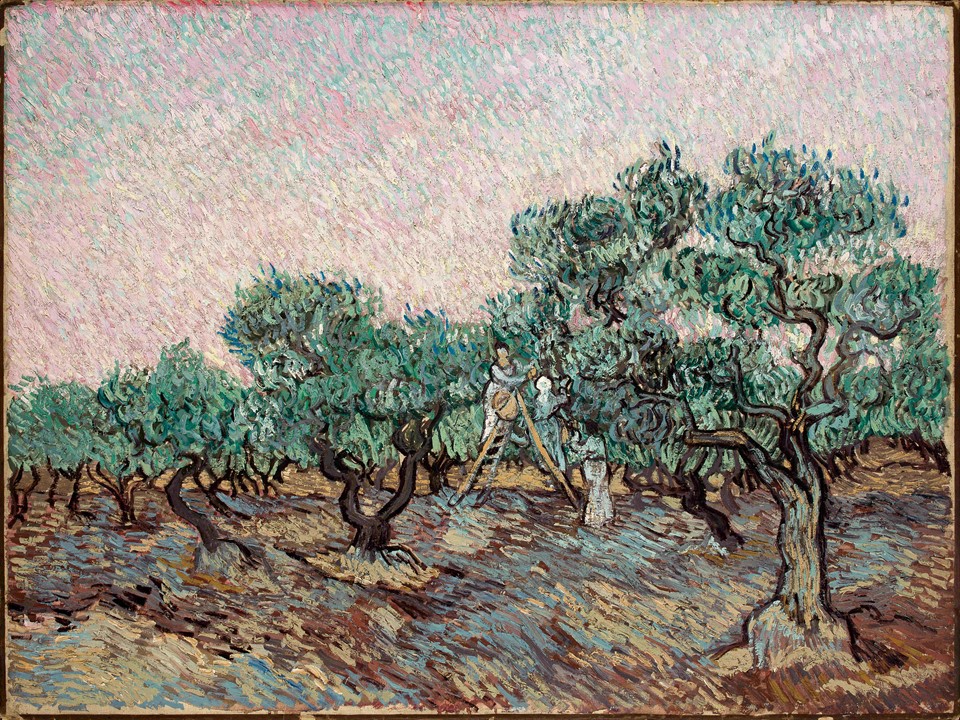 The Magic of the Olive Tree inspired so much Vincent Van Gogh that while in Saint-Remy-de Provence in 1889, he painted at least 15 paintings depicting their beauty! The same magic inspired our wonderful Pinewood Kindergarten Teacher… who organized a Unit to remember!
"The Kindergarten theme on Olives began with the intention of it being a transdisciplinary unit so that the children would learn many facets about it. It was introduced in a simple way – when the children reached the letter O in the English alphabet they decided to remember this letter sound by saying 'O is for olive'… From there they learned that olives are fruit and that they grow on Olive Trees in Greece. Inspired by short videos showing how olives are picked in late Autumn, the children took a sheet, a stick and a basket and went olive picking on the school grounds. They hit the branches of the school Olive Trees and collected the fruit that fell… So enthusiastic about what they did they decided to capture their experience by making their very own olive tree grove Bulletin Board."
Pinewood Kindergarten students "listened in awe as they travelled back into mythological times, to when Athena bestowed the gift of an Olive Tree to the Athenians. This helped the children understand what a treasure the Olive Tree is because of all the various gifts that it gives: wood (for heat, furniture), oil ( for cooking, eating, light, fuel) and soap… They tasted both green and black olives, they washed their hands with olive soap, they lit an oil-lamp with olive oil and they made olive bread… They created olive wreaths by counting card leaves and plasticine olives to a given number and learned that in ancient times an olive wreath, just like the ones they had made, were placed on the heads of champion athletes."
Finally, students "realized how thankful they are for this humble fruit and all it provides. So when it came to Thanksgiving Day the children chose to honour the Olive Tree by writing their messages of thanks inside their olive wreaths and entitling their display, 'In Greece, we are thankful for Olive Trees'."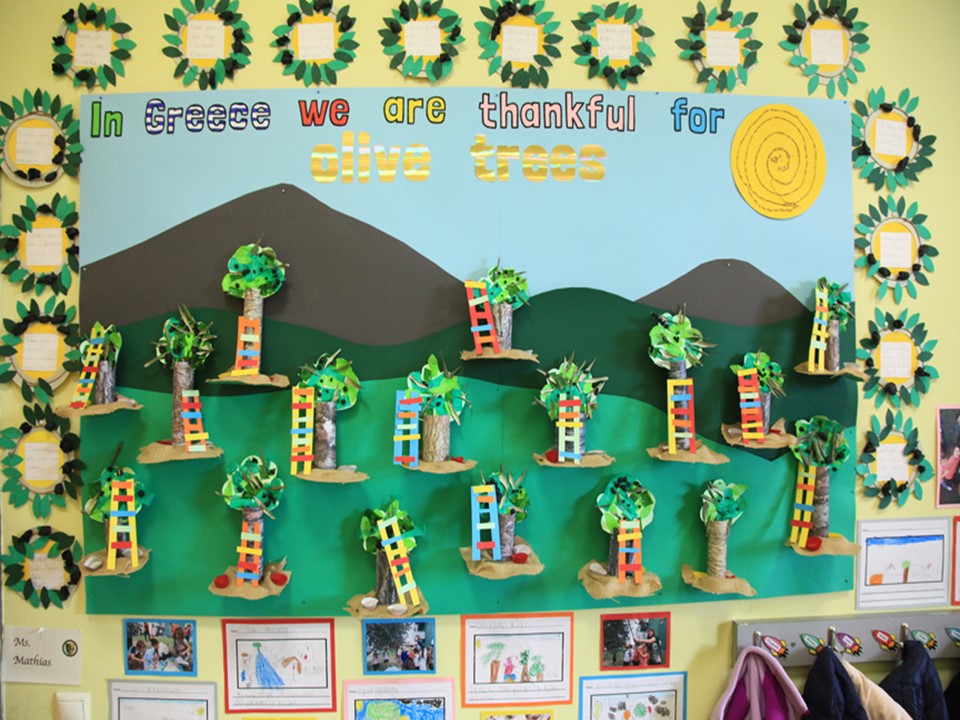 "O is for Olive" is the amazing Lesson Plan prepared by the school's Kindergarten Teacher, Mrs. Anna Maria Mathias, with assistance provided by Mrs. Kathy Lekkas. The PowerPoint photos that follow HERE! were taken by the school's photographer, Mr. Kostas Papapatoniou.
For the purposes of this BLOG, The Magic of the Olive Tree, "teachercurator" put together a PowerPoint on Van Gogh and paintings of Olive Trees… please check HERE!
The new Basil and Elise Goulandris Foundation in Athens has a wonderful Vincent Van Gogh painting of Olive Picking from his 1889 period. Apparently, Van Gogh painted "three versions of this picture. He described the first as a study from nature "more coloured with more solemn tones" (in the Goulandris Collection) and the second as a studio rendition in a "very discreet range" of colours (National Gallery of Art, Washington, D.C.)." The third painting is at the Metropolitan Museum in New York, and accordingly is "the most resolved and stylized of the three." The third painting was "intended for his sister and mother, to whom Van Gogh wrote: "I hope that the painting of the women in the olive trees will be a little to your taste—I sent [a] drawing of it to Gauguin… and he thought it good… " https://www.metmuseum.org/art/collection/search/436536 and https://goulandris.gr/en/artwork/vincent-van-gogh-olive-picking