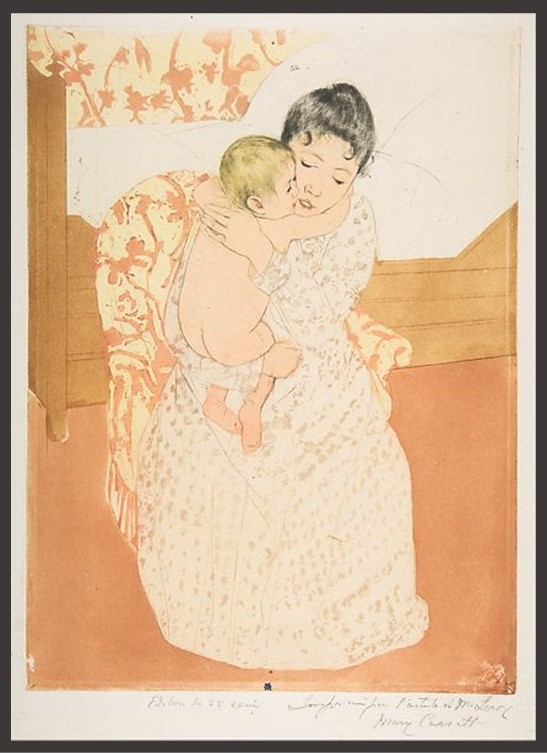 "Sonnets are full of love, and this my tome / Has many sonnets: so here now shall be / One sonnet more, a love sonnet, from me / To her whose heart is my heart's quiet home, / To my first Love, my Mother, on whose knee / I learnt love-lore that is not troublesome; / Whose service is my special dignity, / And she my loadstar while I go and come. / And so because you love me, and because / I love you, Mother, I have woven a wreath / Of rhymes wherewith to crown your honoured name: / In you not fourscore years can dim the flame / Of love, whose blessed glow transcends the laws / Of time and change and mortal life and death." I miss my mother… and on Mother's Day, I think of her with Art and poetry, because my heart and thoughts are … full of love. https://poets.org/poem/sonnets-are-full-love-and-my-tome (Christina Rossetti's (1830-1894) Sonnets are full of love)
For the Mother's Day BLOG POST two Works of Art from two different parts of the world… yet, Mary Stevenson Cassatt's Maternal Caress, and Kitagawa Utamaro's Mother and Sleepy Child, have so many similar stories to tell… https://www.metmuseum.org/art/collection/search/364213 and https://www.metmuseum.org/art/collection/search/51137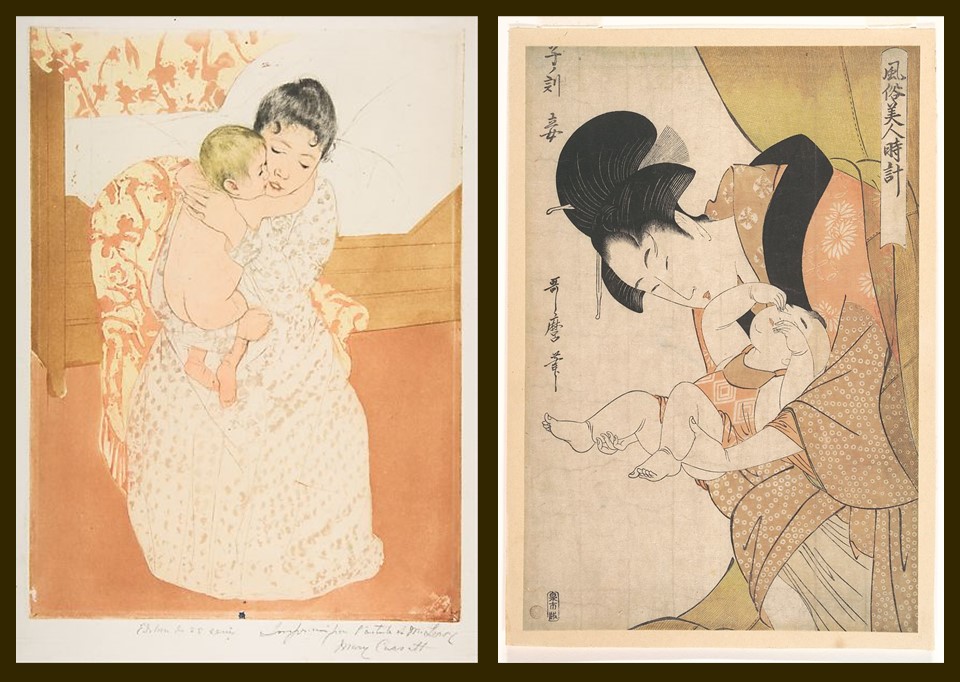 Mary Stevenson Cassatt (1844 – 1926) was a fortunate lady! Born into an affluent family in Pennsylvania who believed it was important for women to receive an education, she grew up attending school in Philadelphia and travelling to Europe where …Art kept changing. Reaching adulthood she persuaded her parents that her life's destination was Europe and professional pursuit will be painting! It was not easy for her father to accept it, but after serious deliberation, it was decided… in 1866, with her mother and family friends acting as chaperones, she settled in Paris and was accepted to study Art in the private studios of Jean-Léon Gérôme, Charles Joshua Chaplin and Thomas Couture. She expanded her training with daily copying in the Louvre and trips to the French countryside where she drew from life. Two years later, in 1868, her painting A Mandoline Player, was accepted for exhibition in the Paris Salon. She was noticed as a professional painter, but she was not fully content!
Everything changed in 1877 when paintings she submitted to enter the year's Salon were rejected by the committee. Disillusioned with academic painting and eager to experiment, Cassatt met Edgar Degas, an artist she greatly admired, who invited her to collaborate with the Impressionists and exhibit with them in 1879, at the 4th Impressionist Exhibition. She was finally happy in an artistic environment that suited her needs… plein air painting, ordinary subjects, vibrant, metallic in some cases, colour, in short, dancing brushstrokes, flat space, the discovery of Japanism…
On the 9th of May, celebrating Mother's Day, a tribute to Mary Cassatt as "…in her clear-headed treatment of mothers and infants, (she) was, for her time, entirely alone. The bunch of English and French daubers have put them in such stupid and pretentious poses! complained the critic J.-K. Huysmans, contrasting them with Cassatt's irreproachable pearls of Oriental sweetness." I couldn't agree more! https://www.metmuseum.org/art/collection/search/364213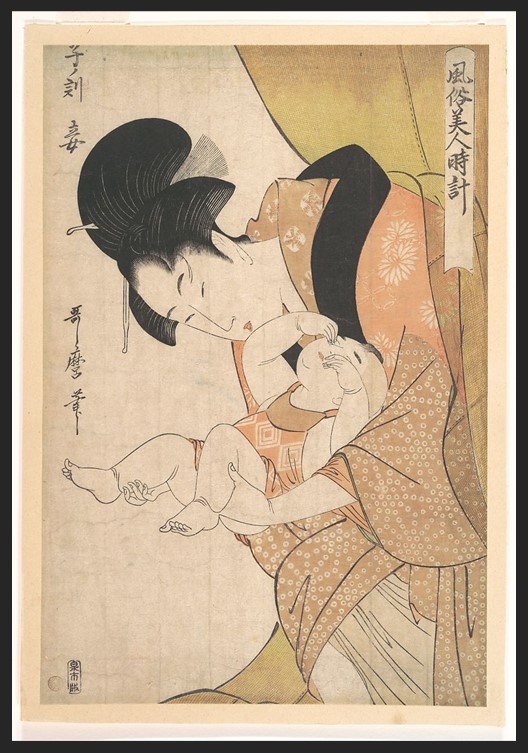 One of my favourite classroom games, teaching my students the accomplishments of Impressionist artists like Mary Cassatt, is to present them with Japanese Woodblock prints and assist them to draw comparisons and conclusions. The MET experts present Kitagawa Utamaro as "one of the most prolific artists of the genre of the portrayal of beautiful women… extremely interested in images of mother and child in daily life." Midnight: The Hours of the Rat; Mother and Sleepy Child "belongs to a series entitled Fuzoku Bijin Tokei (Women's Daily Customs). To illustrate midnight, Utamaro has chosen a mother who sleepily emerges from her mosquito net to attend to her child, who rubs the sleep from his eyes. The personal, quotidian nature of the subject exemplifies the new interest in the individual that emerged during the Edo period."
For a PowerPoint on Mary Stevenson Cassatt and Japanism, please… Check HERE!