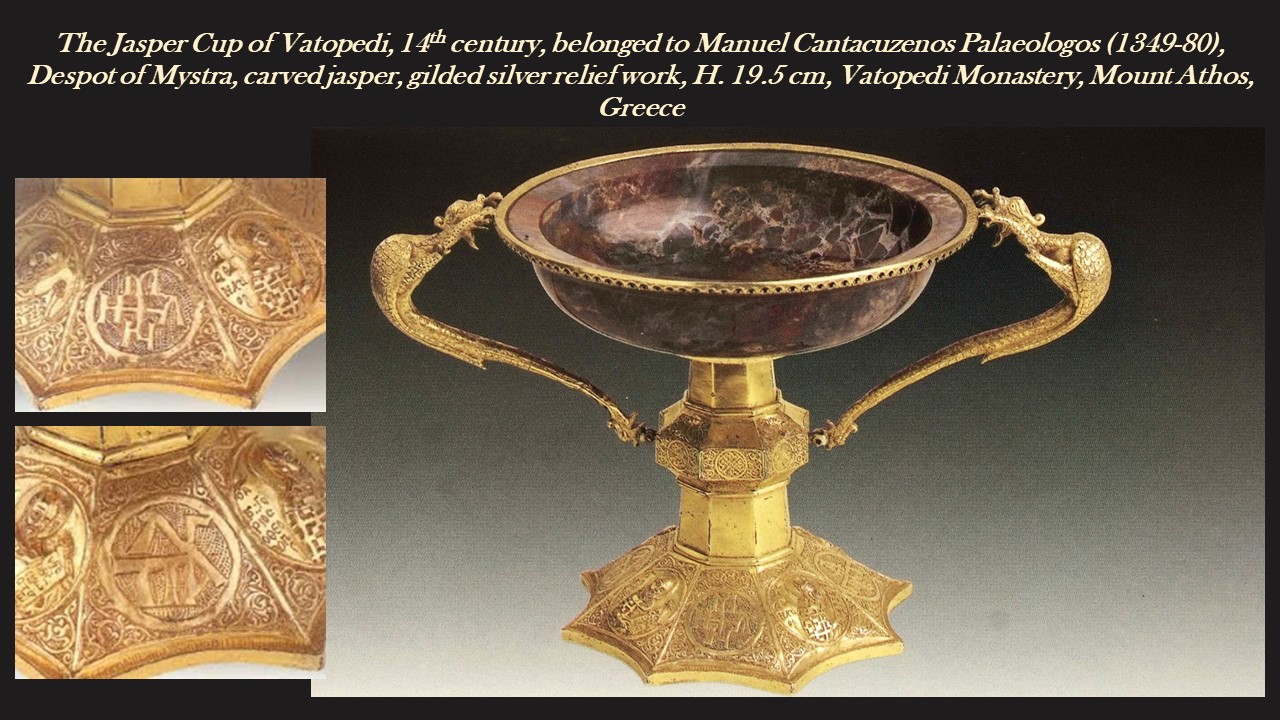 The Jasper Cup from Vatopedi is one of the most famous Late Byzantine works of art. It is a Chalice of silver-work and stone-carving, a rare example of refined craftsmanship, one of the finest pieces of the Palaeologan period. It belonged to Manuel Cantacuzenos Palaeologos (1349-80), Despot of Mystra, son of Emperor John VI Cantacuzenos (1347-54) and grandson of Theodore Palaeologus, Despot of Mystra.
The Cup, carved out of a piece of jasper, was created in a Byzantine workshop, in the shape of an antique broad-lipped wine-cup. The inscription on its rim reads "and he gave it to his disciples and apostles saying, drink of this, all of you …". As this is the prayer from the Eucharist, as given in the Liturgy of St Basil, the Vatopedi Chalice was used as an ecclesiastical vessel.
The base is octagonal, its eight sections decorated with medallions containing, alternately, cruciform monograms and half-length hierarchs holding open scrolls. The monograms identify the owner of the vessel: M (Manuel), Δ (Despot), Κ (Cantacuzenos), Π (Palaeologus). For a more detailed presentation of the Chalice, please check: https://www.elpenor.org/athos/en/e218ci14.asp
The metalwork decoration, following byzantine models, intriguing techniques, and borrowed Gothic motifs, proves that a "Byzantine-Gothic" marriage of styles can create exquisite results.
For a PowerPoint on Byzantine Chalices, please… Check HERE!
For the Student Activity, I was inspired by Sarah Stone's Work on "Byzantine Chalices". I showed the students her work http://www.sarah-stone.net/byzantine-paintings.html and HERE! is what my Grade 4 students created!!!