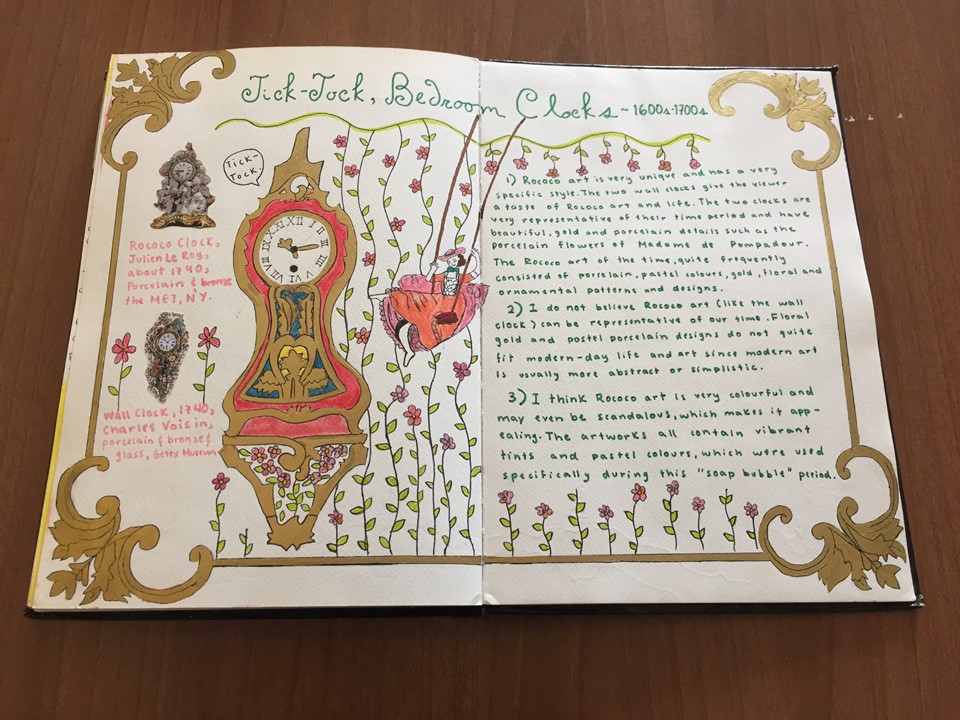 Tick-Tock Bedroom Clock was inspired by the Getty Museum Activity: http://www.getty.edu/education/teachers/classroom_resources/curricula/decarts/decarts_lesson05.html. It has developed into a RWAP (Research-Writing-Art-Project) much liked by my students.
How fascinating can a Rococo Clock be to a High School student today? I am always surprised to discover that students respond positively and enthusiastically to the enjoyable, cheerful and carefree style of the 18th century we call Rococo. "Artists working in this frivolous aesthetic built upon the flamboyance of the Baroque period, adapting its awe-inspiring aesthetic to produce equally extravagant yet distinctively playful works of art."
Do you know that "The term Rococo is derived from rocaille, a special method of decorating fountains and grottoes that dates back to the Italian Renaissance?" Artists using this technique "would mix seashells, pebbles, and other organic materials with cement, culminating in a naturalistic, under-the-sea-inspired medium."
Rococo Decorative Arts are equally important and fascinating to painting and sculpture. They "often incorporate intricate, asymmetrical forms." Their "serpentine silhouettes are inherently naturalistic yet undoubtedly exaggerated and are found in a range of objects, including intricate tables and eye-catching candelabra…" and Tick-Tock Clocks… I would add.
All quotations come from April 29, 2018, well-written to say the least article titled Celebrate the Elegance and Exuberance of French Rococo Art at MY MODERN MET https://mymodernmet.com/rococo-art/ site.
For more examples of student work, please… check HERE!
The Tick-Tock Bedroom Clock student Worksheet is… HERE!
A PowerPoint on Rococo Clocks is… HERE!