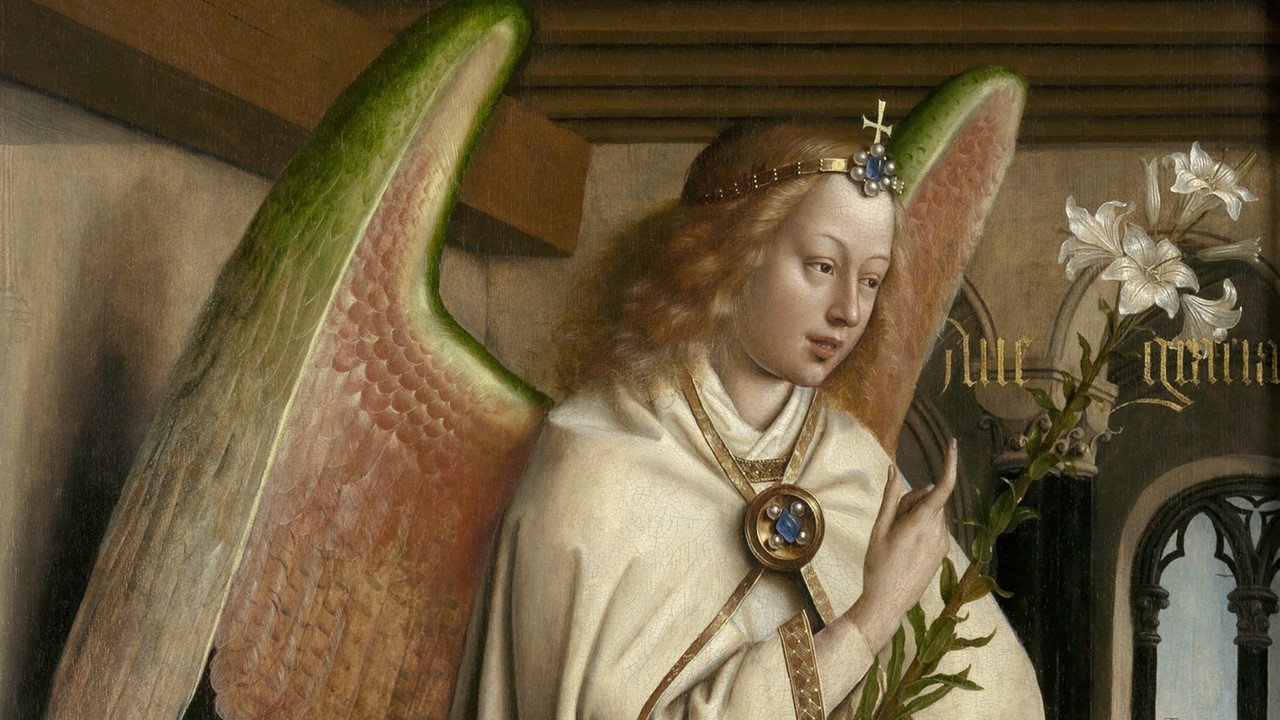 Who can really resist an Exhibition, titled Van Eyck – An Optical Revolution? Particularly when over half of Jan van Eyck's artistic oeuvre will be on display? Paintings from all over the world will travel to the Museum of Fine Arts (MSK) in Ghent "to contextualize the optical revolution he inspired." Painting by Van Eyck, his workshop and from "his most talented peers from Germany, France, Italy and Spain" are placed side by side. This is an opportunity to study, compare and draw conclusions!
"Hubrecht van Eyck, the most famous painter ever known, started this work of art; his brother Jan, who was second in the art, finished the task at the request of Joos Vijd. With this verse the donor consigns the work to your charge on May 6th 1432. Admire what they have done for you".
The main focus of the Ghent Exhibition is to present the recently restored outer panels of The Adoration of the Mystic Lamb or as it is widely known as the Ghent Altarpiece. According to the experts of Saint Bavo's Cathedral "This painting by Hubrecht and Jan van Eyck is the principal work of the Flemish school in the 15th century. The main theme is the glorification or the heavenly apotheosis of man's salvation and sanctification by the sacrifice of Christ. The subject is treated in a more visionary than narrative or dramatic manner. It is painted on oak panels; the paint consists of mineral pigments in a cement of drying oil." https://vaneyck2020.be/en/van-eyck-from-home/
The outer panels of the Ghent Altarpiece, beautifully restored and exhibited at MSK, are divided into three registers. The upper register "lunettes" show prophets and Sibyls looking down on the middle register, the Annunciation scene. The four lower-register panels are divided into two pairs, the central sculptural paintings are in grisaille, presenting St John the Baptist and St John the Evangelist, while the two outer panels, in astonishing naturalism, stage the donor portraits of Joost Vijdt and his wife Lysbette Borluut.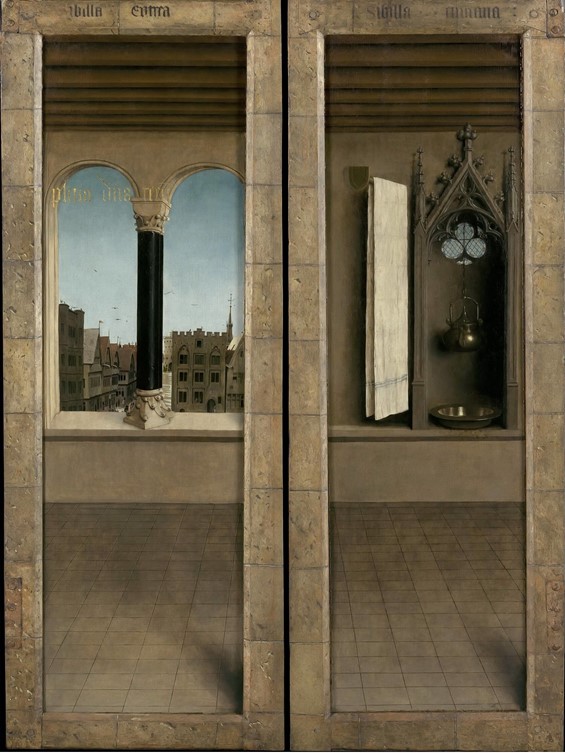 Jan van Eyck was a revolutionary, ground-breaking artist and the Ghent Exhibition is a learning experience!
He perfected the Oil Technique by adding siccatives. With oil paints, he created rich, deep, lustrous colours, flawless golden tones, and amazing life-like textures.
Observation of reality is key to Jan's Art. His portraits are lifelike in the minutest detail. His depictions of nature and natural phenomena are credible and authentic. He is so good at creating reality, his art seems like it is competing with reality itself!
Observing and Painting Optical Light Phenomena shows an artist deeply interested "in the painting of light, so crucial to his optical revolution." Scholars believe that Jan van Eyck "not only gathers practical but also theoretical knowledge in order to reproduce the effects of light." https://vaneyck2020.be/en/the-optical-revolution/
Artworks presented in the PowerPoint were put together, thanks to an MSK Catalogue… HERE! and HERE!