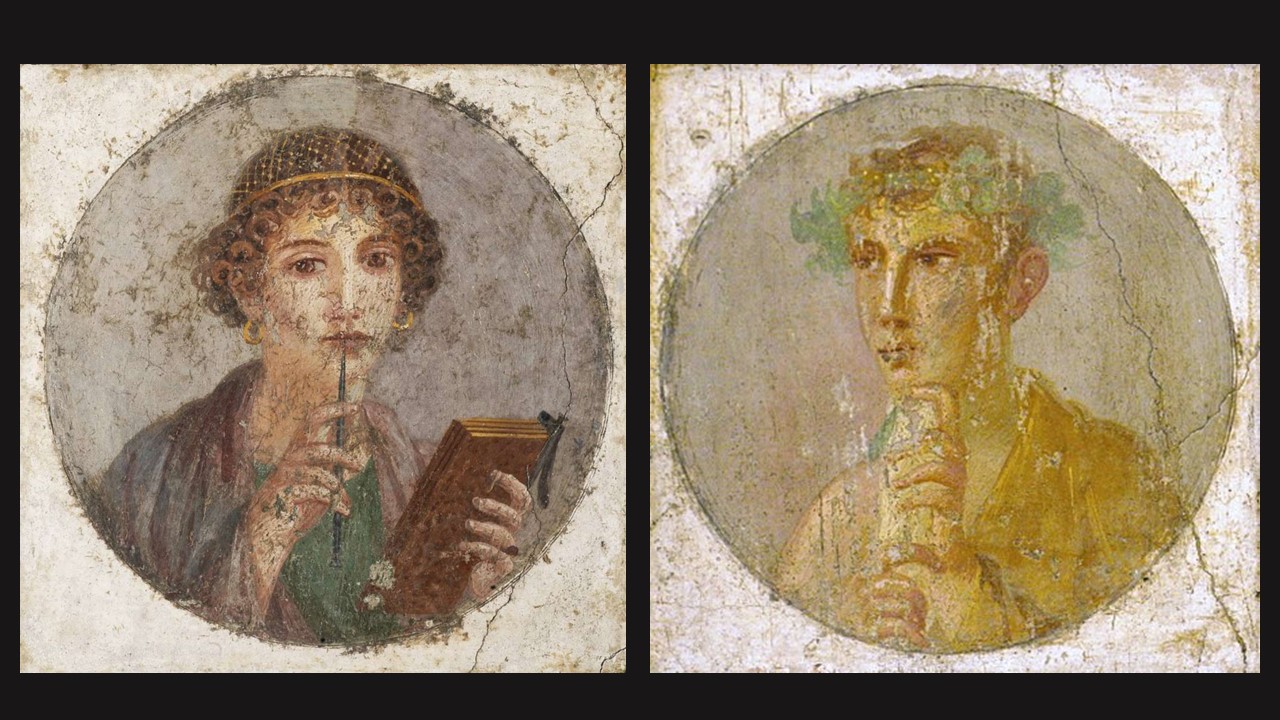 The Pompeiian Portraits of Distinction shows a young couple, stylish, bold and educated at the prime of their life. They are both adorable in the way she brings her stylus to her lips, he holds his papyrus under his chin. They are both pensive… contemplative. They make you wonder… are they thinking of something they have just read or are they pondering on what they are about to write?
According to the experts at the Museo Archeologico Nazionale di Napoli, the two portraits are amazing examples of the IV Pompeian style, discovered in Pompeii on May 24th, 1760. They were among the first discoveries made and dazzled the world! The small painting of "Sappho" holding a stylus and wax tablets, is the companion of the male portrait, depicting a young man holding a Papyrus Roll just under his chin, quite romantic looking, with blondish hair and wearing a lush laurel wreath.
What an elegant couple! Both rendered in pastel colours, they pose for eternity dressed in their… everyday finest. She has a dainty face with big brown eyes, rosy cheeks, full lips and a crest of curly auburn hair. She is richly adorned, but just so… a golden hairnet and a pair of thick golden ear loops are all she needs to look elegant. Her color scheme is on the cooler side, aubergine purple, forest green, and chestnut brown. The young man facing her is rendered in colours of mustard ochre and celery green. He has a pointed, elongated face and slightly slanted eyes. His adornment is a lush green wreath resting on blondish hair with thick curls. She boldly looks at us, he looks at her… both lost in thought! https://www.museoarcheologiconapoli.it/en/room-and-sections-of-the-exhibition/frescoes/ and https://commons.wikimedia.org/wiki/File:A_fresco_portrait_of_a_man_holding_a_papyrus_roll,_Pompeii,_Italy,_1st_century_AD.jpg
For a PowerPoint, please… click HERE!