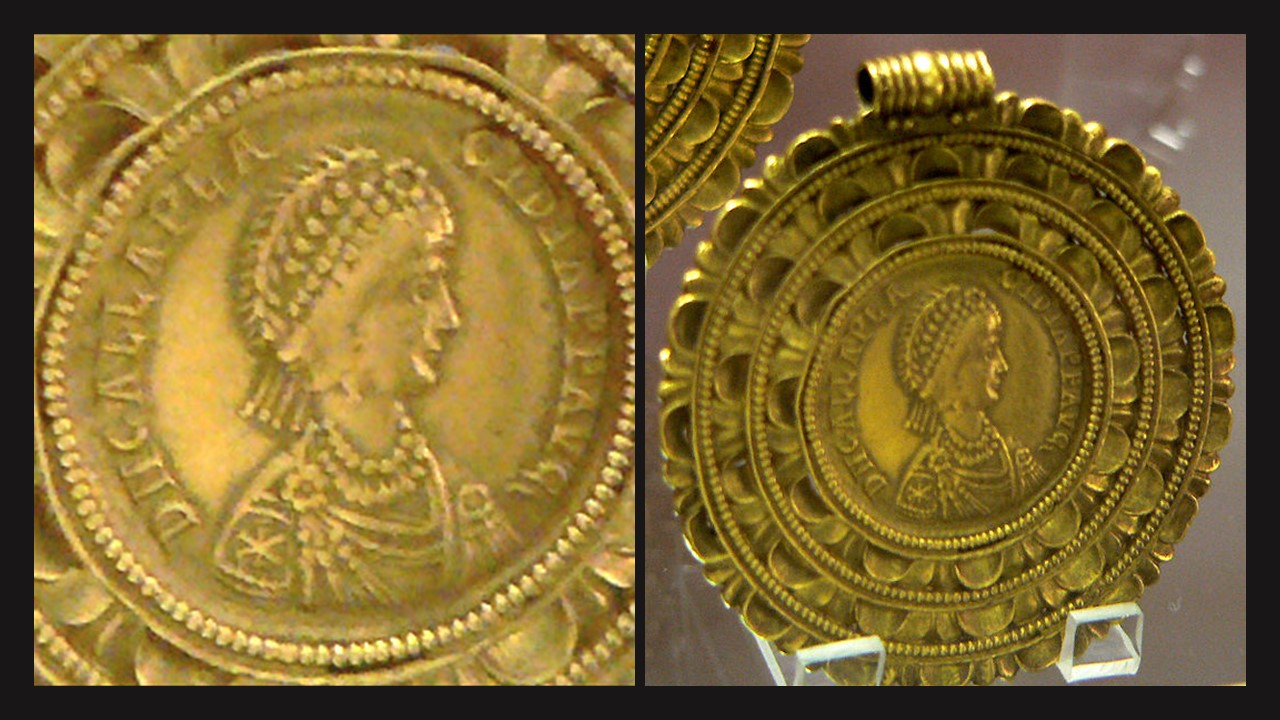 Known as the "most noble girl, the nobilissima puella" Aelia Galla Placidia is still today, revered for her family lineage, her astonishing life and her magnificent Mausoleum in Ravenna!
The Gold Medallion depicting Galla Placidia, splendidly framed and mounted as a pendant, in the Bibliothèque Nationale de France, made me think. She is presented to us in profile, her hair tightly braided, wearing a tiara with three rows of pearls. She is heavily adorned with jewelry. She wears ear pendants and a necklace with more precious pearls. She is depicted as a modest, yet fashionable lady. Her peplum, fastened by a fibula adorned with yet more pearls, covers her embroidered tunic, adorned with a Chi-Rho ornament on her shoulder. What a life she had! Imperial daughter, wife, and mother…
Aelia Galla Placidia was born in Constantinople, between 388 and 392, to Emperor Theodosius I (ruled 379–395) and his second wife Flavia Galla. She grew up in Constantinople under the care of her cousin Serena, her mother died in childbirth in 394, wife of magister militum Stilicho. Serena, an educated woman and a patroness of the arts, is probably responsible for the classical education Galla Placidia received, as well as her skills in weaving and the art of embroidery. The Roman princess, summoned by her father, was in Milan, in 395, where Theodosius I died.
It seems that Placidia remained in Italy, and was in Rome, in 408, when the Visigoths of Alaric I attacked. During these turbulent years, Placidia agreed to the execution of her cousin Serena. The following years were not easy for the "nobilissima puella." By 410, she was a captive of the Goths and taken to Gaul, where, in 414 at Narbonne, with extravagance and pomp, she was married to the Visigoth chieftain Athaulf, King of the Visigoths from 414 to 415. When Athaulf was murdered in 415, she was once more taken captive by her husband's enemies, "treated with cruel and wanton insult." She was apparently forced to walk more than twelve miles along with the crowd of captives, suffering with such dignity that raised opposition to her enemies, leading to the assassination of their ruler, Sigeric. The new Visigoth leader was Wallia, Ataulf's relative, and her supporter.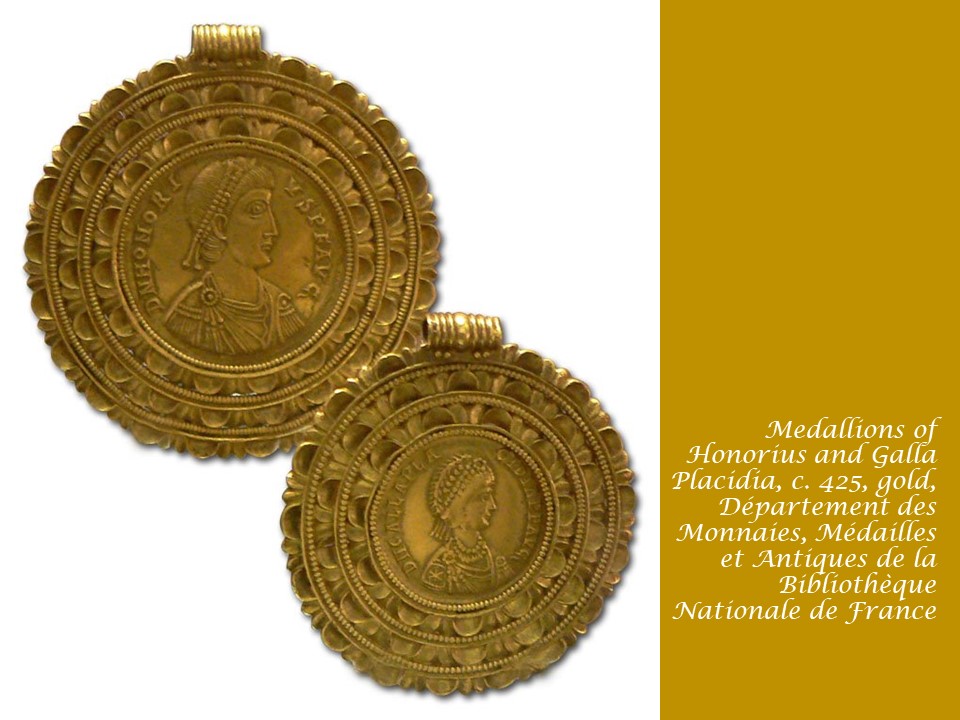 Ιn 416, Galla Placidia was finally returned to the Romans and soon after, her half-brother Honorius, Emperor of the West, forced her to marry the powerful Roman general Constantius. In 421, as Constantius III, Placidia's husband became co-emperor in the West and she was proclaimed Augusta (Empress). Constantius's death in the same year started a new set of unpleasant events for Galla Placidia. Emperor Honorius behaved towards her with "indecent familiarity," they quarreled openly, and Placidia had no other choice than flee Ravenna with her children, seeking refuge in Constantinople with her nephew, the Eastern Emperor Theodosius II (402-450).
During the final years of her life, Galla Placidia enjoyed the political power she was familiar with. On August 15, 423, Honorius died and on October 23, 425, her son, Valentinian III, was proclaimed Emperor of the Western Roman Empire. For twelve years Placidia served as Valentinian's regent seeking to balance the power of rival, ambitious generals and thus, protect the well-being of the Empire. Galla Placidia died in Rome on the 27th of November, 450. Her final resting place is unknown. It seems unclear whether the famous Mausoleum in Ravenna was intended for Galla Placidia's resting place. http://www.roman-emperors.org/galla.htm
Honorius and Galla Placidia are the Protagonists in a "Poem for two Voices" student Activity inspired by the Velp Medallions. The Student Activity Worksheet is… HERE!