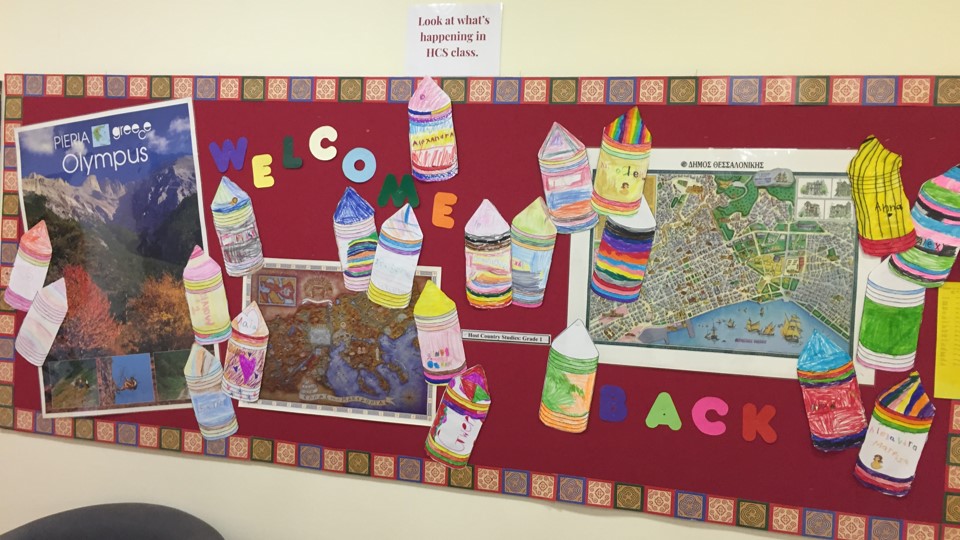 1st Day of the School Year and Grade 1 Host Country Studies students really worked… HARD! Our Bulletin Board is full of their "Art and Writing."
I WAS PREPARED!!! I slept very little the night before (I always do!!!), I dressed up nicely, I genuinely smiled and I welcomed my students with an itinerary that was full, fun and educational. Introductions and summer reflections are not enough! Depending on what level I am teaching, I prepare an interesting, I hope, Student Day with Visuals and lots of Hands-on Activities. In a managed way, I try to let them "run the show." I want to know their expectations, aspirations and goals for the year. 1st Day of the School Year is exhausting but so rewarding!!! https://www.edutopia.org/blog/only-1-first-day-school-lisa-mims
My Grade 1 students were divided into small groups of four. They were assigned to photocopies of "Pencils" to colour and write their names. When finished, they introduced themselves first to their group and then, in a big circle to the whole classroom. It proved to be a successful "ice braking" activity!
For the "Pencil" templates I use, go to http://glennmillerdoc.com/info-detail or https://m.thecolor.com/category/coloring/school.aspx THANK YOU both!!!
For more pictures of our Bulletin Board on the 1st Day of the School Year Activity… Click HERE!