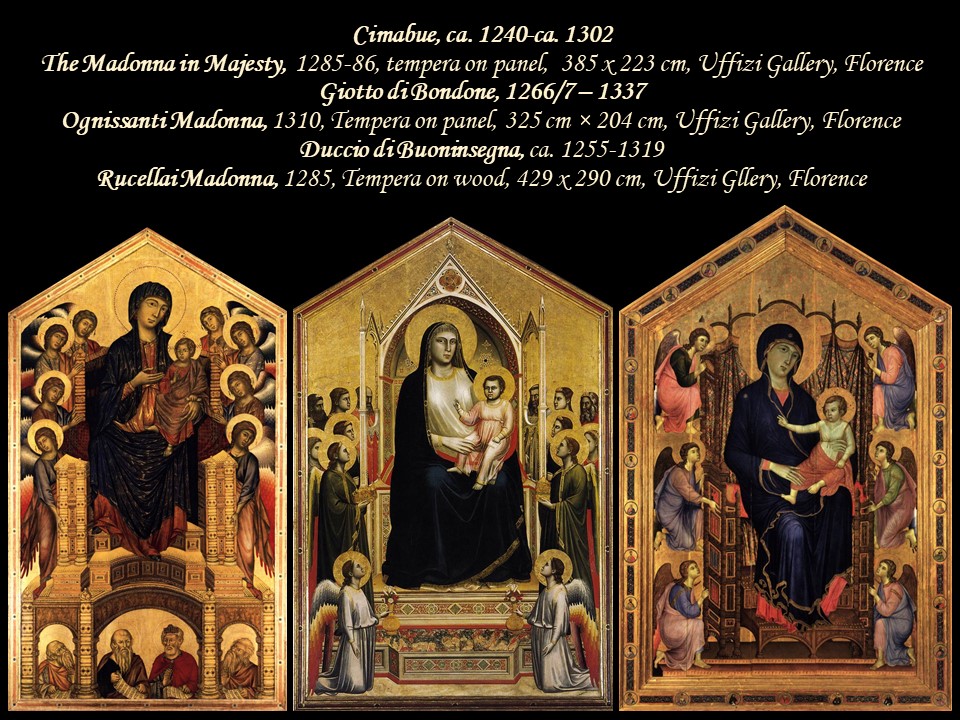 Cimabue – Giotto – Duccio, how important are they? You simply have to visit the Uffizi Gallery in Florence, Hall 2 to be more specific, stand in front of these three monumental panels and allow their masters to take you on a trip to the late 13th, early 14th century revolutionary Italian Painting.
According to Giorgio Vasari,"…instead of paying attention to his literary studies, Cimabue, as if inspired by his nature, spent the whole day drawing men, horses, houses and various other fantasies in his books and papers." Cenni di Pepo, known as Cimabue, is recognized as the last painter of the Italo-Byzantine style. Yet. he is credited to step forward in moving his art towards achieving the first hint of naturalism, paving the way for the next generation of great Italian masters.
O vanity of human powers, how briefly lasts the crowning green of glory, unless an age of darkness follows! In painting Cimabue thought he held the field but now it's Giotto has the cry, so that the other's fame is dimmed. Writes about Giotto, the poet Dante in Canto XI of his Purgatorio, and he is so right. Giotto creates "a new kind of pictorial space with an almost measurable depth" and figures that are "volumetric rather than linear" expressing "varied and convincingly human rather than stylized" emotions. Justifiably, Giotto is considered the father of modern European painting. https://www.metmuseum.org/toah/hd/iptg/hd_iptg.htm
"Duccio, painter of Siena and much esteemed, deserved to carry off the palm (of an inventor in the Arts) from those who came many years after him…" writes Giorgio Vasari in his book The Lives of the Most Excellent Painters, Sculptors, and Architects. Today, Duccio Duccio is considered to bring through his art elegance, lyricism, and spirituality along with spatial complexity and refined use of colours.
There are two Uffizi Gallery sites you simply need to visit: https://www.visituffizi.org/halls/hall-2-of-giotto-and-the-13th-century/ and https://www.virtualuffizi.com/13th-century-and-giotto-room.html
For a student Activity, my Grade 9 Art History students enjoy… click HERE!
A PowerPoint on the three Madonnas is… HERE!