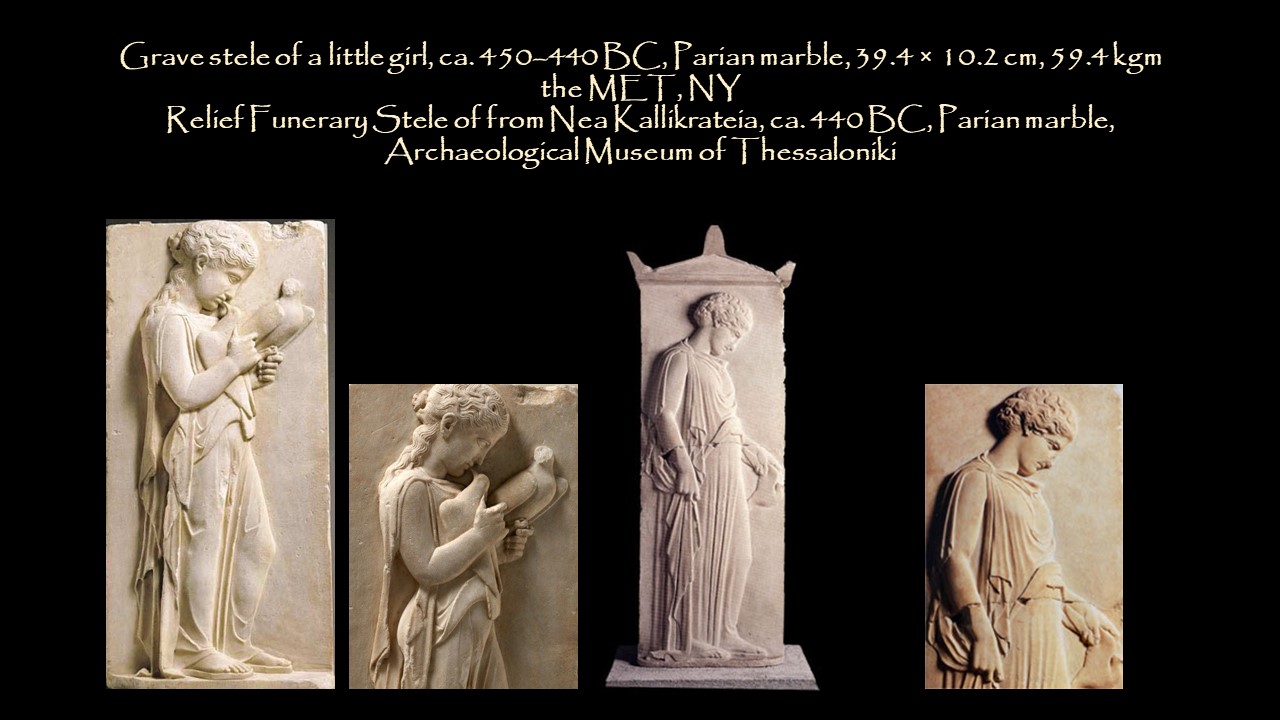 They were young and charming, elegant and playful yet sad as they were Telling us Goodbye…
Two of my favourite Ancient Greek Funerary Stele depict a young girl holding a Bird (in the Archaeological Museum of Thessaloniki) or in the case of the Metropolitan Museum in New York, two Birds. Both Stelae were made of Parian marble, around 440 BC.
The Funerary Stele in Thessaloniki "depicts a girl wearing a peplos and holding a dove by its wings with her left hand, while the right one lifts the edge of her garment, to reveal her body." It is characterized by the superb quality of craftsmanship, a subtle sense of movement, and controlled emotions. Undoubtedly, it occupies a central part in the history of ancient Greek sculpture.
"The gentle gravity of this child is beautifully expressed through her sweet farewell to her pet doves. Her peplos is unbelted and falls open at the side, while the folds of drapery clearly reveal her stance…" The Metropolitan Museum Funerary Stele is the work of a great master sculptor, an artist who manages to enhance the white, translucent Parian marble by creating a "charming composition and delicate carving."
Both Funerary Stelae grace with their beauty the Archaeological Museum of Thessaloniki (https://www.amth.gr/en/exhibitions/highlights and scroll down to " Relief Funerary Stele from Nea Kallikrateia") and the MET in New York ( https://www.metmuseum.org/art/collection/search/252890 ).
If you choose to use this Activity for your class, Grade 6 Social Studies or an Introductory Middle School class on Ancient Greek Art, it will be also nice to show Adam Fuss (the Photographer) discussing the MET Marble Grave Stele of a little girl.
The Metropolitan Museum of Art – THE ARTIST PROJECT Video http://artistproject.metmuseum.org/4/adam-fuss/
Examples of student RWAP (stands for Research-Writing-Art-Project) Sketchbooks… HERE!
Telling us Goodbye RWAP (stands for Research-Writing-Art-Project) is… HERE!