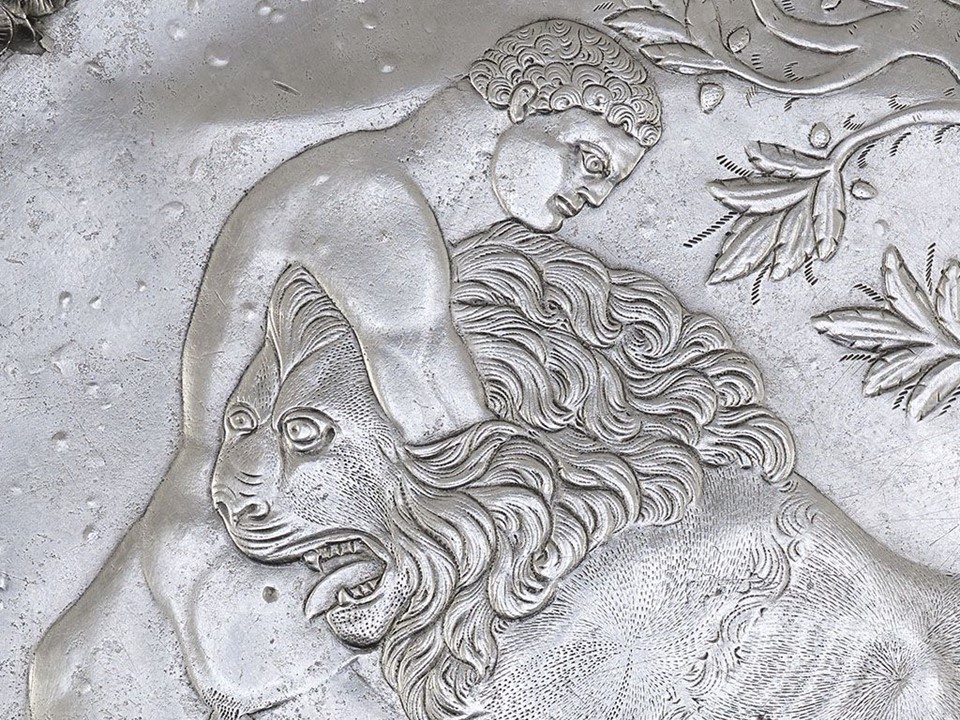 The 6th to 7th century Constantinopolitan Silversmiths were great masters of their craft. Inspired by Greek Mythology, and stories of the Old or the New Testament, they created unique artworks equally important to their monumental counterparts. The 6th-century silver Plate in the Bibliothèque Nationale de France depicting Hercules and the Lion of Nemea beautifully exemplifies their fine workmanship.
The contest between Hercules and the fierce beast takes a central position, within a typical landscape of the time, simple, yet full of "antique" landscape motives. A bending tree to the right complements the shape of the silver plate, while to the left, a pedestal supporting a vase, balances the composition, adding stability.
Hercules, nude, massive and muscular with a thick neck, a heavy jaw, large eyes and curly hair, is depicted grasping the Lion by the neck, his hands disappearing into the beast's luxurious mane. He is the undoubted winner of this fierce fight. The Lion is equally massive but succumbs to Hercules's power. His foreleg, limp and weak, rest on the hero's thigh, his grimacing face, a picture of exhaustion.
The unknown artist of this silver plate of Hercules and the Lion of Nemea illustrates a well-liked mythological story, popular during antiquity and the Byzantine period that followed. The plate was found in Italy in the Massa-Carrara area of Tuscany in 1771. It is dated ca. 500-600 AD. It was acquired by the Bibliothèque Nationale de France in 1890 and is part of its Département des Monnaies, Médailles et Antiques. The Plate was part of the spectacular "Ancient Luxury and the Roman Silver Treasure from Berthouville" Getty Villa Exhibition of 2014-15.
Bibliography: http://medaillesetantiques.bnf.fr/ws/catalogue/app/collection/record/ark:/12148/c33gbq9kr and https://www.metmuseum.org/art/metpublications/Age_of_Spirituality_Late_Antique_and_Early_Christian_Art_Third_to_Seventh_Century?fbclid=IwAR2T7bRUIaYH1cUyXgg-0KuAchuDZdxoNABmimn3TAQDhrC1x3V5Ys8Jcnk …pages 162-163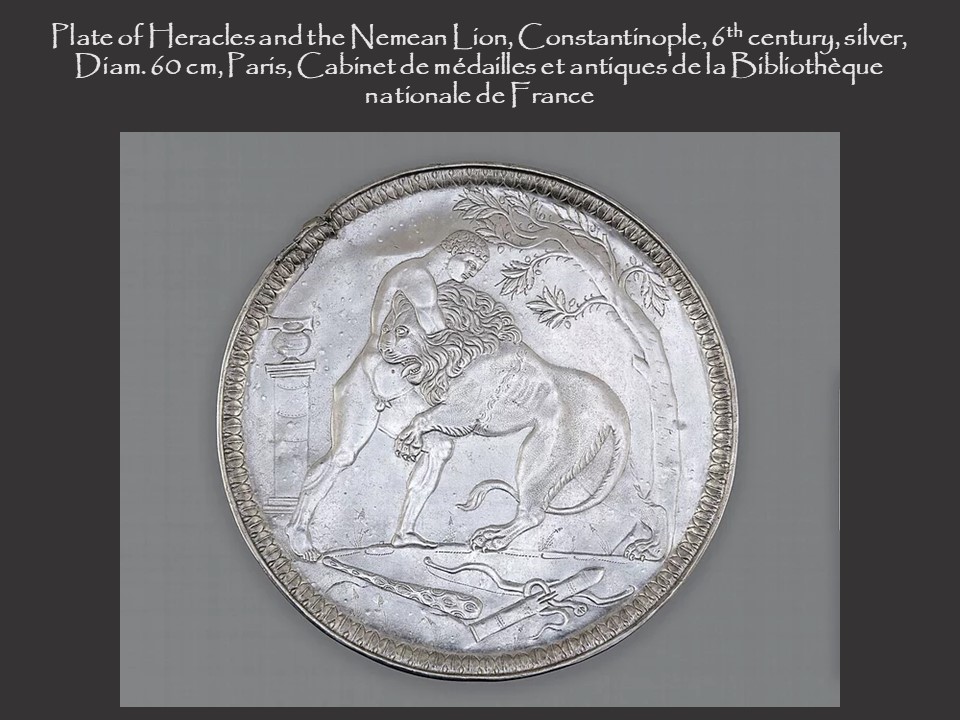 For a PowerPoint the Hercules and the Lion of Nemea, please… click HERE!
Student Activities on the Silver Plate of Hercules and the Lion of Nemea are… HERE!