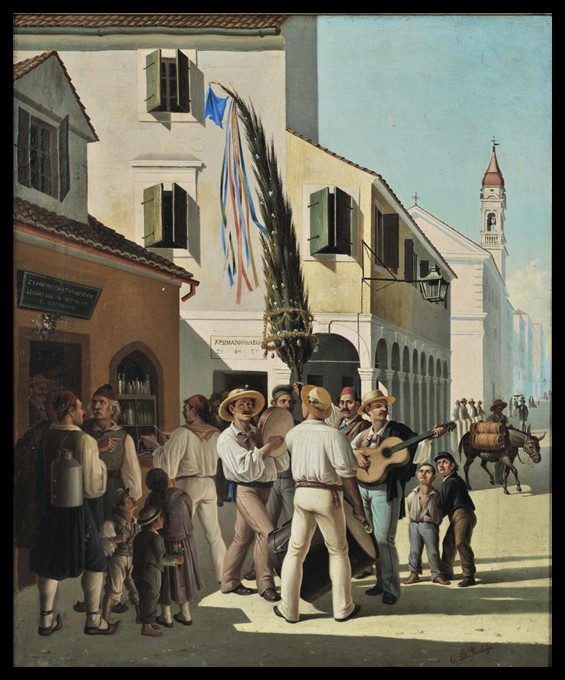 On May Day in Corfu, write 'The Kapodistria Museum – Center for Kapodistrian Studies' experts, the villagers brought a cypress trunk to the city, the foliage of which they had decorated with wreaths and colorful ribbons. They hung red Easter eggs, pine cones, artichokes, and other fruit gilded, doves and such. This May tree was reminiscent of the Christmas tree. The villagers holding the cypress were singing outside the houses. May Day on Corfu by Charlambos Pachis is here to remind us of bygone happy days on the Island… https://www.capodistriasmuseum.gr/stories/anoixi-stin-kerkyra/
Haralambos Pachis (1844-1891) was an artist from the Island of Corfu who painted genre scenes and landscapes, mixing elements of traditional folk art with the Italian influences widespread on the island at the time. His education started at the Accademia de i Pittori e Scultori di Roma (1868-1869) where he studied the latest techniques and styles of painting, and further matured, as he traveled to various European countries, to meet artists, and visit Museums and Galleries. In 1870 he returned to Corfu where he originally taught at the Capodistrias School but then founded a private art school at which many noteworthy Corfiot painters studied, such as Angelos Giallinas and Georgios Samartzis. https://www.nationalgallery.gr/en/artist/pachis-charalambos/
Like many artists from the Ionian Islands who were trained in Europe, Pachis brought his art experiences back to Corfu and incorporated them into his native 'world', adapting them to reflect the unique cultural and historical context of the Ionian Islands. As a result, the paintings he created were often characterized by a vibrant use of color, dynamic compositions, and a focus on local landscapes, people, and cultural traditions.
The artist from Corfu became an active member of the late 19th-century Greek art community. He was known for his portraits, landscapes, history compositions, and genre scenes, like the circa 1875-1880 painting of May Day on Corfu in the collection of the National Gallery – Alexandros Soutsos Museum in Athens, Greece.
May Day on Corfu, painted after the union (1864) of the Ionian Islands with Greece bursts with liveness, energy, and an 'eloquent' expressiveness. The artist's diagonal composition brings us to the heart of a central street in the city of Corfu, where typical Corfiot buildings with arches, and a Church with a tall Belltower create a strong sense of depth and perspective, further increased with the faintly colored buildings at the end of the line.
In the foreground, we discern two groups of people: the 'Creators of Merriment', centrally placed, and the 'Viewers' around them.
Full of energy, and carrying the May Day cypress trunk, the Musicians presented in the composition, create true merriment and cheerfulness with jovial singing and robust music. Dressed in traditional Corfiot attire, and bathed in light, they draw our attention, but most importantly, the attention of the picture's second group, the 'Viewers'. Placed in front of a Beerhouse, or around the Musicians, Charalambos Pachis creates a diverse and 'interesting' group of 'Viewers.' Two herdsmen, for example, wearing red fezzes and tsaruchia-type shoes, one of them carrying a milk container on his shoulder, and five children, three of them standing by the herdsmen, and two more, by the Musicians. These children are quite enigmatic. Are they children or dwarfs? Do they present specific, well-known people on the island? I am afraid I do not have the 'right' answer.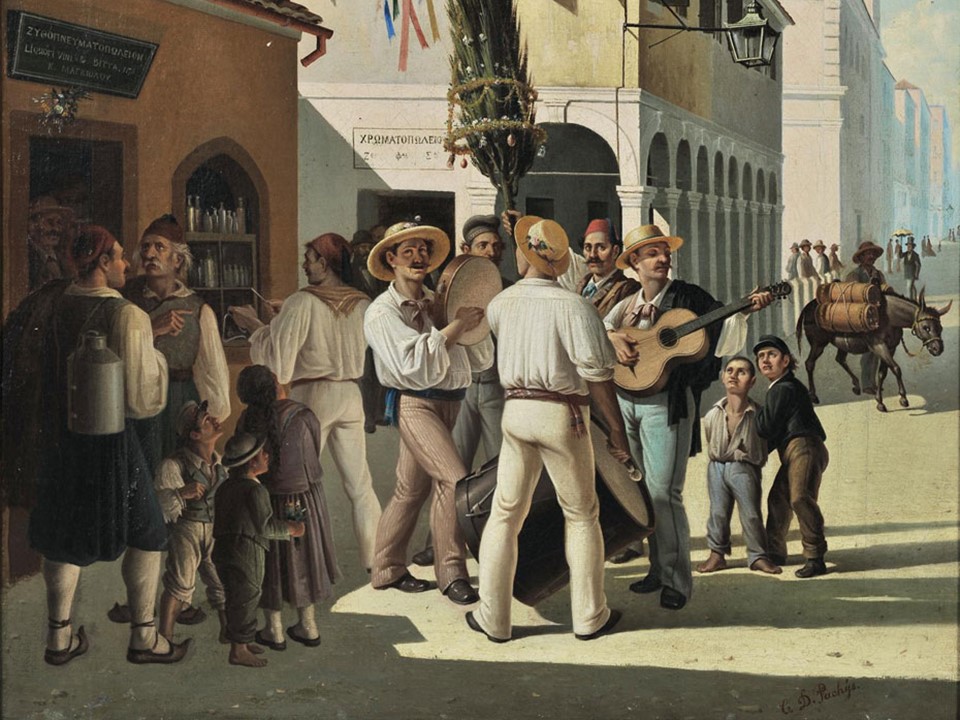 May Day on Corfu by Charlambos Pachis is a composition that projects a wealth of details, purity of forms, vivid colours, and precision of design. It is an ethnological treasure trove, a festive scene in an Ionian Island rich in culture… a 19th-century snapshot of Corfiot merriment!
Wishing you a very Happy May Day!
For a May Day Student Activity, please… Check HERE!