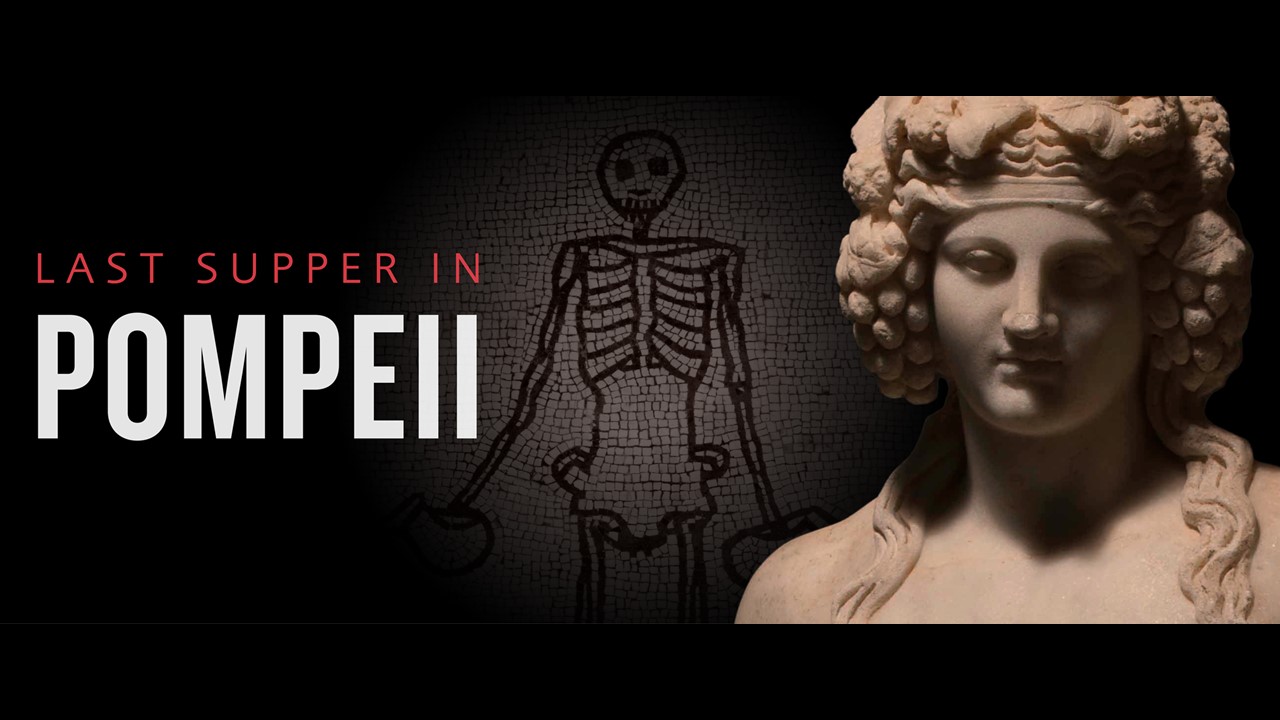 If your Christmas "walking shoes" take you to Oxford, England, go the Ashmolean Museum of Art and Archaeology to see Last Supper in Pompeii, a wonderful Exhibition on the Roman love affair with food and wine! Inspiration for this Exhibition comes from Pompeii, this amazing time capsule of 79 AD Roman life. Dr Paul Roberts, Head of the Ashmolean Department of Antiquities and exhibition curator, says: 'The evocative names given to the excavations (the Villa of the Mysteries; the House of the Tragic Poet) have inspired everything from Victorian exhibitions, swords-and-sandals romances to countless scholarly works. Our fascination with the doomed people of Pompeii and their everyday lives has never waned. What better connection can we make with them as ordinary people than through their food and drink?'
Last Supper in Pompeii displays 300 objects related to the culinary arts and the role they played in Roman history and culture. Exquisite floor mosaics from the villas of the affluent Pompeiians, frescoes depicting banquets, and statues, fountains or furnishings that decorated famous triclinia, are all present. Precious or humble dining sets and utensils, simple cooking pots and carbonised food that was on the Pompeiian tables when the volcano erupted tell us interesting stories or Roman culinary voyages and cultural connections.
Useful sources: https://www.ashmolean.org/pompeii and https://www.ashmolean.org/article/last-supper-in-pompeii and https://www.smithsonianmag.com/smart-news/exhibit-spotlights-roman-delicacies-baked-dormouse-carbonized-bread-180972731/
My favourite Exhibition fresco is titled Distribution of Bread (AD 40–79) and comes from the House of the Baker in Pompeii.  It shows a man behind a wooden counter handing a loaf of bread to a man, while a young boy reaches up eagerly. The shelves are heaped with loaves of the typical round Pompeiian bread, archaeologists even found carbonized one in its entirety. Scholars today believe that the fresco represents a politician's free distribution of bread (annona) rather than a baker selling his loaves from a food stall.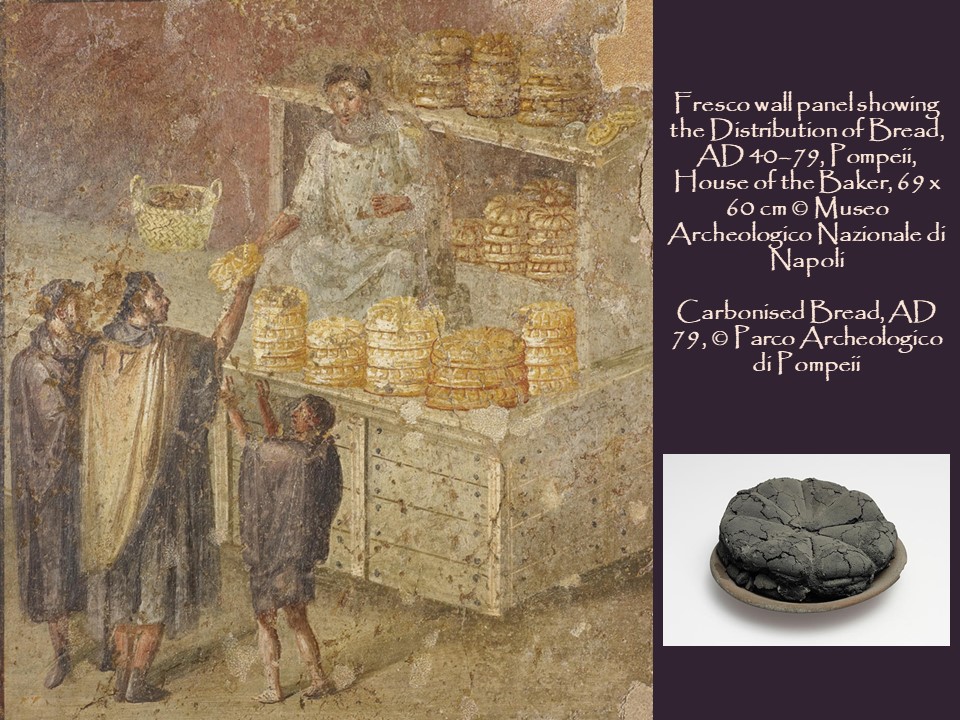 The Distribution of Bread is a fascinating Pompeian fresco. I like the artist's ability to create a sense of depth and space through a diagonal composition, his choice of earthy colours with touches of white and aubergine purple to accentuate the depicted figures. I also like the anecdotal details… the well-crafted wooden stall, the herringbone woven basket painted on the left side of the fresco, the abundance of displayed bread loaves… most of all, I like the human touch, the boy, impatient and eager to get his part of the Distributed Bread!
Bibliography of the House of Baker and the Distribution of Bread fresco: https://www.pompeiiinpictures.com/pompeiiinpictures/R6/6%2003%2003.htm and http://www.bbc.co.uk/history/ancient/romans/daily_life_gallery_02.shtml and https://www.ancient.eu/image/10622/sale-of-bread-fresco-pompeii/
An Activity students will enjoy is… HERE!
For a powerpoint prepared for the Exhibition, please… click HERE!