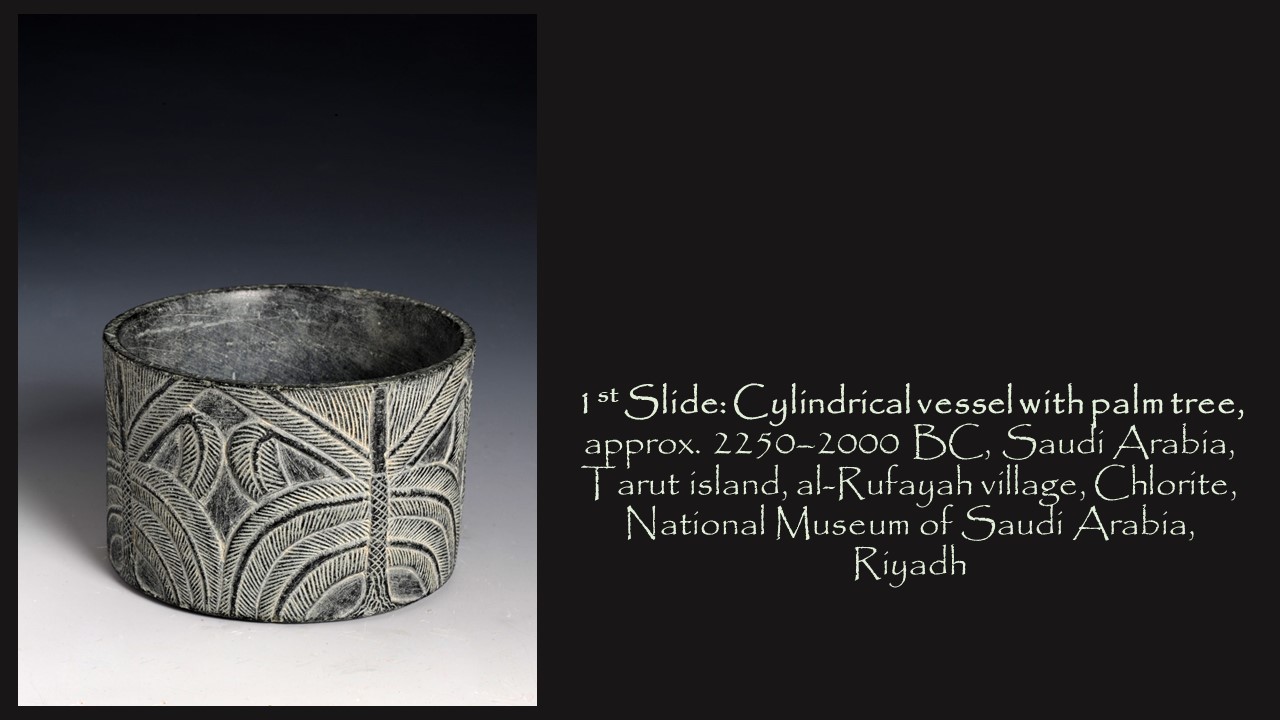 A small Bronze Age Vessel with Palm Trees became the focal point of my interest and a simple yet creative Activity. It was love at first sight!
While visiting the "Roads of Arabia: Archaeological Treasures from Saudi Arabia" Exhibition, a small 5,000-year-old Chlorite Vessel decorated with Palm Trees caught my eye. I was at the Benaki Museum in Athens and I was stunned and intrigued. So much so that I began searching and thus a journey started to an island in the Persian Gulf, called Tarout. The journey revealed a Near Eastern island site where creativity, imagination, craftsmanship, and trade, throughout the ancient Near East, from Syria to the Indus Valley, reigned supreme!
The Palm Tree decoration used by the Tarout artists became an "interlude" kind of Activity for many of my classes. I used the PP and the Worksheets I prepared with my Grade 3 students when aspects of the Bronze Age were discussed and with Grade 6 Social Studies students while we explored the Indus River Valley trade routes. It gives me a chance to examine along with my students, how ideas, artistic endeavors, and goods "traveled" around the world, influenced people and created connections and relations.
For valuable information, please check…
https://alaintruong2014.files.wordpress.com/2014/10/725.jpg
https://www.metmuseum.org/toah/works-of-art/17.190.106/
For my PP in Vessel with Palm Trees in Bronze Age Art… Check HERE!
"Artists and designers are always looking for inspiration, and what better place to find it than an art museum's encyclopedic collections of great treasures." Realizing how important this is, the Los Angeles County Museum of Art collaborates with establishing artists and designers "to create a range of art-inspired products, from T-shirts and fragrances to jewelry and bags." Check out this Observer article and check my Worksheets … HERE! … get inspired to create your own Palm Tree artwork!
Palm Trees and a Student Activity
For the "Vessel with Palm Trees" Activity I use the recommended PP and the Worksheets I created. Photocopy them, and if you wish, enlarge them, so as students have more space to work on. Show students the prepared PP, then discuss how the Palm Tree is used as a decorative motif by the artists of the Bronze Age in the Near East and in Minoan Crete as well.
Show students how designer Kendall Conrad was inspired by the LACMA chlorite handled weight. "This artwork first caught my eye because it was in the shape of a bag, but the carved image is what I fell in love with," she said.