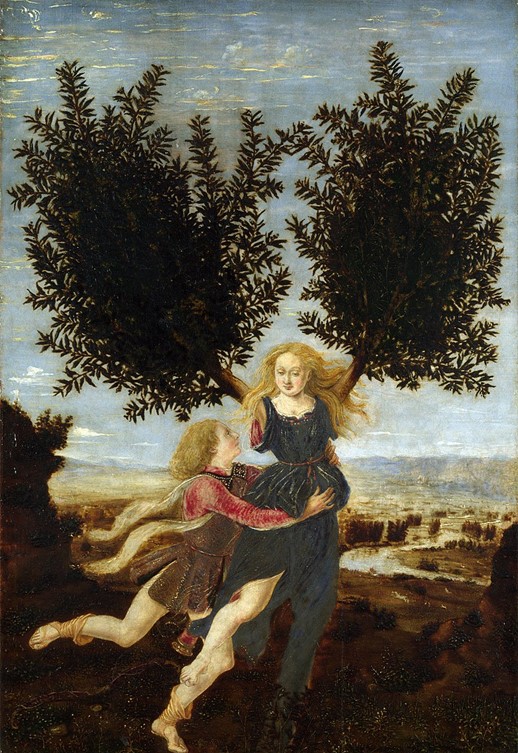 Daphne, daughter of Peneus, was Apollo's first love, which not blind chance, but Cupid's savage anger, gave… One suddenly loves, the other flees the name of lover, rejoicing in the hiding-places of the woods and with the spoils of captured beasts (and) as an imitator of unmarried Diana: a ribbon was restraining hair placed without rule… Having barely finished the prayer, a heavy numbness seizes her limbs, her soft breasts are girded by thin bark, her hair grows into foliage, her arms into branches, her foot, just now so swift, clings by sluggish roots, her face has the top of a tree: a single splendor remains in her… since you can't be my bride, at least you will certainly be my tree! Metamorphoses by Ovid, translated by Wikisource, Daphne and Apollo help us better understand the dynamics in Pollaiuolo's Apollo and Daphne painting. https://en.wikisource.org/wiki/Translation:Metamorphoses/Daphne_and_Apollo
A tiny picture in the National Gallery, inspired by Ovid's Metamorphoses, tells us so many stories… "the rivalry of the gods, the power and danger of desire and the tragedy of unrequited love." https://www.nationalgallery.org.uk/paintings/piero-del-pollaiuolo-apollo-and-daphne
The literary source for this amazing panel painting comes from the Metamorphoses, a narrative poem, built upon the Hellenistic erudite tradition, written during the period of Augustus, c. 8 AD, by the Roman poet Ovid. The poem includes 11,995 lines and is divided between 15 books and presents 250 myths. It is a record of world history starting with the creation of the world and finishing with the deification of Julius Caesar. Ovid's Metamorphoses is considered the poet's magnum opus. It was popular among the Romans and later highly regarded among Renaissance artists, as, rich in myths… transformations, personifications, loves, rivalries, jealousies, happy ends and tragic ends, communicated the greatest of stories!
Piero del Pollaiuolo's painting of Apollo and Daphne depicts the most crucial of moments… the rivalry between Apollo and Cupid is a fait accompli, as one (Apollo) suddenly loves, and the other (Daphne) flees the name of lover. Apollo's desire frightens Daphne who cries for help Father bring help! Rivers, if you have divinity, destroy my shape by which I've pleased too much, by changing it. Apollo's love is not returned, and Daphne is slowly turned into the beautiful Laurel Tree. The god is, however, still enamoured and he loves this one too (the Laurel Tree) and with a right hand placed on the trunk feels that her heart still trembles under the new bark… As Daphne is slowly metamorphosing, he softly talks to her since you can't be my bride, at least you will certainly be my tree! My hair will always have you, my lyres (will have you), my quivers (will have you), O Laurel…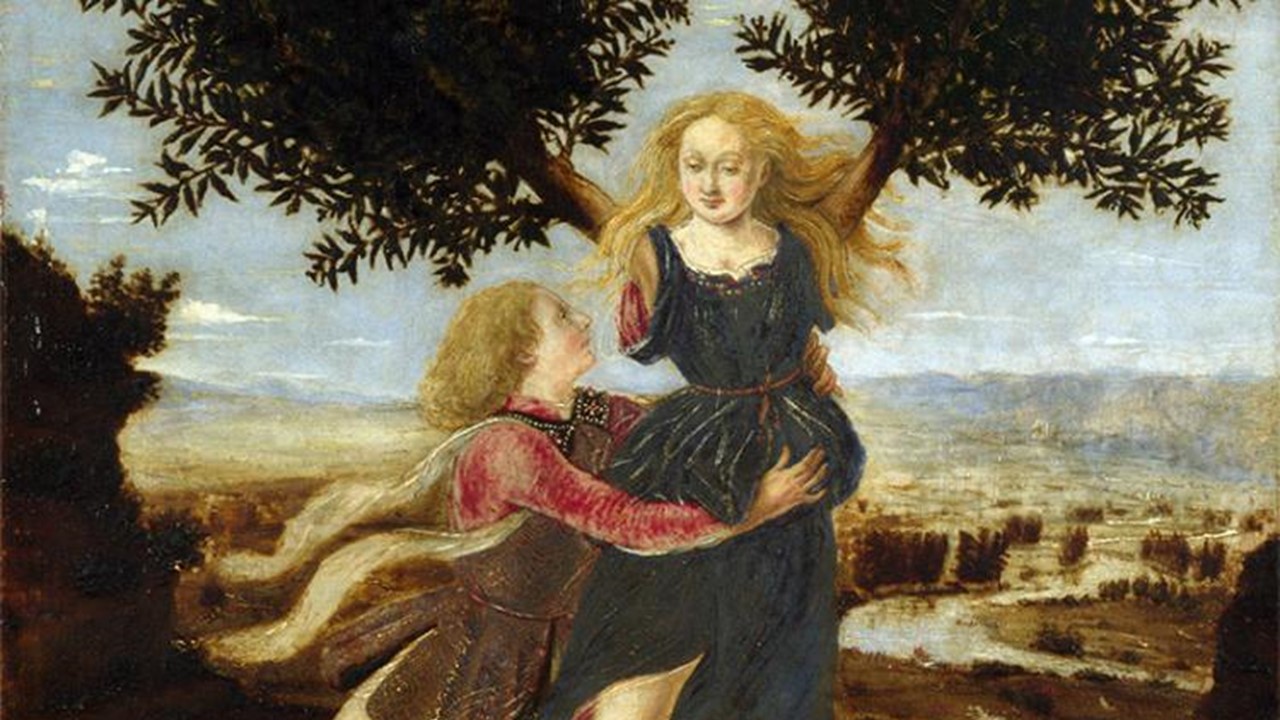 For Polaiuolo, the Greek Myth of Apollo and Daphne becomes a Florentine affair. Daphne like Petrarch's Laura becomes the ideal, unattainable love of the Renaissance courtly circles, "fair-skinned, blonde and seemingly modest." She "allows young men to nobly strive for an ideal beauty beyond their reach." Apollo, fair, blonde and aristocratic as well, seems persistent but genteel. Is he symbolically representing an idealized "portrait" of Lorenzo de' Medici? Let's not forget that the leader of the Florentine privileged society saw himself as the forceful god Apollo and had adopted the laurel as part of his personal emblem. The background landscape scene is definitely presenting the Tuscan countryside with the Arno river valley and the distant vista of the city of Florence itself. The painting may be small in size, but Piero del Pollaiuolo realized a small treasure, to "be admired close up by an educated patron." https://www.nationalgallery.org.uk/paintings/piero-del-pollaiuolo-apollo-and-daphne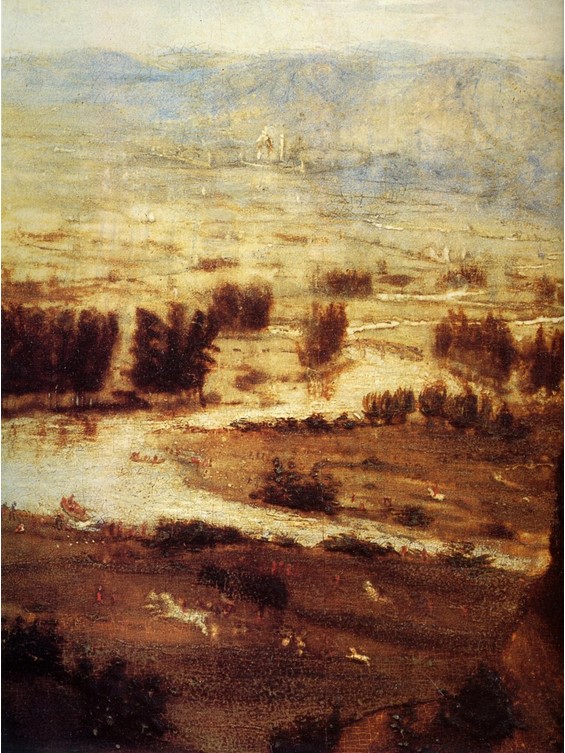 If you please… access a PowerPoint with artwork depicting the Myth of Apollo and Daphne HERE!
For a Student Activity on the Myth of Apollo and Daphne, please… check HERE!