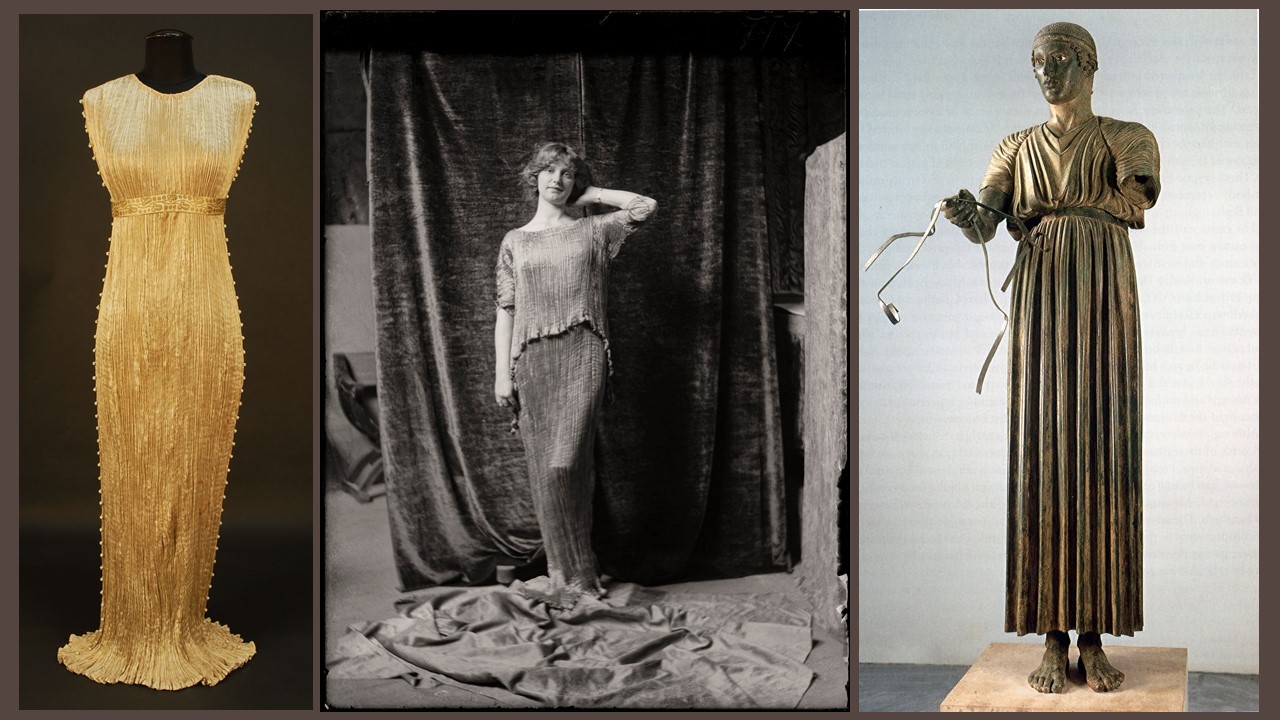 "It's not the quantity, but the quality of light, that makes things visible." Mariano Fortuny y Madrazo once said. When Fashion becomes Art is my new POST on Fortuny's quest for high quality, the shimmering glow of silk, body movement and the Delphos Dress.
It is 1909, Mariano Fortuny y Madrazo creates the Delphos Dress inspired by the Statue of the Charioteer at Delphi. "The sculpture depicts the driver of the chariot race at the moment when he presents his chariot and horses to the spectators in recognition of his victory. Despite the severity of the moment, the youth's demeanor encapsulates the moment of glory, and the recognition of his eternal athletic and moral stature, with abundant humility." Fortuny, fascinated by the beauty of the Charioteer but focused on the Xystis, the typical Chiton all Charioteers wore while driving in a competition, designed the Delphos Dress as a unique, timeless and iconic 20th century garment. Helen von Nostitz visited Fortuny in his Venetian Palazzo and wrote "There were Mycenaean patterns and the garment of the Charioteer of Delphi with its bold and noble drapery. The splendor of the garments glowed between the simple wooded pillars, like the sun setting on the lagoon; from deep orange to radiant carmine, the symphony of color played all tones. Fortuny stood next to them almost austere…" Gabriele Brandstetter, Poetics of Dance: Body, Image, and Space in the Historical Avant-Gardes, Published to Oxford Scholarship Online: April 2015 https://books.google.gr/books?id=brDlBgAAQBAJ&pg=PT114&lpg=PT114&dq=Charioteer+Delphi+garment&source=bl&ots=Qj_Xair0zi&sig=ACfU3U3xXLNQ3kwQZLaq9SBLkldlClKVxQ&hl=el&sa=X&ved=2ahUKEwiLvP7S9svqAhVQyaQKHSjRCP4Q6AEwEXoECAoQAQ#v=onepage&q=Charioteer%20Delphi%20garment&f=false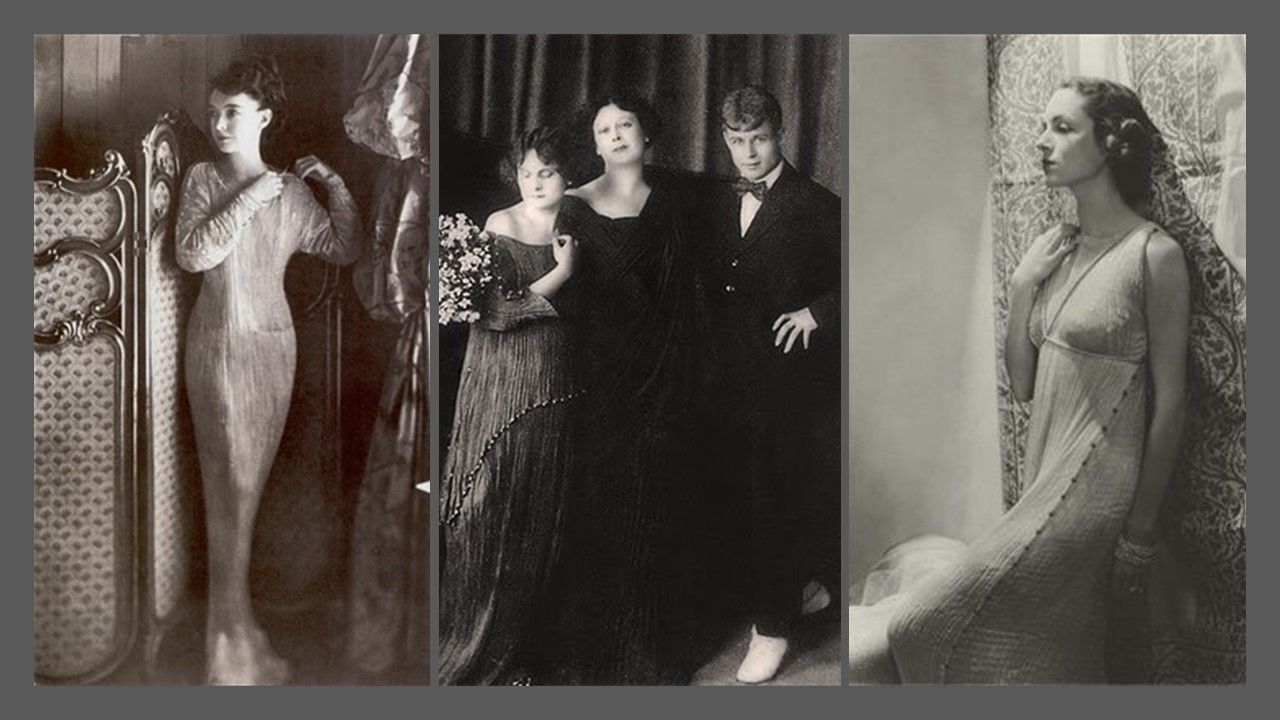 Mariano Fortuny y Madrazo, painter, set designer, photographer, inventor and technology aficionado, was born to an artistic family, in Granada Spain, in May 11, 1871. His father, Mariano Fortuny y Marsal, was a successful genre painter and an avid collector of antiquities and artefacts. His mother, Cecilia de Madrazo y Garreta, was a noted collector of textiles. Fortuny was only three years old when his father died and his mother decided to move to Paris so that her family will be close to their cousin Coco de Madrazo, an artist in the circle of Serge Diaghilev's Ballets Russes. Mariano Fortuny, growing up in a very artistic and theatrical environment, an artist himself, developed two very distinct passions, first, how to best apply the latest lighting technology to the performing arts and galleries of art, and second, how to create inimitable and stunning textiles for timeless fashion designs. Whatever he did, he successfully "blended art and technology with science and craftsmanship, giving him a unique ability to understand and control the entire creative process from raw material to finished product."
In 1888 Mariano Fortuny moved to Venice, where the family's interest in antique textiles reignited. His wife Henriette Nigrin, a young woman he had met in Paris, shared his aesthetics and the family collection of ancient textiles inspired him to explore the world of fashion. In 1906 he opened his textile/fashion workshop at the Palacio Pesaro degli Orfei creating original fabrics and costumes using modern techniques, his own patents and secrets impossible to solve even today.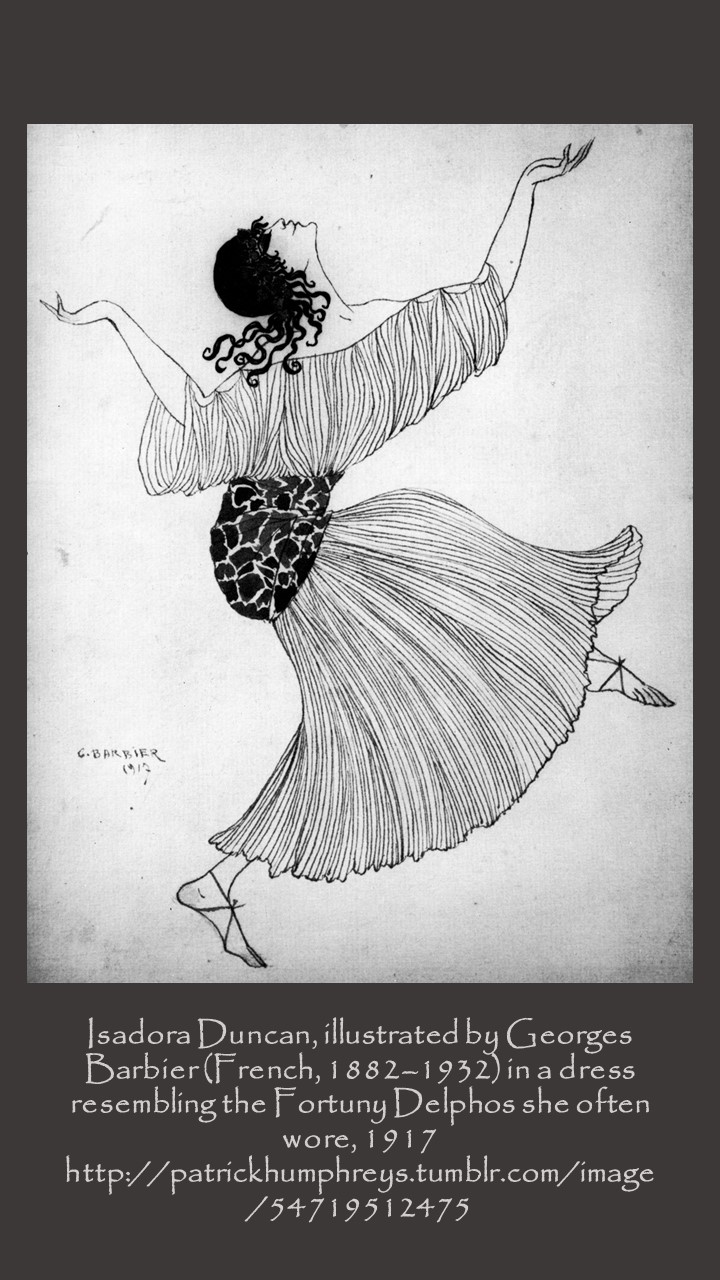 His Delphos Dress is immortalized in Marcel Proust's Remembrance of Things Past as "faithfully antique but markedly original." It created a sensation, as in an era when rigid corsetry was still the norm, it daringly hugged the body revealing the silhouette and body contours. At first, actress Sarah Bernhardt and dancer Isadora Duncan became enamoured with it and fashionably wore it, ignoring convention. Then… it became history! Today we are still intrigued by its "distinctive fine pleats, whose method of creation remains a tantalising mystery," the way Fortuny silk was "dipped in a dye bath multiple times, enriching the colour of the fabric, which fluctuated according to light and movement" and how "The edges of the dress were finished off with strings of small Venetian beads that served both as an ornament and to weigh the dress down, giving it its distinctive drape." https://www.bbc.com/culture/article/20190617-the-designer-who-freed-the-female-body
Mariano Fortuny's Venetian house is a Museum, unfortunately, closed to the public since 2017 for restoration. http://fortuny.visitmuve.it/en/home/
A Video, short, but worth seeing: https://www.google.com/culturalinstitute/beta/exhibit/la-naissance-d-une-robe-unique-la-delphos/qgJiyD72_413Jw?hl=fr
For a Student Activity on the Delphos Dress, please… check HERE!