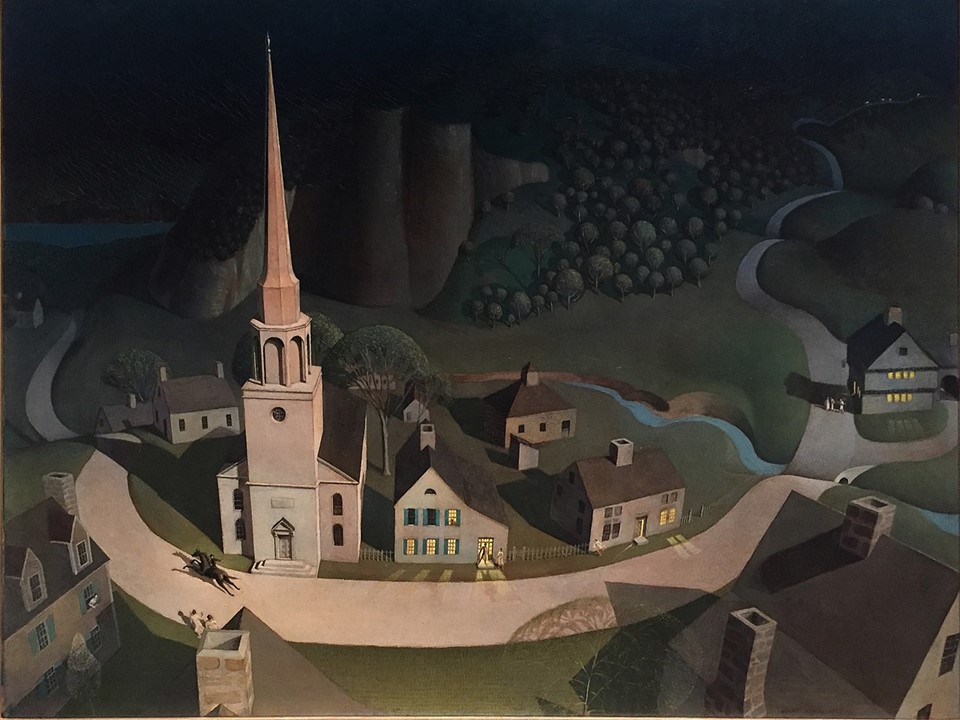 Listen, my children, and you shall hear  /  Of the midnight ride of Paul Revere,  /  On the eighteenth of April in Seventy-five;  /  Hardly a man is now alive  /  Who remembers that famous day and year…Wrote Henry Wadsworth Longfellow back in 1860. Grant Wood and the Revolutionary Spirit is my new POST on a 20th-century painting capturing the most important moment in the story of Paul Revere.    https://poets.org/poem/paul-reveres-ride
Eight years of Revolutionary War (1775–1783) and Art in America came to a halt. Some prominent Colonial artists were in England at the time, studying, and remained there, others, disagreeing with the violence, embraced neutrality. Yet some, although safe in Europe, returned to fight and take part in building a new nation. They all managed to give a view of the period with portraits, historical scenes and more. From architectural buildings to furniture, silverware, glass and porcelain, adorned with symbols of patriotism and national pride, people were proud of their new nation and showed it.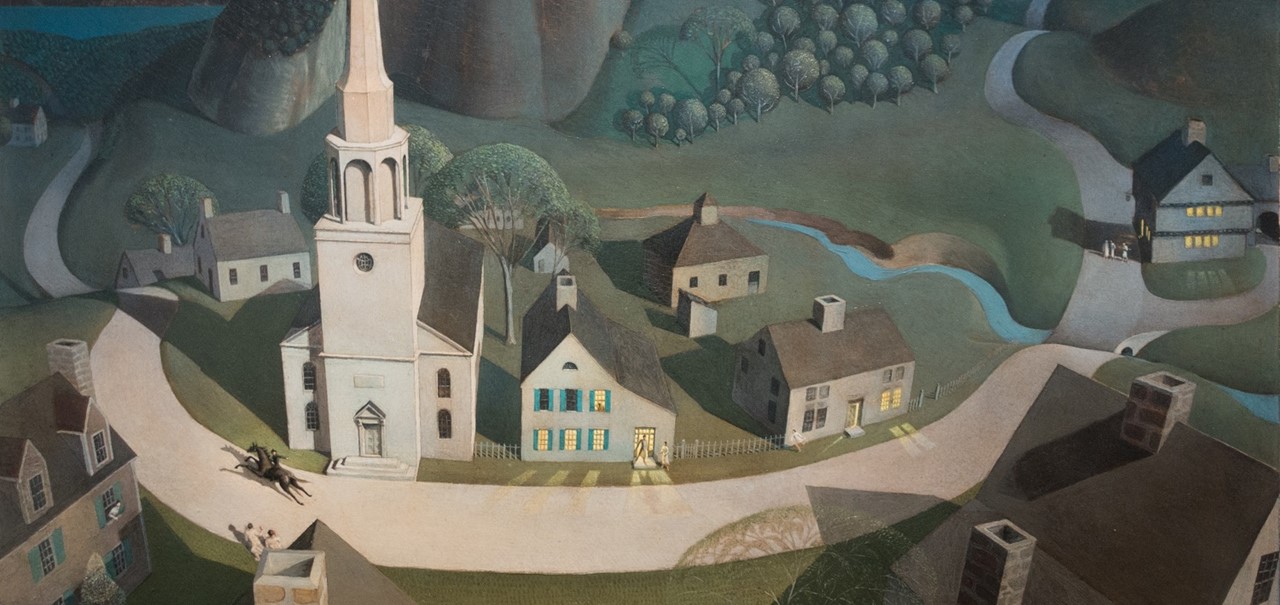 Grant Wood is an American artist who has never lost his "Revolutionary" vision and spirit. He was born in 1981, on a farm in rural Anamosa, Iowa, but unfortunate circumstances, his father's unexpected early death, forced the family to move to Cedar Rapids where Wood, a High School student by then, was introduced to Art. As a school graduate, he first moved to Minnesota and Chicago later, where he took Art Classes with Ernest A. Batchelder and Charles Cumming until 1916 when he returned to Cedar Rapids to take care, financially, of his mother and sister, working as a home builder and decorator. The end of World War I changed Wood's career as he began teaching Art at McKinley Middle School. In the 1920' Wood travelled to Europe, and in 1925, he gave up teaching to focus on his art full-time encouraged by his friend David Turner, "the savvy and energetic mortician," and the people of Cedar Rapids who "like a revelation… their clothes, their homes, the patterns on their table cloths and curtains, the tools they used" kindled his creativity as he "suddenly saw all this commonplace stuff as material for art. Wonderful material!"
If the 1920' were Wood's formative years, the 1930s saw Wood's artistic maturity and recognition as a leading figure of the American Regionalist movement, a rather conservative and traditionalist style that appealed to popular American sensibilities and the need for an American cultural identity. His famous painting American Gothic won a medal at the Art Institute of Chicago's annual exhibition in 1930, the Institute bought the painting, and Wood, thirty-nine years old, saw his reputation rise among his colleagues. Back in Cedar Rapids, he joined forces with Ed Rowen and created the quaint Stone City Art Colony, where they taught classes through Coe College. In 1934, his life changed dramatically when he accepted a position as professor of Art at the University of Iowa in Iowa City. His appointment to the University of Iowa was ill-fated as a series of unpleasant events professionally stressed him and personally harassed him…  https://www.theartstory.org/artist/wood-grant/life-and-legacy/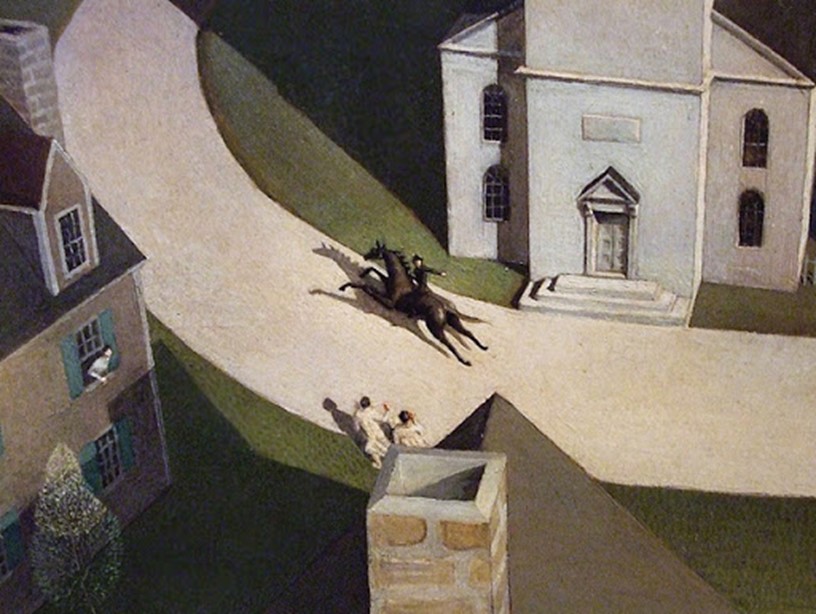 In 1931 Wood painted a charming, captivating and enchanting painting titled The Midnight Ride of Paul Revere. In Picturing America Teachers Resource Book we read "Wood was a self-consciously "primitive" painter who emulated the unpretentious, unschooled manner of American folk artists… The Midnight Ride of Paul Revere goes one step further to capture a child's point of view. A bird's-eye perspective (like the view from an airplane) allows us to survey a vast sweep of countryside and gives the New England village the ordered clarity of a town made of toys: the country church and surrounding houses are simple geometric shapes, as though constructed of building blocks; the trees are crowned with perfect green spheres, like those a child would try to draw… The rolling landscape beyond is left sleeping in a darkness that is broken only by tiny glimmers from faraway windows. To complete this evocation of a childhood dream, Wood whimsically portrays Paul Revere's trusty steed—"flying fearless and fleet," in Longfellow's words—as a rocking horse."     https://picturingamerica.neh.gov/downloads/pdfs/Resource_Guide/English/English_PA_TeachersGuide.pdf
Upper Elementary and Middle School students find the historic event of Paul Revere riding on the night of April 18, 1775, to alert the colonial militia to the approach of British forces exciting and fascinating. We discuss historic events, we read Henry Wadsworth Longfellow's poem, explore and discuss Wood's painting Using Picturing America Teachers Resource Book. Finally, for homework, I usually assign them to do an Activity you can access… HERE!