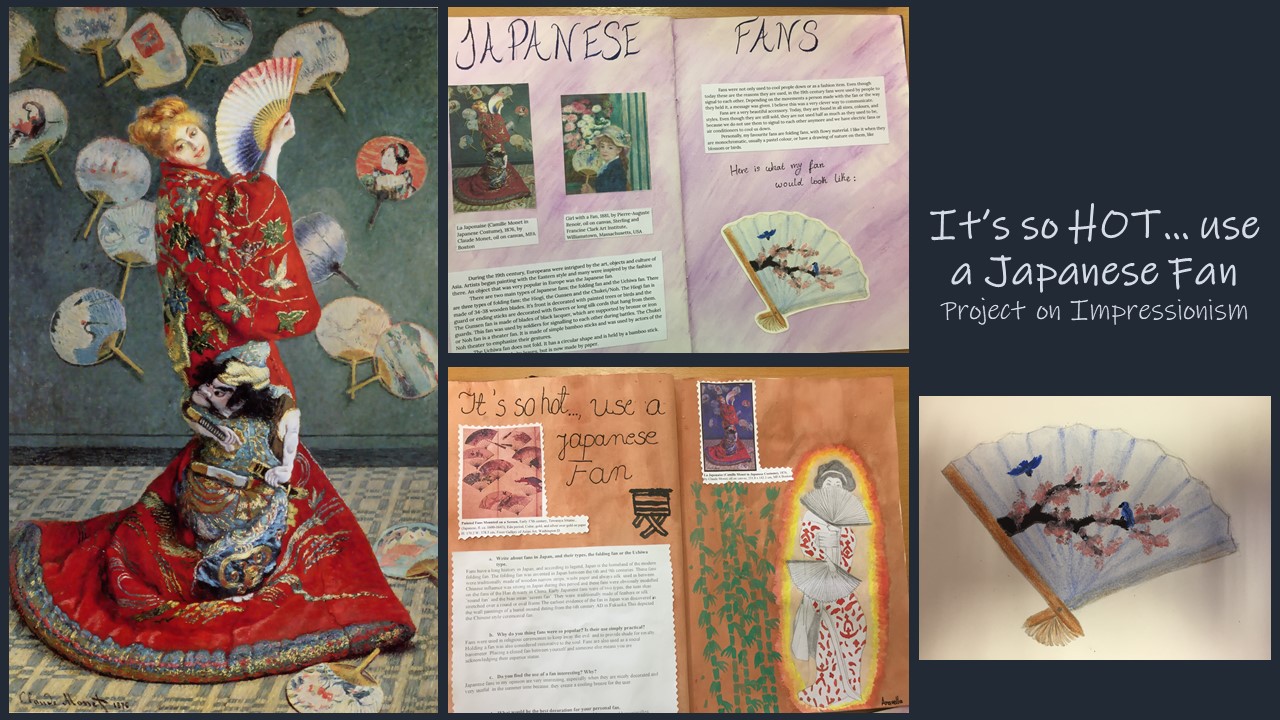 How the West met the East and how Impressionism was influenced by Japanese Art!
My Summative Projects, I call them RWAP (Writing Research Art Project), ask students to focus on 4 parts: 1. Write a well thought Project Title 2. Provide colored copies of at least 2 artworks related to their Project, correctly identified. For the correct identification, I expect them to write the name of the artist (if known), the title of the work, date, medium, and current location, 3. Prepare the required Writing Assignment, 4. Do the Art Assignment which is open to student imagination and creativity.
For the Impressionism and Japonism RWAP Project students are asked to Investigate Impressionism and Japonism, and how the first was influenced by the second. Students are asked to focus on Monet's painting La Japonaise exhibited in 1876, and attracting a lot of attention, of his wife Camille, dressed in a fine kimono, in front of a background of Japanese Uchiwe fans.
Japonism is the word used to describe the influence of Japanese art on European art and culture. Astounded by the great influence of Japanese art, the French journalist Philippe Burty wrote an article to describe strong European interest for Japanese artworks. The article was published in 1876 and the word Japonism became instantly popular. Students are asked to study the following articles:
https://www.theartstory.org/movement-japonism.htm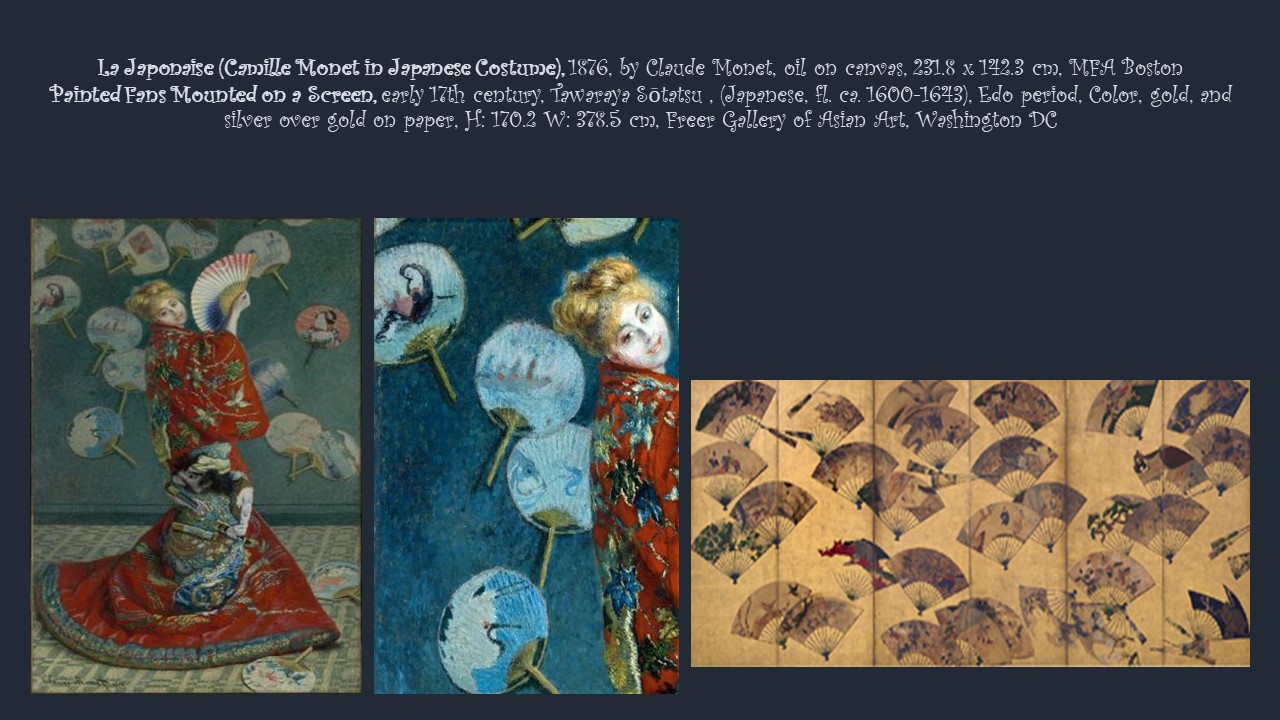 Impressionism and Japonism: the Activity
Students are further asked to read on Monet's La Japonaise:
http://www.mfa.org/collections/object/la-japonaise-camille-monet-in-japanese-costume-33556\
For Painted Fans Mounted on a Screen Read:
http://www.asia.si.edu/collections/singleObject.cfm?ObjectNumber=F1900.24
The Writing Assignment for this RWAP on Impressionism and Japonism is to write about: A. A paragraph on fans in Japanese culture and art, the folding fan or the Uchiwa type, B. Why were fans so popular then? Was their use simply practical? How else were fans used by both men and women? Students can write about the use of fans in Japanese or European culture.
For Japanese fans Read:
http://www.fancircleinternational.org/history/japanese-fans/
For student Art Assignment I can only suggest… decorate the pages of your RWAP Sketchbook, like Monet, with Uchiwa fans a or dazzle us with something glitzy like the Edo Screen. Most important… Be imaginative, Creative, Original!!!
For Student Project Worksheet… Click HERE!
For a PP on student Work (Grade 9 ESL students of different levels)… Click HERE!
June in Greece is so hot…, I use a Japanese Fan!!!