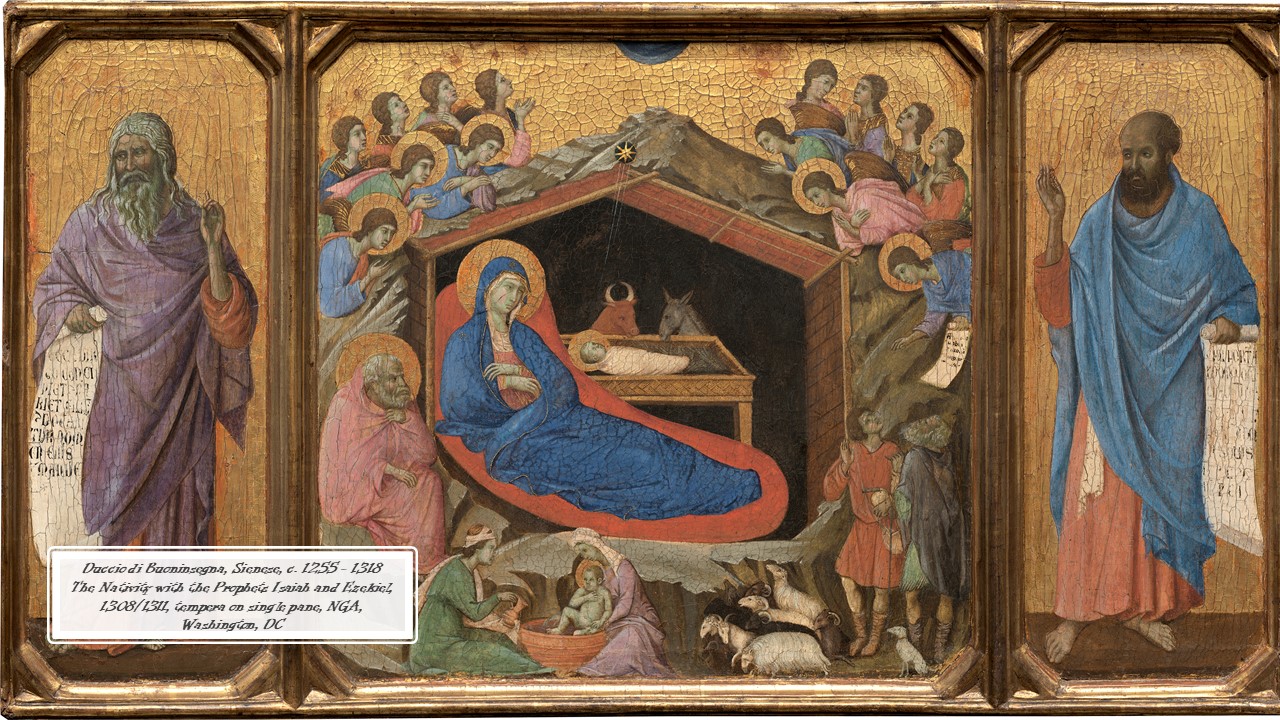 Renaissance Triptych… fresh is a RWAP (Research-Writing-Art-Project) designed for my high school elective class on Art History. It touches upon Sienese 14th century Art, Duccio, the great master of the time, his most important oeuvre, the Maestà altarpiece, and Triptych Icons.
The Merriam-Webster Dictionary defines Triptych as "a picture (such as an altarpiece) or carving in three panels side by side." It further defines Triptych as having Greek roots. "Triptych derives from the Greek triptychos ("having three folds"), formed by combining tri- ("three") and ptychē ("fold" or "layer")," and it continues "although triptych originally described a specific type of Roman writing tablet that had three hinged sections, it is not surprising that the idea was generalized first to a type of painting, and then to anything composed of three parts." https://www.merriam-webster.com/dictionary/triptych
Wonderful information on Duccio's Maestà can be accessed at https://www.nga.gov/collection/art-object-page.10.html and basically https://www.nga.gov/collection/highlights/duccio-the-nativity-with-the-prophets-isaiah-and-ezekiel.html
"On the day on which it was carried to the Duomo, the shops were locked up . . . and all the populace and all the most worthy were in order next to the said panel with lights lit in their hands, and then behind were women and children with much devotion; and they accompanied it right to the Duomo . . . sounding all the bells in glory out of devotion for such a noble panel as was this." Anonymous mid-14th-century description of a procession to carry Duccio's Maestà from the artist's studio to the Siena Cathedral (L. A. Muratori, Rerum italiarum scriptores (Bologna, 1931–1939), xv/6, 90
The Renaissance Triptych… fresh RWAP is… HERE!
For a PP on Student work inspired by Renaissance Triptych… fresh RWAP, please… check HERE!