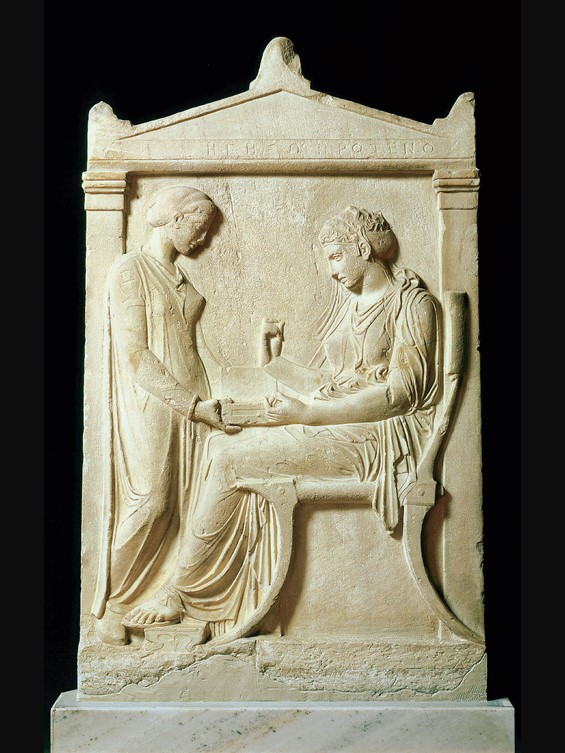 "Sometimes, staring at Hegeso. I am thinking that through tears the best smiles grow up." The smile and the tears of Hegeso, daughter of Proxenos by Katerina Samara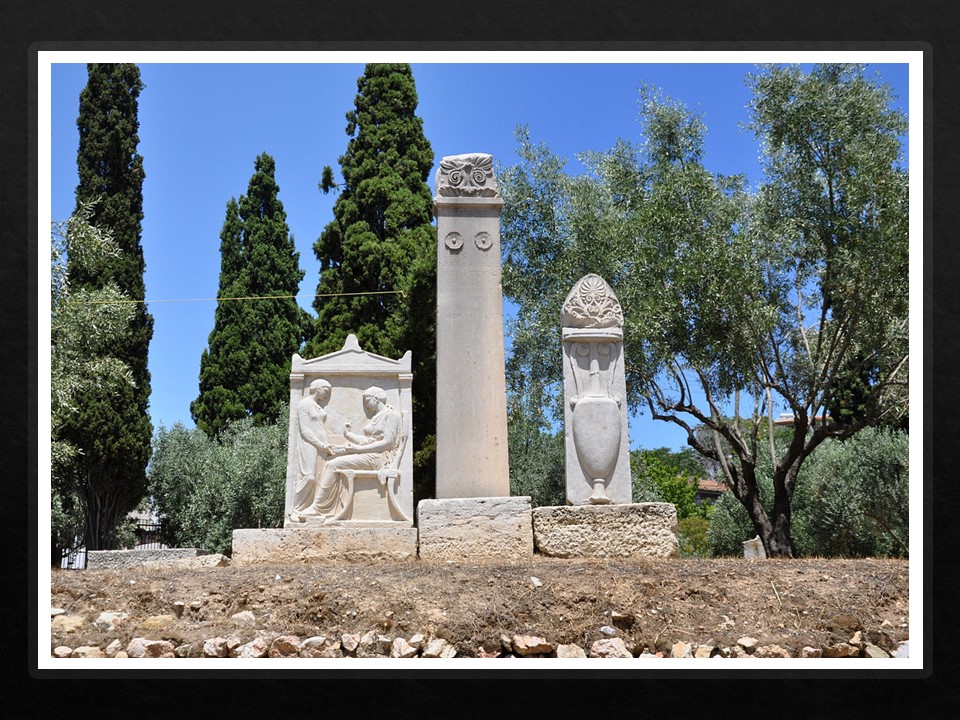 The amazing Funerary Stelae of Hegeso, daughter of Proxenos, is one of the many masterpieces exhibited in the National Archaeological Museum in Athens. Found during the 1870 archaeological excavation period at the ancient Athenian Cemetery of Kerameikos, Hegeso's Stelae was made of Pentelic marble and has been attributed to the sculptor and architect Kallimachos. She was a cherished member of a prominent Athenian family, as the magnificence of the relief sculptural Stelae and the family grave plot to which the Stelae was paced, indicate. https://www.namuseum.gr/en/collection/klasiki-periodos-2/
Hegeso's Stelae is an exquisite example of the so-called "Rich" style that dates to the end of the 5th century and its main characteristics are the artists' interest in the human body, on garments with elaborate pleats and on airy figures that move gracefully in space. Hegeso is depicted seated on a smart seat (klismos), her feet resting on a footstall. She wears a chiton, a himation, and a transparent veil on her head. With her right hand, she takes a jewel (originally painted) from a pyxis (jewel box) handed to her by a young servant girl, who solemnly stands before her. The servant wears a "barbarian" (not Greek) garment, with long sleeves, and a net on her hair. What a simple, and unpretentious composition the artist achieved! At the same time elegance, grace, class, and sophistication prevail.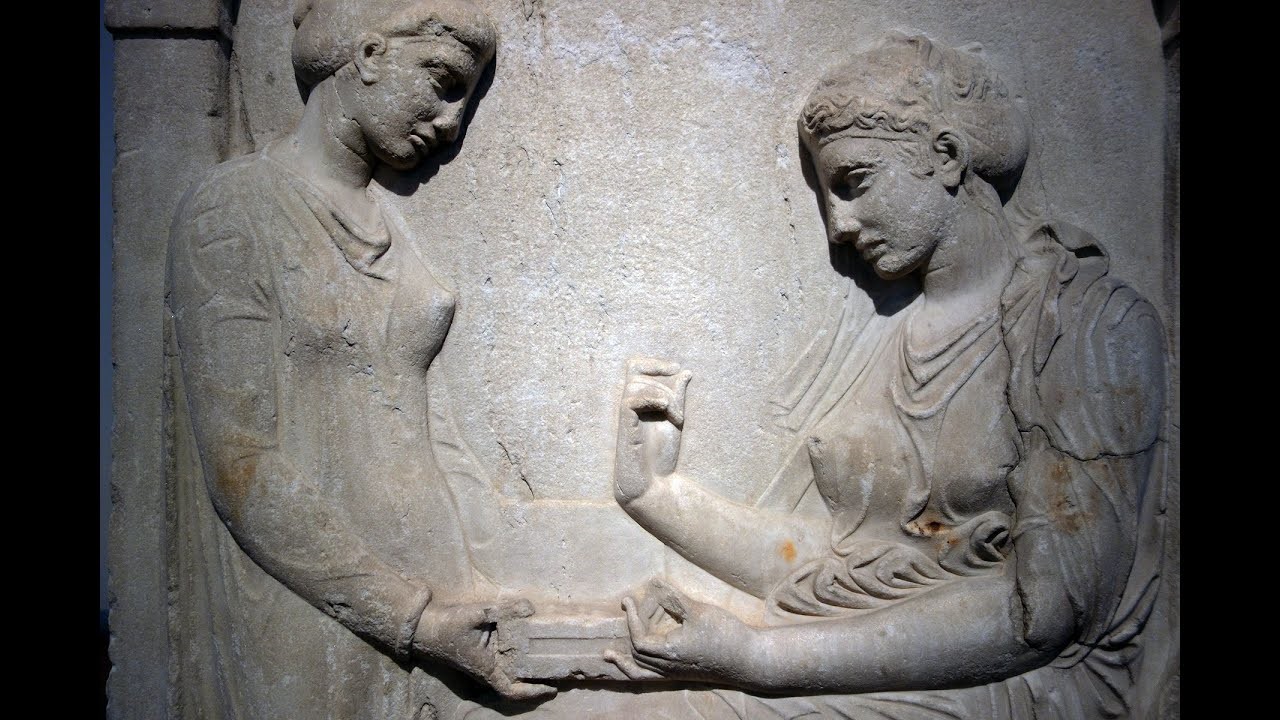 The relief sculpture of Hegeso, daughter of Proxenos, according to the epigram on the top of the stele which kept alive the Lady's name for 25 centuries, is probably the work of a skillful artist called Kallimachos. Little is known about the artist, not even if he was Athenian or Corinthian. He is, however, reputed to have worked in the building of the Athenian Acropolis, and for designing the first Corinthian Capital at the Temple of Apollo Epicurius at Bassae, after observing acanthus leaves growing out of a basket placed on top of a young girl's tomb. Kallimachos, according to Pausanias, is described as clever, innovative, and "catatexitechnus," meaning he was an extreme perfectionist. https://en.wikipedia.org/wiki/Callimachus_(sculptor)
The Theban poet Pindar wrote that "We are things of a day… When brightness comes, and the gods give it, there is shining light on man, and his life is sweet." Let me quote Gabriela Chartier and her comments on how "People should not strive only to be remembered after death, but instead to enjoy the sweetness of life…" and how "Hegeso's stele seems to coincide with Pindar's idea. Hegeso is not doing anything heroic; the image does not refer to myths or to the epic past. Instead, she is shown in an event of everyday life: a moment in democratic Athens when the light was shining on her. The fact that this image is on a grave stele reinforces Pindar's message. Placing such scenes along the main road in the Kerameikos would have offered a constant reminder: human life is passing. We are things of a day." https://archaeologystudentsspeak.wordpress.com/2016/05/02/gabriela-chartier-on-the-grave-stele-of-hegeso/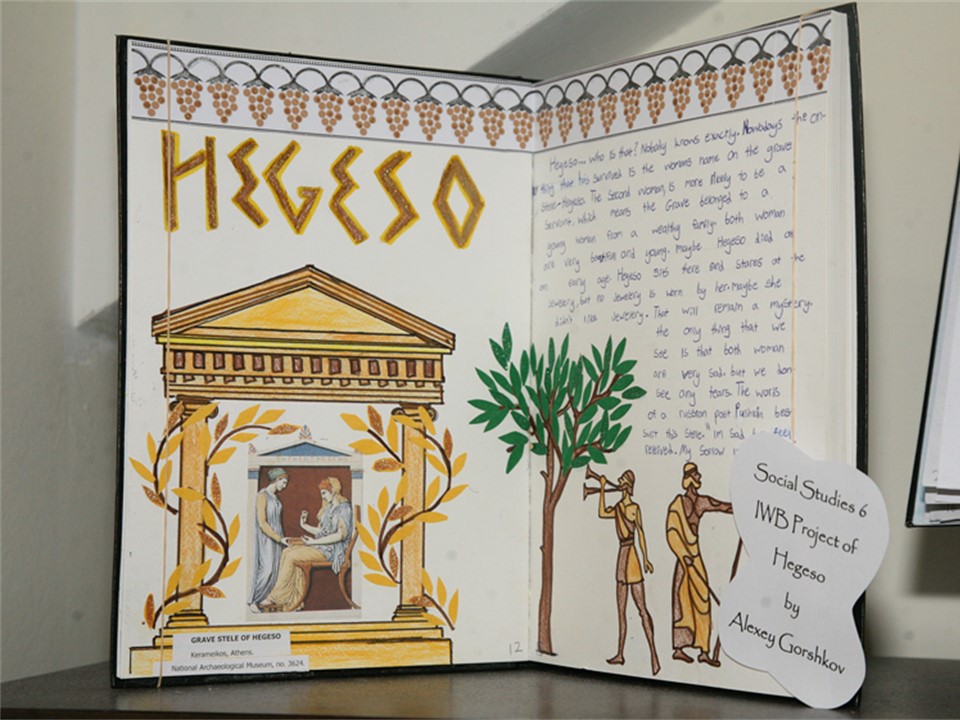 Hegeso, daughter of Proxenos RWAP (stands for Research-Writing-Art-Project) is… HERE!
Examples of student RWAP (stands for Research-Writing-Art-Project) Sketchbooks… HERE!