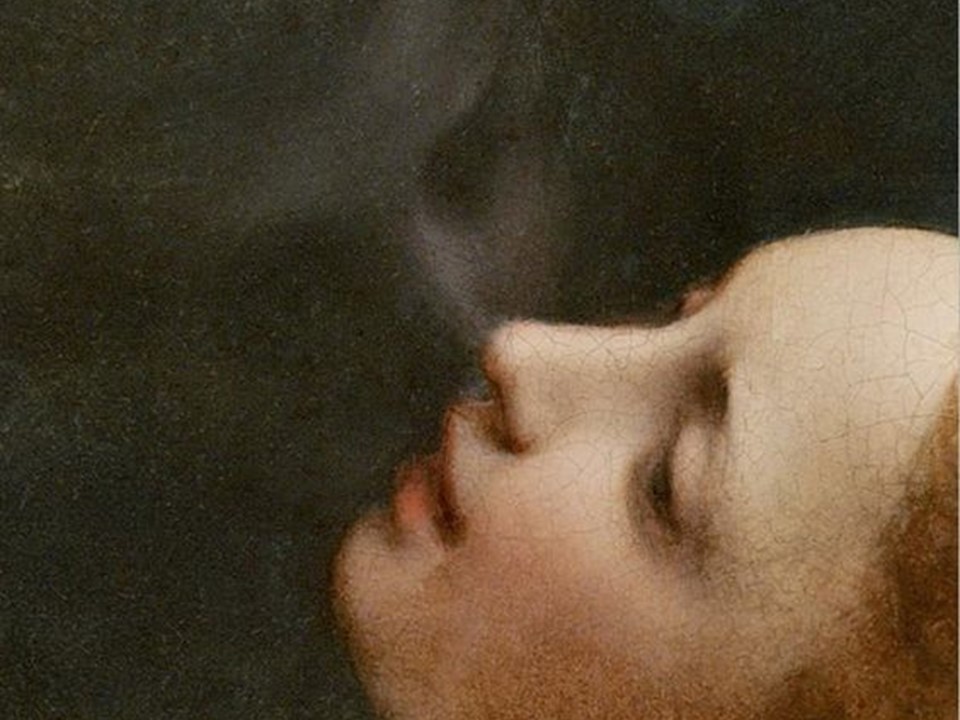 According to Kelly Richman-Abdou "Mannerism is the Style That Put an Elaborate Twist on Renaissance Art." I like her comment, and how it applies to our Mannerist painting in focus, Correggio's Jupiter and Io! MY MODERN MET, October 21, 2018, https://mymodernmet.com/what-is-mannerism/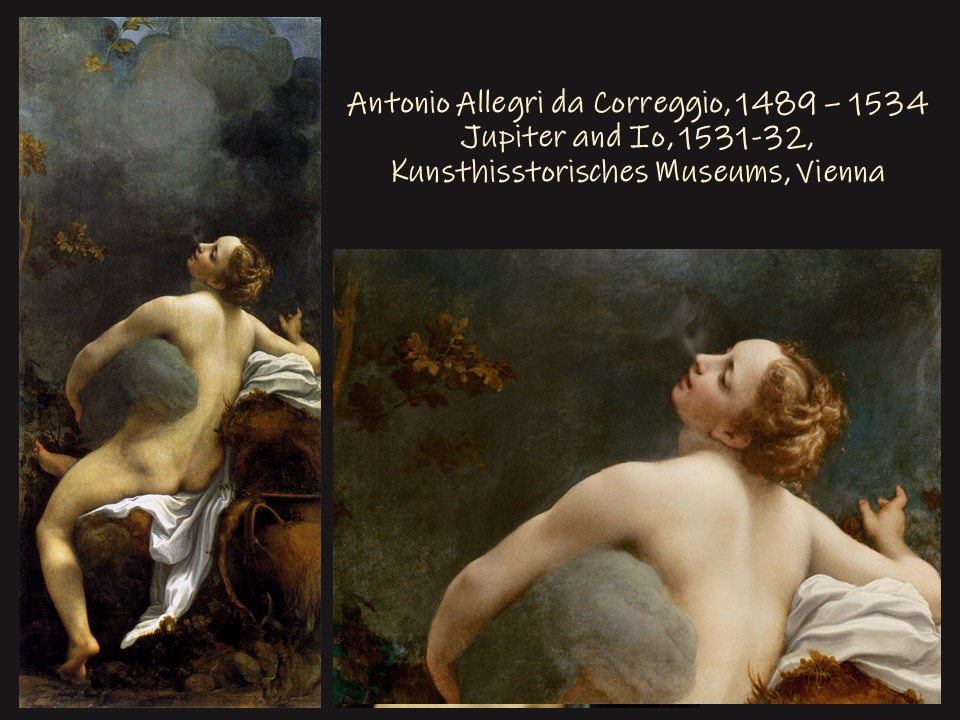 My question is how can order, harmony, and balance, ideals of Classical Art and the Renaissance be "turned/twisted" into something fresh and exciting? Is Mannerism to Renaissance what Hellenistic Art was to 5th century BC Classicism? This is not an easy question to answer. Is Correggio's mythological painting of Jupiter and Io a good example to start… better so, scratch the mere surface?
Antonio Allegri da Correggio is an interesting artist to consider. Famous today for his illusionistic, grand domed ceilings, Correggio is a protagonist of Mannerism! Giorgio Vasari wrote, "…everything that is to be seen by his [Correggio's] hand is admired as something divine." He is so right! Correggio's paintings were appreciated by generations of fervent art patrons and artists… from Dukes to Emperors and from Rubens to Boucher. Vasari was also the first to write about Corregggio's handling of colours, chiaroscuro, and textures, as well. "It may, at least, be held for certain that no one ever handled colors better than he and that no craftsman ever painted with greater delicacy or with more relief, such was the softness of his flesh-painting and such the grace with which he finished his works…" Today, describing the unique "softness" of his painting technique, we use the term "morbidezza," meaning extreme softness, delicacy, and fuzziness. https://www.oxfordreference.com/noresults;jsessionid=58804597E272C2C21C9F375C6CEFC612?btog=chap&noresults=true&pageSize=20&q=morbid+ezza&sort=relevance
Correggio's Jupiter and Io was most probably, one of four mythological paintings representing the Loves of Zeus, or Jupiter for the Romans, commissioned by the Duke of Mantua, Federico Il Gonzaga, for the decoration of his private Studiolo. These paintings render the myths of, 1. Jupiter and Io, 1531-32, oil on canvas, 163.5 × 70.5 cm, Kunsthisstorisches Museums, Vienna 2. Danaë, 1531, oil on canvas, 161 x 193 cm, Galleria Borghese, Rome 3. Leda and the Swan, 1532, oil on canvas, 156.2 x 195.3 cm, Gemäldegalerie, Berlin 4. Ganymede Abducted by the Eagle, 1531-1532, oil on canvas, 163.5 × 70.5 cm, Kunsthistorisches Museum, Vienna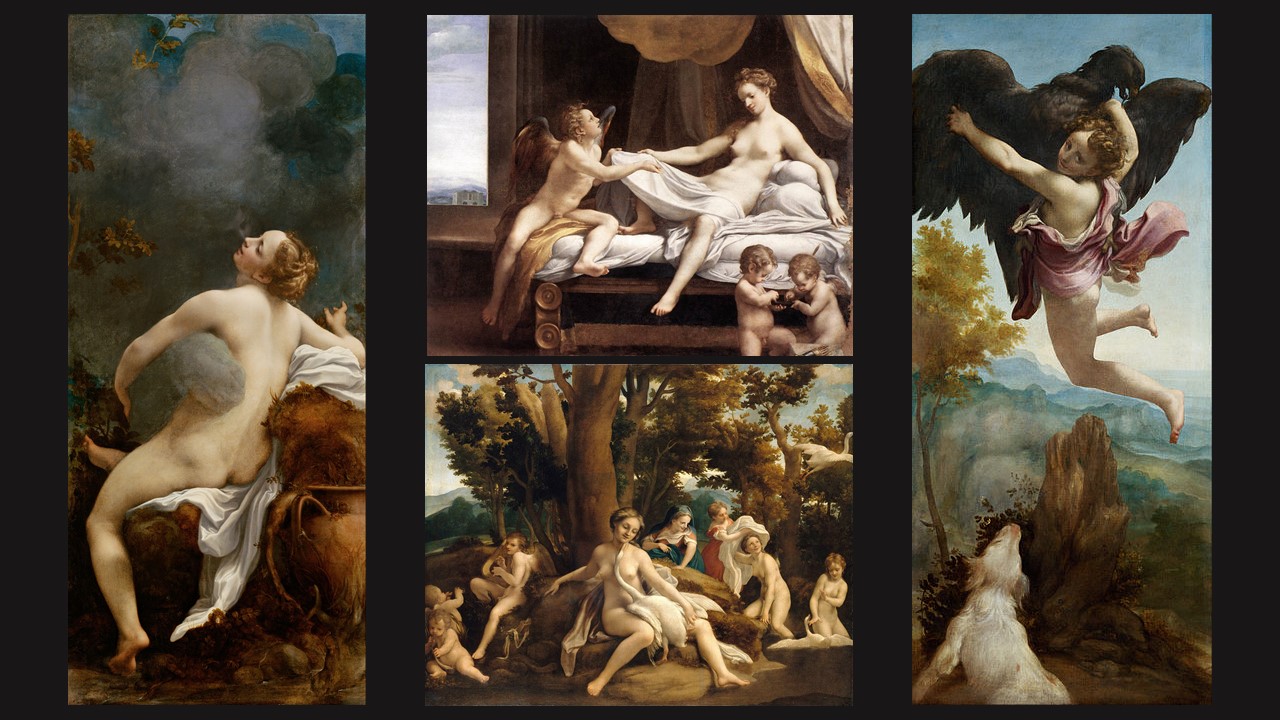 The myth of Jupiter and Io, depicted in one of the two Vienna paintings by Correggio, is popular and well-liked since antiquity. Lust, deceit, jealousy, revenge and suffering, interwind, creating a fascinating story to render in art. Correggio did an amazing job! I love his Mannerist "twisted" use of posture, movement, and texture. Using a narrow upright format he creates a stable, vertical composition, but Io's body turns, curls and entwines, so unnaturally, around the charcoal grey cloud of Zeus, it is impossible not to notice. Her firm naked body shimmers in the light and contrasts with the thick, dark, fuzzy cloud that envelops her. What a magnificent contrast of colours and textures. The faces of Zeus and Io make you wonder… what is he whispering to her ear that makes her look so "abandoned"?
For a Student RWAP (Research-Writing-Art-Project), please… check HERE!