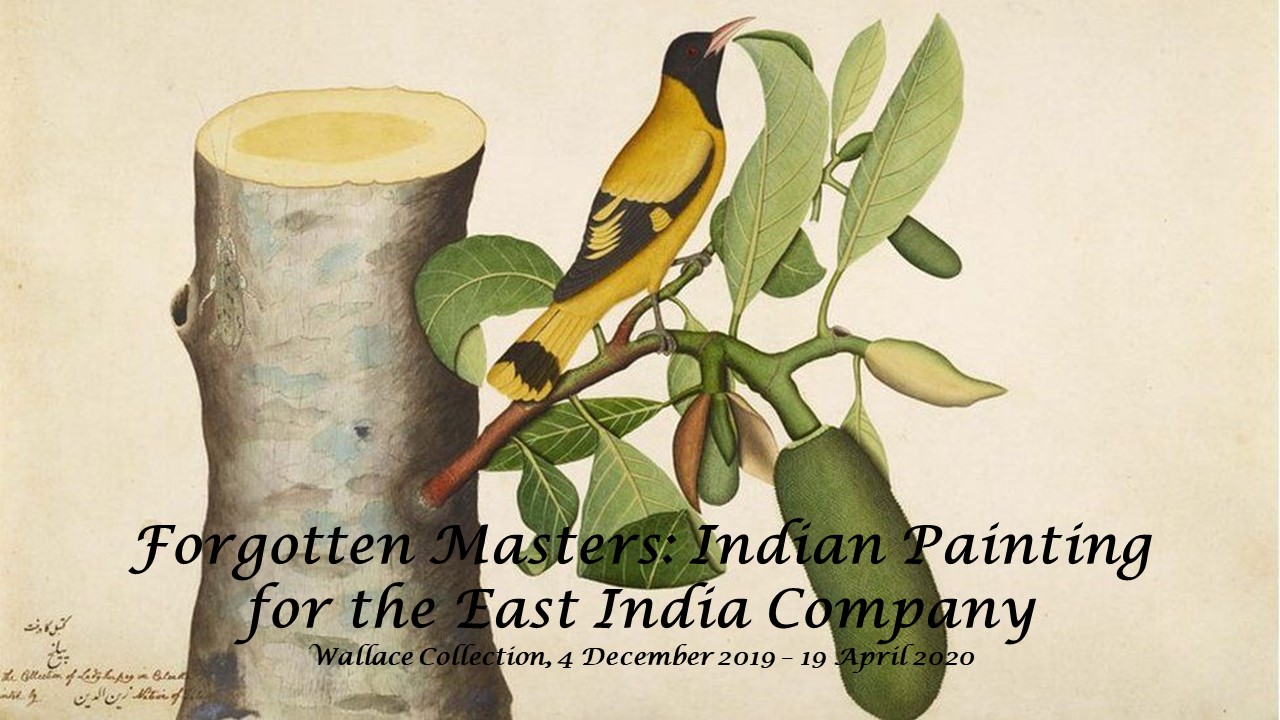 A very unique Exhibition takes place in London these days. The Wallace Collection presents Forgotten Masters: Indian Painting for the East India Company honours historically overlooked Indian artists like Shaikh Zain ud-Din, Bhawani Das, Shaikh Mohammad Amir of Karriah, Sita Ram and Ghulam Ali Khan and brings to life a forgotten moment in Anglo-Indian history. Another unique Exhibition highlight is the guest curator of the Exhibition, William Dalrymple, Scottish renowned historian and writer, art historian and curator, as well as an award-winning broadcaster and critic.
Forgotten Masters: Indian Painting for the East India Company introduced me to the work of Shaikh Zain ud-Din, a Bengali Muslim artist whose work blends Mughal and Western painting techniques, creating "…incredibly precise and beautifully observant" works of art, as Xavier Bray, director of London's Wallace Collection comments on the Smithsonian Magazine. https://www.smithsonianmag.com/arts-culture/awe-inspiring-wildlife-drawings-shaikh-zain-uddin-180973502/
Shaikh Zain ud-Din worked for Sir Elijah first Chief Justice of the Supreme Court at Fort William, Calcutta, and his wife, the natural historian Mary Impey. The Impeys moved to India in 1773 and soon fell under the spell of the subcontinent, establishing a menagerie of Indian and South-East Asian birds and animals in the extensive grounds of their estate. It was only natural for Mary to commission in 1777, a small group of artists, eminent among them Shaikh Zain ud-din, to paint her exotic flora and fauna. The result of this "brilliant" decision was a collection of paintings, 362 in number, known as the Impey Album. "These paintings," Xavier Bray, director of London's Wallace Collection says, "were made into albums to be leafed through back home, on a rainy day, drinking Earl Grey tea." https://coromandelart.wordpress.com/
Shaikh Zain ud-Din's paintings, although rendered in European materials, capture India's natural history in a way that only a local could. They are an unprecedented hybrid of East and West. They "emulate, on a greatly enlarged scale, the refinement of 17th century Mughal natural history paintings," and, believed to have been painted from life, they also exhibit the artist's ability to assimilate European conventions. The 2012 Ashmolean Lady Impey's Indian Bird Paintings Exhibition was the first major presentation of Shaikh Zain ud-Din's oeuvre to the public, the current London Exhibition will further establish his work as a fine moment in the history of Indian Art. http://jameelcentre.ashmolean.org/collection/6980/10198
An unlikely 'collaboration' is a very interesting, worth reading Interview with the Exhibition's curator, award-winning historian, writer and curator William Dalrymple, by Mark Rappolt, for the ArtReviewAsia. https://artreview.com/features/ara_winter_2019_feature_interview_william_dalrymple/
For a PowerPoint on the Wallace Collection Exhibition, please… check HERE!