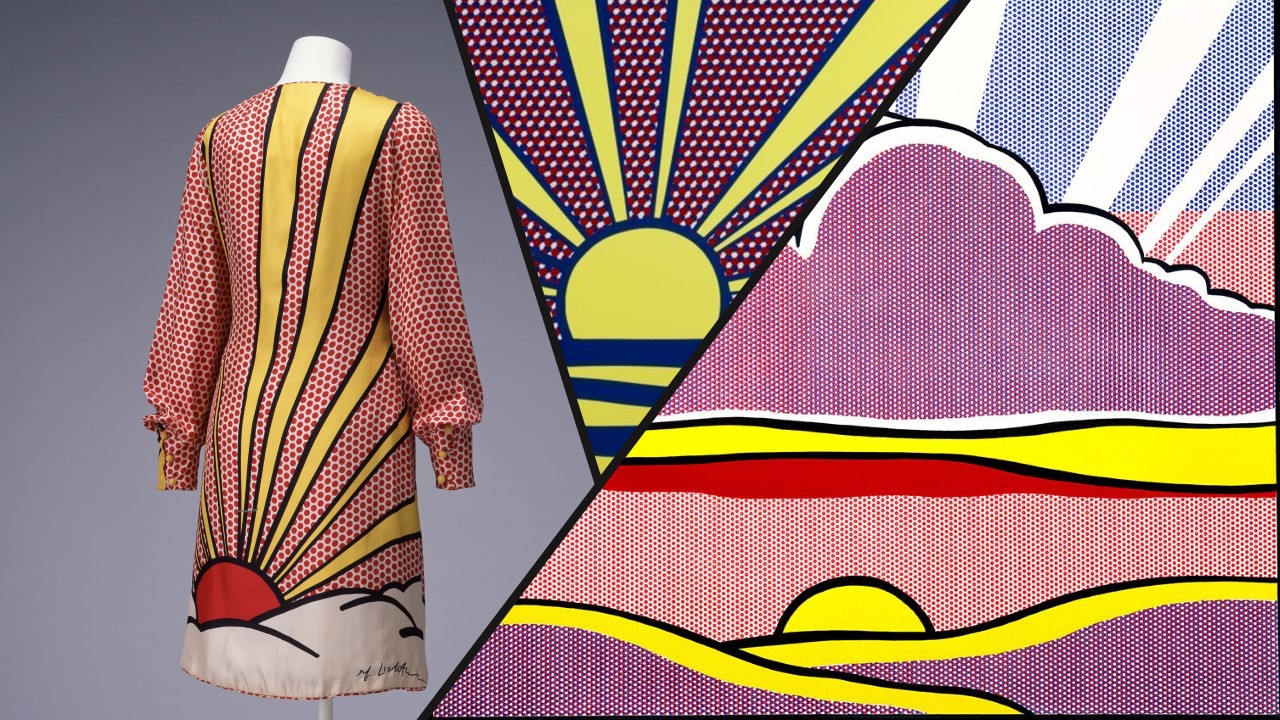 A Roy Lichtenstein Trilogy is about the artist's 1965 fascination with landscapes depicting the Sun. In 1964, Lichtenstein started experimenting with Landscapes, exploring aspects of the Sea and the Sky, including his famous painting of the Sinking Sun. His explorations were in various media, including paintings, enamel on metal, like the example exhibited in the Basil &Elise Goulandris Foundation, drawings, collages and Lithographs.
In a 1967 Interview with John Coplans, Roy Lichtenstein reflected on his Sinking Sun painting: "There is something humorous about doing a sunset in a solidified way, especially the rays, because a sunset has little or no specific form. It is like the explosions. It's true that they may have some kind of form at any particular moment, but they are never really perceived as defined shape… It makes something ephemeral completely concrete." (Lichtenstein interviewed by John Coplans cited in Exh. Cat., Pasadena, Art Museum, Roy Lichtenstein, 1967)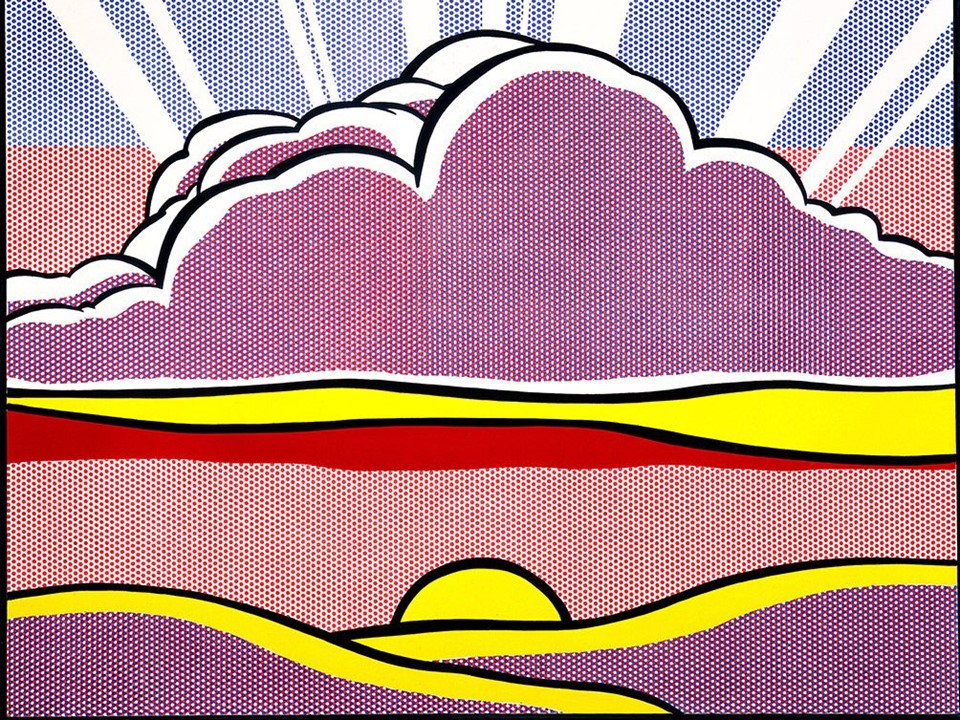 Lichtenstein's Sunrise at the Basil & Elise Goulandris Foundation in Athens is a fine example of his 60' turn to Landscape representations. A leading figure in 20th century American Pop Art, Roy Lichtenstein used comic book representation and advertising imagery to further enhance his quest for visual perception. The Goulandris's Sunrise of 1965, enamel on metal, rich texture, improves upon his hard-edged, Pop stylized landscape imagery and heightens the Pop Art Culture. His colour palette, reduced to the three primary colours of red, yellow and blue reminds us of what the artist has said: "I use colour in the same way as a line. I want it oversimplified – anything that could be vaguely red becomes red. It is mock insensitivity. Actual colour adjustment is achieved through manipulation of size, shape and juxtaposition". (Roy Lichtenstein interviewed by G. R. Swenson cited in Exh. Cat., London, Tate Gallery, Roy Lichtenstein, 1968)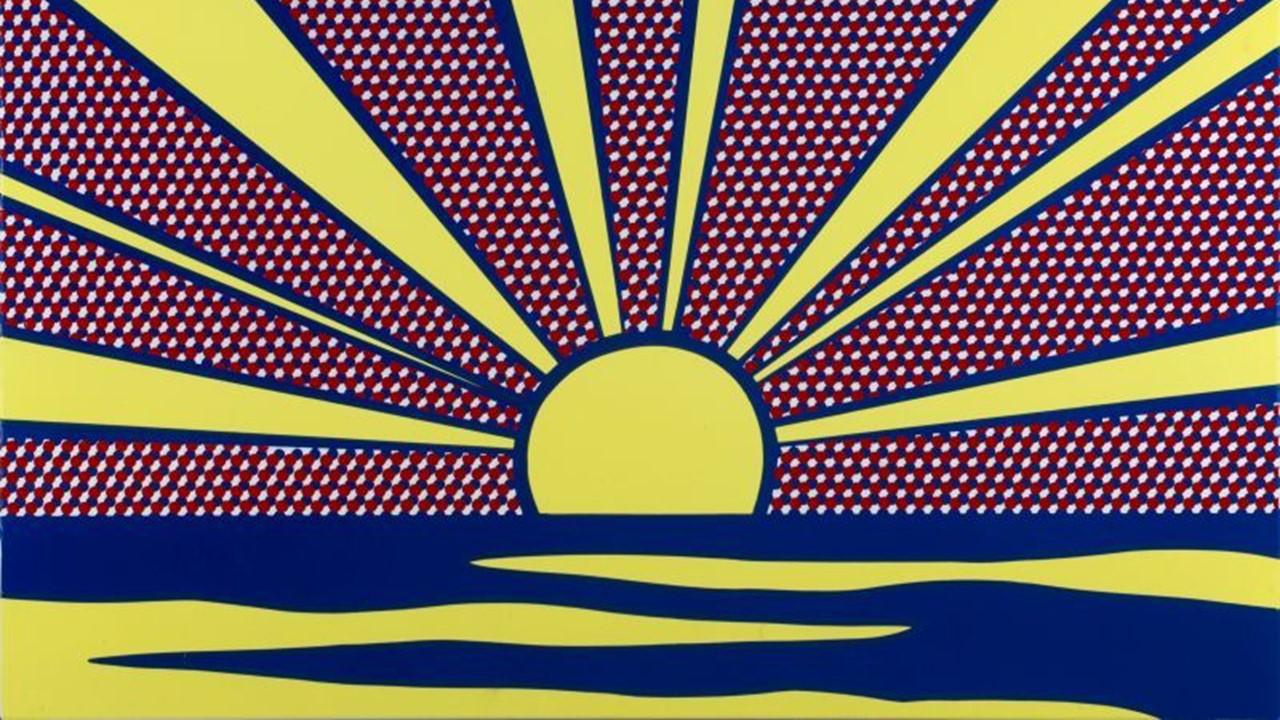 The Roy Lichtenstein Trilogy comes to an end with the Sunrise Dress! now in the Kyoto Costume Institute. It "…caused a stir when worn by Lichtenstein's friend, Letty Lou Eisenhauer, to the opening of the artist's 1965 exhibition at the Galerie Ileana Sonnabend in Paris." The Sunrise dress was accompanied by a simple white coat, "a wearable work of art…the dress being the painting and the coat… a simple white cover-up, concealing the painting until its time to be revealed, for the utmost dramatic effect!" https://www.kci.or.jp/en/archives/digital_archives/1960s/KCI_242?fbclid=IwAR0mjI__BNzqkPN-WUOA-SVQ4OVndv7-gIQk5bJ6WNKx44RLE427hUguvnE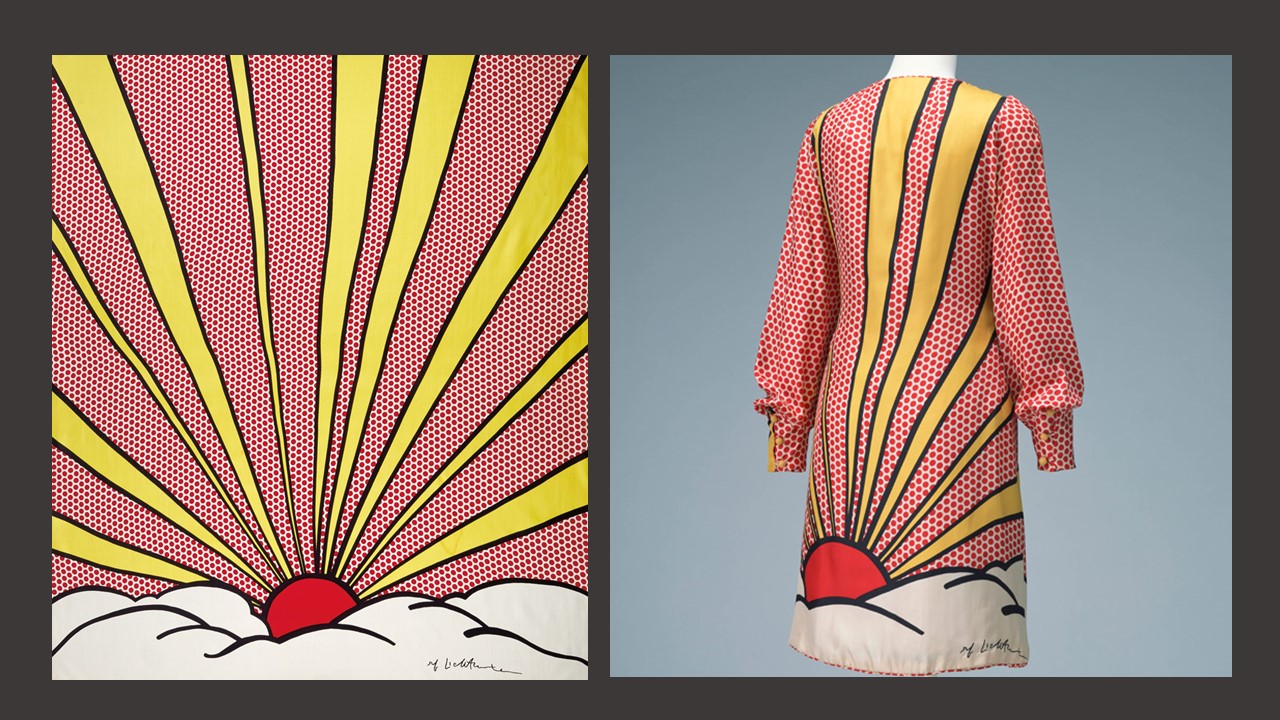 The Basil & Elise Goulandris Foundation in Athens provides an interesting Audio Guide for their visitors… https://goulandris.gr/en/artwork/lichtenstein-roy-sunrise
For a Roy Lichtenstein PowerPoint, please… check HERE!