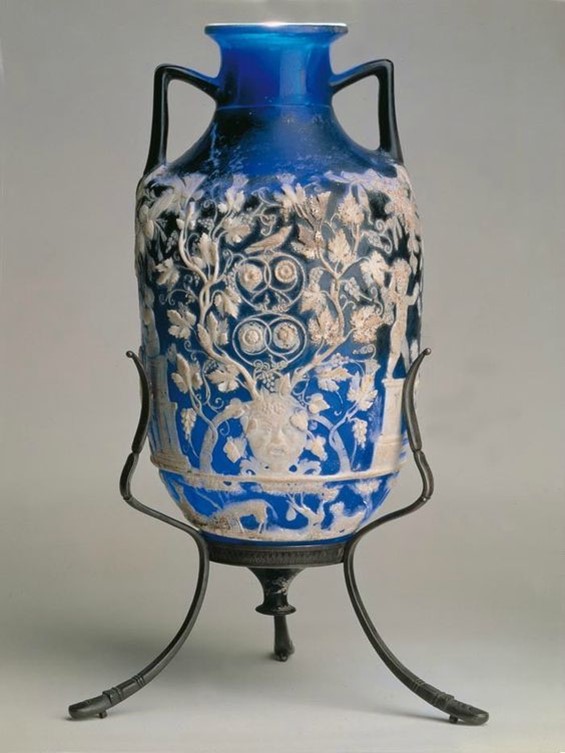 "Ah, happy, happy boughs! that cannot shed  /   Your leaves, nor ever bid the Spring adieu;  /  And, happy melodist, unwearied,  /  For ever piping songs for ever new;  /  More happy love! more happy, happy love!  /  For ever warm and still to be enjoy'd,  /  For ever panting, and for ever young;  /  All breathing human passion far above,  /  That leaves a heart high-sorrowful and cloy'd,  /  A burning forehead, and a parching tongue." Wrote John Keats in his famous Ode to a Grecian Urn… What about the Blue Glass Amphoriskos from Pompeii we will discuss today… who is going to do justice to it?     https://www.poetryfoundation.org/poems/44477/ode-on-a-grecian-urn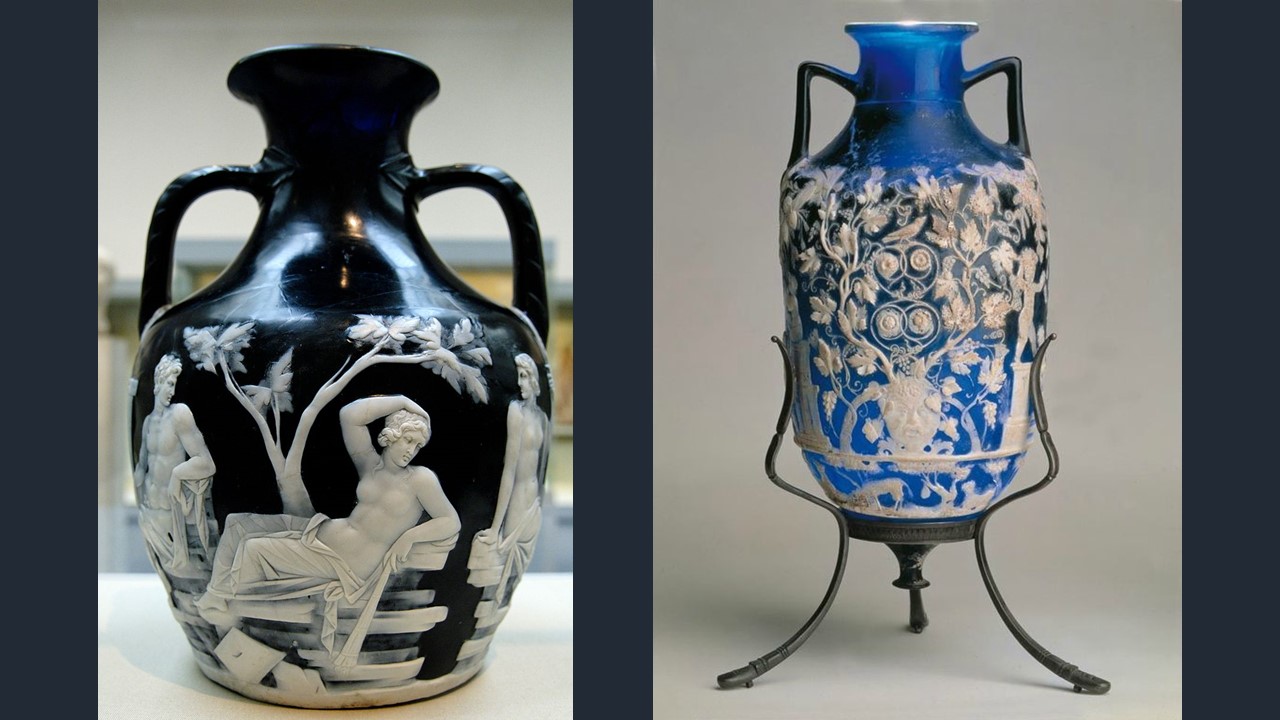 The Portland Cameo Vase might be famous for its chic et simple design, but the Pompeiian Cameo Amphorisko is chic but definitely not simple!  It is luxuriously rich, elaborately designed, lavishly ornate, ostentatious, sumptuous… yet elegant in a "Baroque" way! The Classicist I admires the Portland Vase… my Hellenistic psyche, however, is all for the Pompeian Amphorisko!
It was the 29th of December 1837 and the archaeological site of Pompeii was visited by King Ferdinand II of Naples and Sicily. What a lucky day for the excavators and the visiting King… a rare Blue Glass Cameo Vase, regarded today as one of the most important treasures of the Naples National Archaeological Museum, was discovered in the area of the enclosed, small, funerary garden of the Villa of the Mosaic Columns. I do not know how true this story is… but the Romantic me likes it! https://www.interno16holidayhome.com/2019/02/22/discovering-the-blue-vase-of-pompeii/  The correct date for the discovery of the Blue Glass Amphorisko is probably 1834 as sited on the Naples Archaeological Museum site. However hard I searched Internet sources, I found little more…   https://www.museoarcheologiconapoli.it/en/room-and-sections-of-the-exhibition/metal-ivory-and-glass-objects/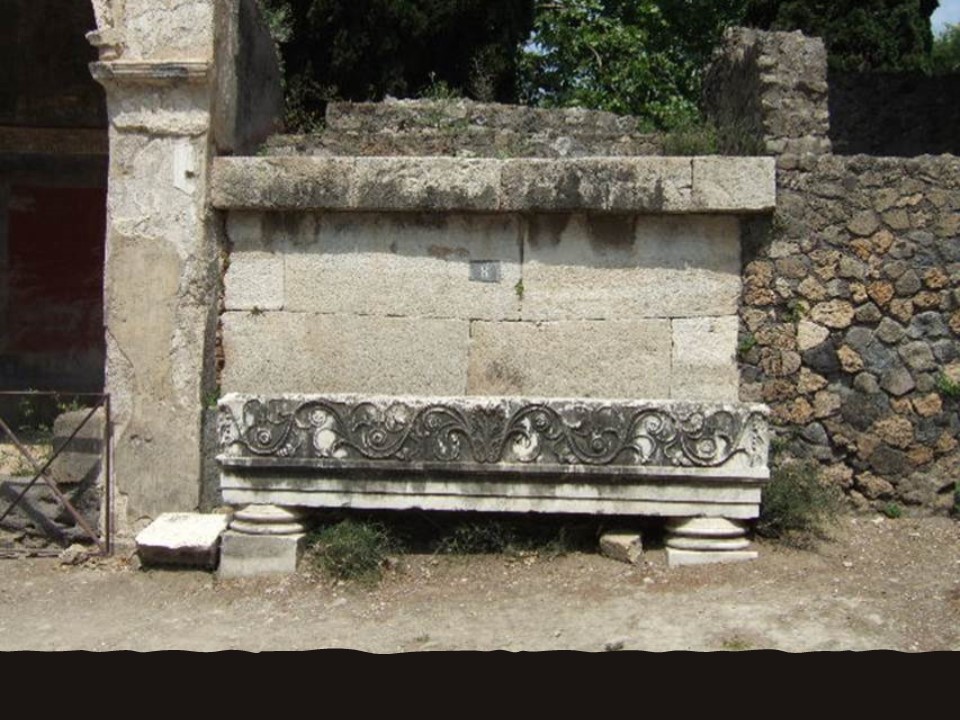 The Pompeian Blue Glass Amphoriskos is a very rare example of ancient cameo glass. This is a type of luxurious vessel inspired by intricate Hellenistic relief-cut gems, extremely popular during the period of the Augustan and Julio-Claudian periods, from 27 B.C. to 68 AD. Based on lengthy research by David Whitehouse of the Corning Museum of Glass, there are only 15 extant vessels and about 200 fragments of Cameo Glass in Museums and private collections today. The Romans created Cameo vessels, large wall plaques, and small jewellery items, using craftsmen of the finest technical skills, as highly expensive items of luxury for the Roman aristocracy.      https://www.bbc.com/culture/article/20130916-mystery-of-a-missing-masterpiece     and     https://www.metmuseum.org/toah/hd/rcam/hd_rcam.htm
The Corning Museum of Glass describes a Roman Cameo piece of Glass as "an object with two or more layers of different colours; the top layer is partly cut away to fashion decoration in low relief against a background of contrasting colour. Most Roman examples are made with two layers, usually white over blue. However, fragments of vessels exist with more than two layers, and sometimes as many as five."     https://www.cmog.org/set/reflecting-antiquity-cameo?id=1376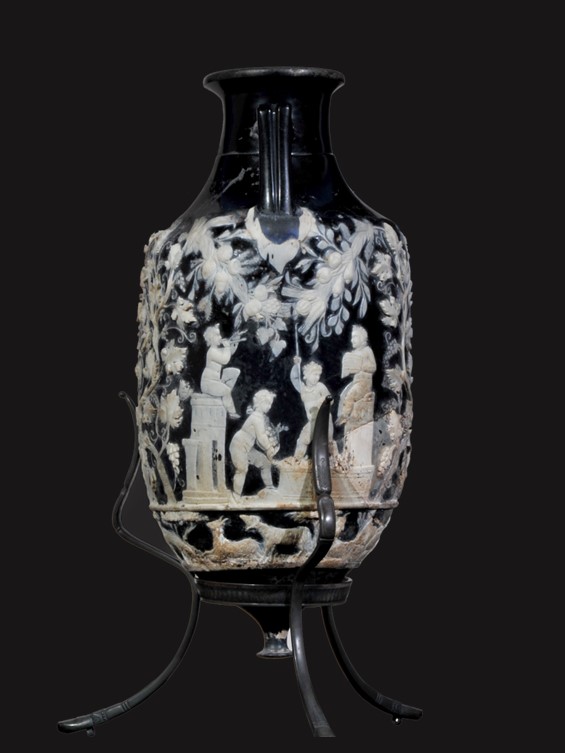 The Pompeian Blue Glass Amphoriskos is luxuriously decorated with Dionysiac scenes, particularly scenes of grape harvest. "On one side, a cupid is pouring rich grapes into a vat, where another cupid is intent on wine-pressing. The scene is framed by two low wide columns, on which two cupids are sitting while they accompany the grape harvest playing the syringe and the double flute. On the opposite side stands a klinos (bed), where are lying two cupids, one of which is playing the lyre, while on the other two columns a cupid picks grapes, and the other is holding a bunch in the hand and a basket already full on the head." Between these two scenes, depicted is a Dionysiac "mask" with grapes, tendrils and birds! At the very bottom of the Vase, the artist who created this amazing Blue Glass Amphorisko masterfully presents a series of animals feeding on grass and shrubs, in between white, thin, horizontal, lines. What an accomplishment on a small scale!   https://www.museoarcheologiconapoli.it/en/room-and-sections-of-the-exhibition/metal-ivory-and-glass-objects/
For a PowerPoint on the Villa of the Mosaic Columns, please… click HERE!