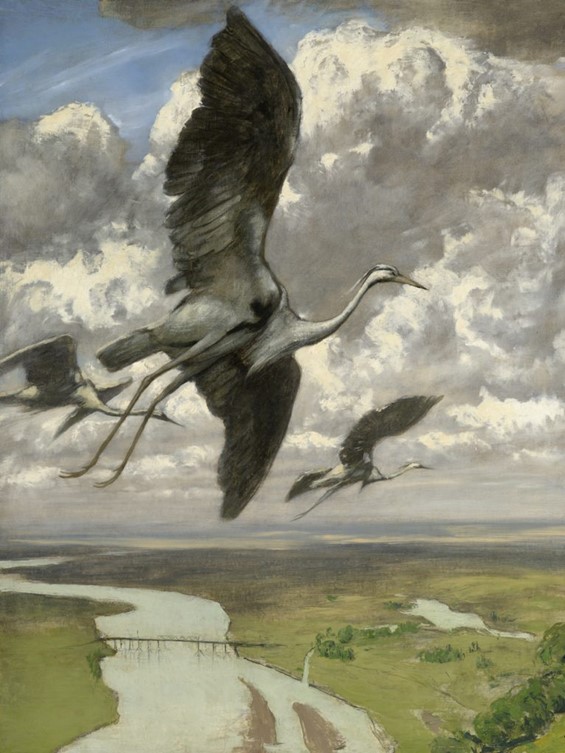 "A romantic realist who has devoted his life to making love to Nature and expressing it in glowing colour." Writes Huntly Carter, for Hans Thoma, the painter of Wondrous Birds!
Born in the Black Forest area, the son of a Miller, Hans Thoma developed a keen eye for the beauty of his ancestral home. His landscapes, genre paintings, and prints have little in common with contemporary artistic styles and ideas. He is "in love" with nature, its idyllic simplicity, ethereal quality, and effortless grandeur. He created his very own, distinctive, creative manniera, close to that of the early German masters, particularly that of Albrecht Altdorfer and Lucas Cranach the Elder. His love for nature, his attention to "local" colouring, drawing and the importance of outline, his fondness for "homeland" scenery, brings him close, but not part of another group of special artists, the Pre-Raphaelites.
According to North Carolina Museum of Art "Hans Thoma painted several compositions of flying storks that are quite remarkable for the bird's-eye viewpoint from which they are represented, almost as if the artist were flying beside them. Although Thoma was known to have been profoundly interested in symbolism and mythology, he never publicly explained the meaning or symbolism of his Wundervögel." NCMA offers an interesting introduction to Wondrous Birds and an educational lesson plan at https://learn.ncartmuseum.org/artwork/wondrous-birds/ and https://learn.ncartmuseum.org/lesson-plans/a-birds-eye-view/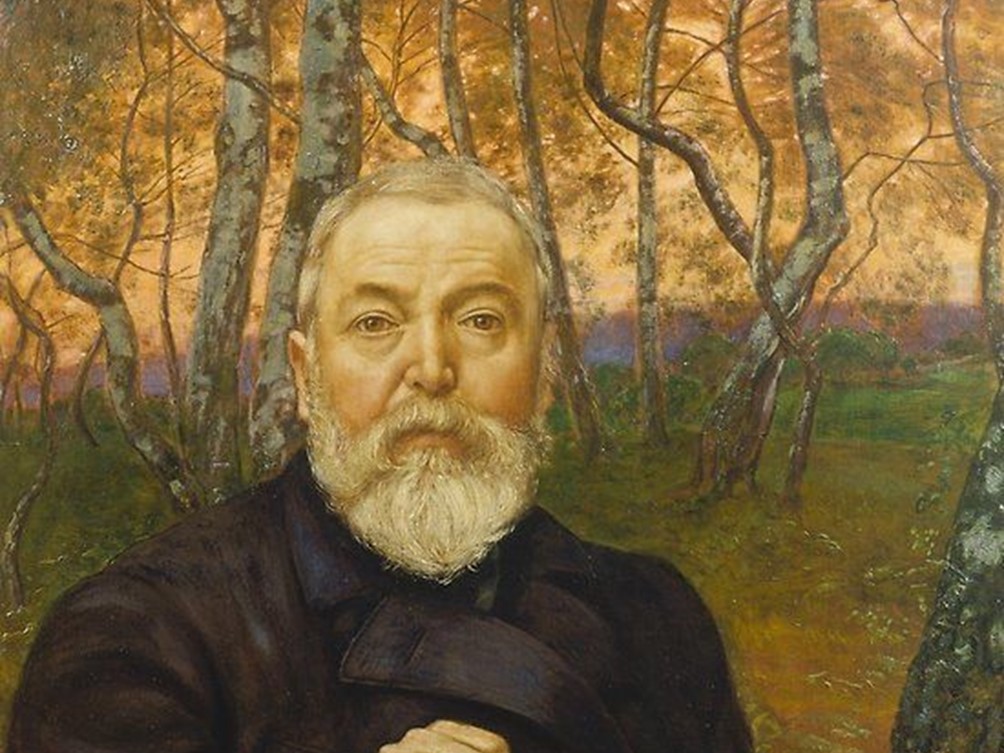 Hans Thoma started his career in art, entering, in 1859, the Karlsruhe Academy under the tutelage of Johann Wilhelm Schirmer and Ludwig des Coudres. Visiting Paris in 1868 was the second important step he took. The great French Realist, Gustav Courbet, became his teacher, mentor and the third step to artistic maturity. In 1874 he visited Italy and fell under the spell of Renaissance Art. In 1899 Hans Thoma was named Director of the Karlsruhe Academy, his reputation was firmly established through exhibitions and his days were spent between Düsseldorf, Paris, Italy, Munich, and Frankfurt. Today, many of his paintings have found their way into museums and private collections and are widely exhibited… Scholars of 19th century Art describe him as a Romantic Realist, a member of the "German Romans" group. For more on Hans Thome and the artistic environments in 19th century Germany, please, check: German Masters of the 19th Century, Paintings and Drawings from the Federal Republic of Germany, The Metropolitan Museum of Art, 1981, New York https://libmma.contentdm.oclc.org/digital/collection/p15324coll10/id/71300
"A bird's-eye view is an elevated view of an object from above, with a perspective as though the observer were a bird, often used in the making of blueprints, floor plans, and maps." https://en.wikipedia.org/wiki/Bird%27s-eye_view
For student RWAP (Research-Writing-Art-Project) please… check HERE!