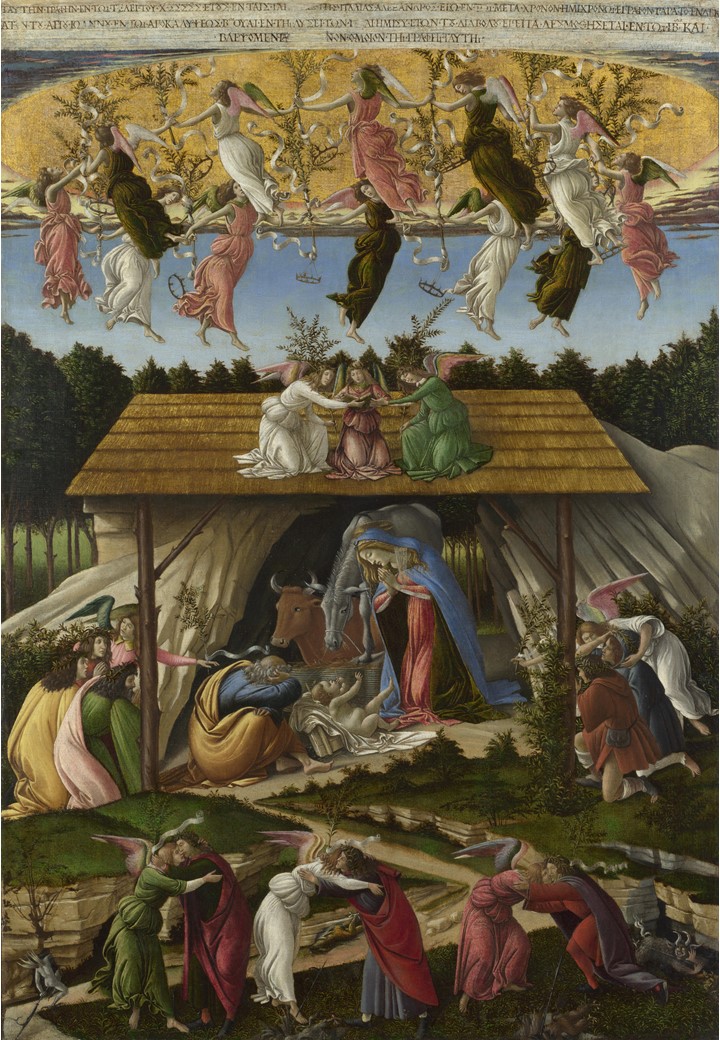 Our 1st Christmas story is about the… Mystical Nativity by Sandro Botticelli.
"I Sandro painted this picture at the end of the year 1500 in the troubles in Italy in the half time after the time according to the 11th chapter of St. John in the second woe of the Apocalypse…"
This small Botticelli painting makes us dream, encourages us to be pensive, romantic and adoring, urges us to study details in the composition, colours, conflicting perspectives and depicted figures. It is a mystery, difficult to solve! John Ruskin saw it in London and referring to its 'mystic symbolism' became the painting's godfather! Its composition is rather unusual combining all of the traditional events of the birth of Jesus and more. Is Botticelli, an ardent follower of Girolamo Savonarola, presenting us with a vision of the Nativity inspired by the prophecies in the biblical Book of Revelation of Saint John? Does Botticelli's Nativity reveal Christ's second coming and the end of the world?"
"The infant Christ reaches up towards the Virgin Mary, oblivious of his visitors – the Three Kings on the left and the shepherds on the right. The golden dome of heaven has opened up and is circled by 12 angels holding olive branches entwined with scrolls and hung with crowns. In the foreground, three pairs of angels and men embrace; among their feet demons scuttle for shelter in the underworld through cracks in the rocks. The Greek inscription mentions 'the troubles of Italy', a reference to the invasion of the French, who took Naples in 1494 and Milan in 1499, and to the civil strife in Florence itself. Botticelli associated these events with the turmoil mentioned in the biblical Book of Revelation, which talks about the end of the world and Christ's second coming. The period of upheaval it described would end upon Christ's return, when the devil would be buried, as in this picture." This is the description provided by the National Gallery of London https://www.nationalgallery.org.uk/paintings/sandro-botticelli-mystic-nativity
For a PowerPoint on Botticelli's Mystical Nativity, please… check HERE!