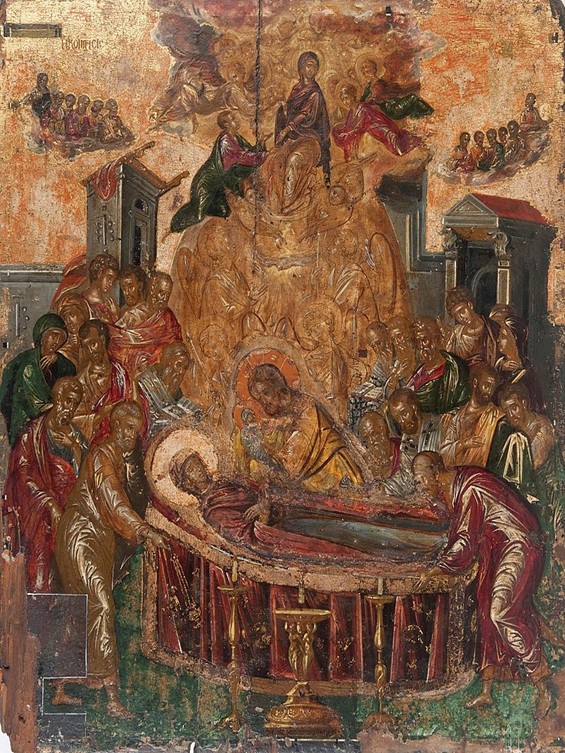 "I paint because the spirits whisper madly inside my head." El Greco: Formative Years introduces us to the world of Domenikos Theotokopoulos, and his Cretan period Icon of the Dormition of the Virgin, in the Cycladic Island of Syros.
Domenikos Theotokopoulos was a Cretan Greek, born at Handaka-Candia, present-day Herakleion, part of the thriving Republic of Venice. Archival research in Venice showed that between 1526-28 his family relocated from Chania to Handaka, where, in 1541 Domenikos was born. His Orthodox-Greek family belonged to the upper-middle class, as his father, Giorgos Theotokopoulos, worked for the government of the Venetian Republic, most probably as a merchant and a tax collector. Very little is known of  Domenikos's mother and early childhood. He was undoubtedly talented, and his father, realizing it, placed him as an apprentice in a painter's workshop to learn this profitable trade. The name of his teacher is unknown, but judging from Domenikos's earliest paintings, he was a great master of the Post-Byzantine Cretan School. Crete at the time was the center of a thriving artistic community and understanding the artist's early influences and style is important in decoding his later work!
Very little is also known of Domenikos's early years as a painter in Handaka, except a1563 reference on him as "a master painter" on a  document issued by the Venetian Administration of Candia, and later, in 1566 his testament as a witness in a Candia solicitor's document in which he is mentioned as 'maistro Menegos Theotokopoulos, artist'. By late 1566, Domenikos was ready to pursue his career and artistic prospects in Crete were limited. On December 26, 1566, he asked permission from the Venetian authorities in Handaka to auction one of his paintings depicting the Passion of Christ, a painting estimated to be worth 80 ducats but sold for 70. This valuable information comes from the Venetian archives and proves two things. First, Domenikos was still in Crete in 1566, and second, he was an extremely important artist because the price of 70 ducats his small painting fetched was as high as any great Italian artist of the Renaissance would get. https://www.historical-museum.gr/webapps/elgreco/xronologio.php?lang=en
For a PowerPoint on El Greco: Formative Years, please… click HERE!
The Dormition of the Virgin, on the Island of Syros, is a fine example of Theotokopoulos's 16th-century Cretan period where his personality and artistic being were formed. Greco's signature on the base of the central candelabrum was discovered, in the process of restoring the Icon, in 1983 by archaeologist George Mastoropoulos. The Dormition's undoubted attribution to Theotokopoulos helps scholars better understand and interpret the artist's unique artistic idiom and early production.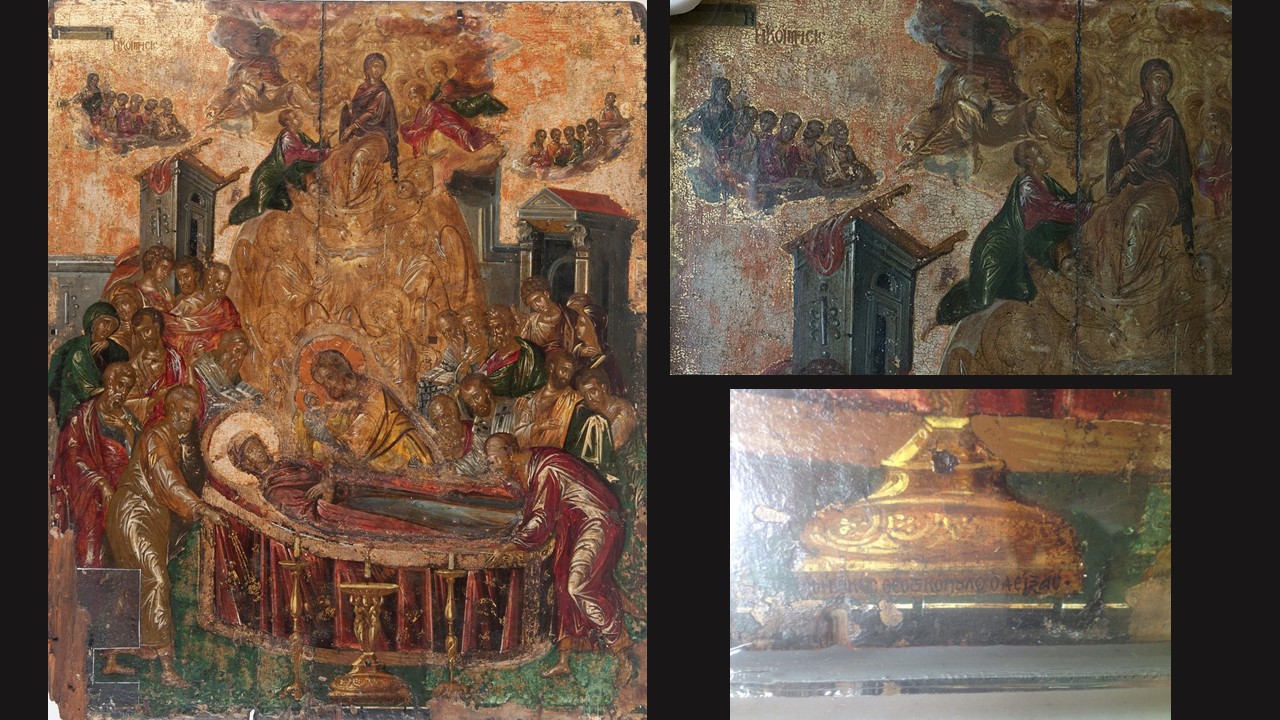 The Icon follows the Post-Byzantine Orthodox tradition of painting, introducing at the same time elements of the Renaissance Mannerism. Today, in juxtaposition to his most "sublime" work, The Burial of the Count of Orgaz, the Dormition is seen as Domeniko's Archetypal representation of "a visionary experience" of two worlds, "the physical world of earth and the spiritual world of heaven, each portrayed in their own ways. Earth is captured on a normal scale with more proportional figures, whereas heaven is composed of swirling clouds and abstract shapes, with a more intangible quality to the figures. This clear distinction greatly allows for two ideas: on the one hand, a union between both worlds is proposed, on the other, the separation of the worlds is enhanced." https://www.theartstory.org/artist/el-greco/artworks/#nav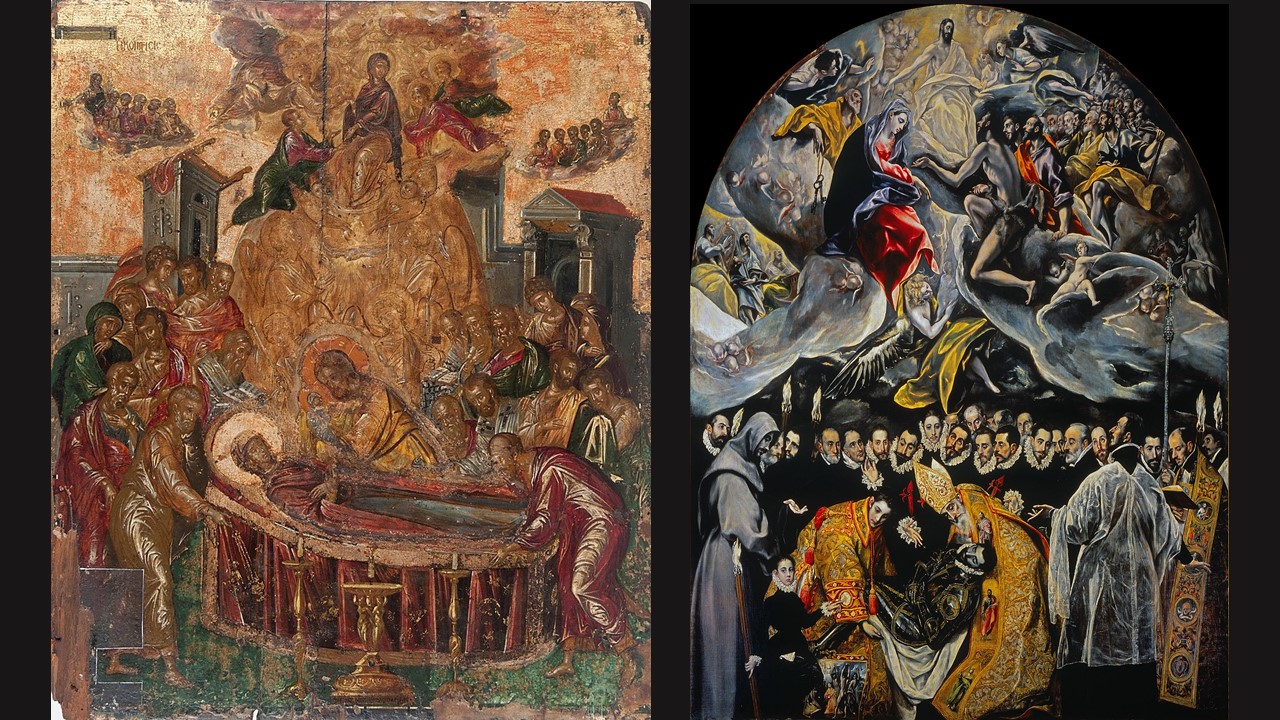 The Dormition of the Virgin is the only Theotokopoulos Icon still serving today as an object of Christian Orthodox veneration. It is still "exhibited" in Syros, the 1828-29 Basilica Church of "Psarianon" (the church of the Psara islanders) or officially known as the Dormition of the Virgin. The Icon was brought to Syros in 1824, in the midst of the Greek War of Independence by Psara Island refugees, survivors of the Psara Island destruction. https://www.lifo.gr/articles/arts_articles/253223/sti-syro-vrisketai-enas-apo-toys-protoys-kai-mexri-protinos-agnostoys-pinakes-toy-el-gkreko