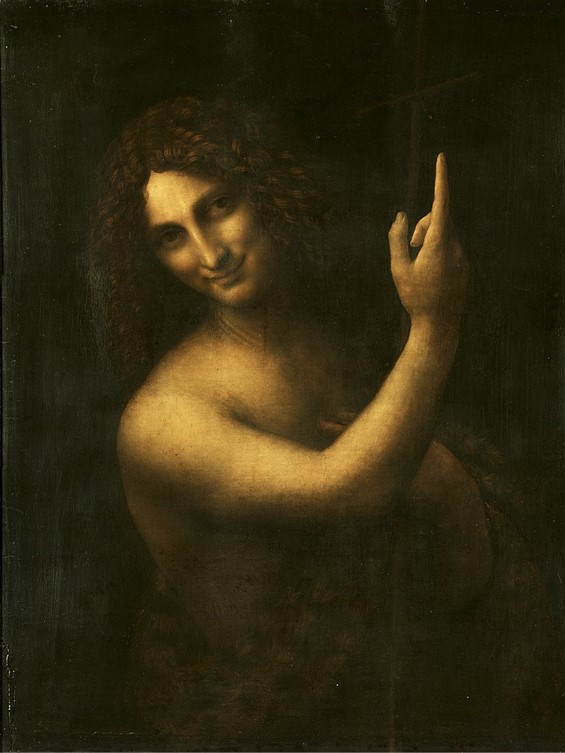 …an Angel who raises in the air an arm whose part from the shoulder to the elbow, coming forward, appears in foreshortening, while with the other he brings his hand to his heart. And it is an admirable thing that this genius (Leonardo), having the desire to give the greatest relief to his works, had, with the dark shade, gone to find some of the darkest backgrounds, so much so that he was looking for blacks that shade and were darker than the other blacks, so that by their means the light would be more lucid, and that, in the end, there would have resulted from it this manner so dark that, not remaining there any light, his works had the appearance of things. made to counterfeit night rather than the finesse of daylight; but all this was intended to give a greater relief, to reach the end and the perfection of the art. This is how Vasari describes a now-lost Leonardo painting in the collection of the Grand Duke Cosimo I. Could Saint John the Baptist by Leonardo da Vinci be the natural development of a previous composition by the master? https://collections.louvre.fr/en/ark:/53355/cl010062374
I carefully read Vincent Delieuvin, July 2021 text, on the Louvre presentational page for Saint John the Baptist. I also read The Mysterious Meaning of Leonardo's "Saint John the Baptist" by Paul Barolsky, and Vasari's Life of Leonardo just to remind myself of the painter's significance. The bibliography is exhaustive… the scholarly opinions diverse… and I need to read more! https://collections.louvre.fr/en/ark:/53355/cl010062374 and https://www.jstor.org/stable/23202683 and http://www.artist-biography.info/artist/leonardo_da_vinci/
I particularly like how Paul Barolsky relates the painting in the Louvre, to the first verses of the Gospel according to Saint John: The light shines in the darkness, and the darkness has not stopped it. There was a man sent by God; his name was John. He came as a witness, to bear witness to the Light, that all might believe through him. This man was not the Light, but he was there to bear witness to the Light. https://bible.usccb.org/bible/john/1 and https://www.jstor.org/stable/23202683
For Vincent Delieuvin of the Louvre, Leonardo's Saint John the Baptist is undoubtedly the most accomplished illustration of the Gospel's text where the last prophet is defined as the witness of the light. The artist uses chiaroscuro to stress the spirituality of the scene. He also uses the characteristic gesture of the upraised hand, expressive as well as prophetic, to create the ideal twist of a body, the perfect rendering of the play of light and shadow to magnify movement, build volume and enliven the smile, with an extraordinary economy of means, almost colourless.
What a journey… so many questions I cannot answer!
For a PowerPoint on St John's 'gesture', please… Check HERE!