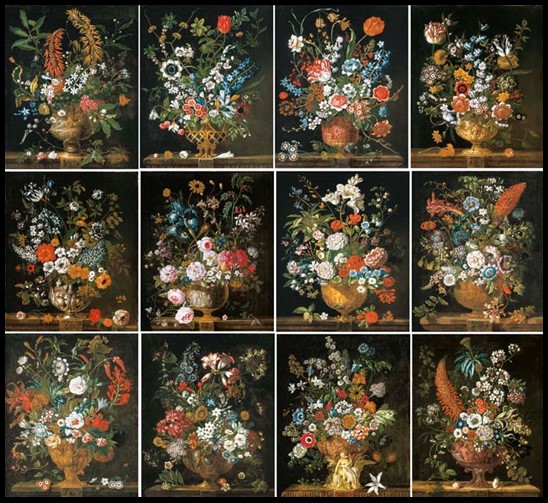 January brings the snow, / Makes our feet and fingers glow. / February brings the rain, / Thaws the frozen lake again. / March brings breezes, loud and shrill, / To stir the dancing daffodil. / April brings the primrose sweet, / Scatters daisies at our feet. / May brings flocks of pretty lambs / Skipping by their fleecy dams. / June brings tulips, lilies, roses, / Fills the children's hands with posies. / Hot July brings cooling showers, / Apricots, and gillyflowers. / August brings the sheaves of corn, / Then the harvest home is borne. / Warm September brings the fruit; / Sportsmen then begin to shoot. / Fresh October brings the pheasant; / Then to gather nuts is pleasant. / Dull November brings the blast; / Then the leaves are whirling fast. / Chill December brings the sleet, / Blazing fire, and Christmas treat… writes Sara Coleridge (1802-1852), the English translator and author of children's verse… and I think of The Twelve Months of Flowers by Pieter Casteels III! https://www.poetrybyheart.org.uk/poems/the-months/
Pieter Casteels III, painter, etcher, and designer, was a leading Flemish artist of lavish Still Life paintings. He was born in Antwerp, the son of Pieter Casteels II, a painter of landscapes and history paintings. He trained with his father, but soon, as early as 1708 he traveled to England where he established himself first as a copyist of Old Masters. While in England, Pieter became an active participant in London's artistic community, subscribing to the Kneller Academy of Painting and Drawing in 1711 and becoming a member of the Rose and Crown Club. https://en.artsdot.com/@@/A2686B-Pieter-Casteels-Iii-Bouquet-of-flowers-in-an-urn-on-postamente
The artist returned to Antwerp in 1712 and stayed for the next five years. In 1717 he settled permanently in England becoming a successful painter of exotic Still Life paintings of flowers, game, and birds that chiefly served a decorative purpose, as over-door and over-chimney pieces of ornamentation.
During the 1730s Casteels became interested in the business of printing and came into partnership with leading professionals like the engraver Henry Fletcher, and the nurseryman Robert Furber. The three of them undertook the commercial venture of designing, producing, and selling sets of hand-coloured engravings to a group of subscribers. The Twelve Months of the Year is one such set, the most popular and ambitious of all sets, the team had created.
The Twelve Months of Flowers by Pieter Casteels III presented today, is a set of twelve flower arrangements, painted in oil on canvas, the artist created in 1730. The twelve extravagant compositions represent nearly 400 different species of flowers grouped according to the month in which they bloom. The compositions reflect the grand style of the Baroque period, with the flowers arranged in perfected bouquets, set in decorative and stylized urns resting on a plinth. This amazing set of flower bouquets served as the prototype for the colour engravings Casteels produced with Fletcher and Furber, his business partners. https://www.pricefineart.com/product/twelve-months-of-flowers/
For a Student Activity, please… Check HERE!