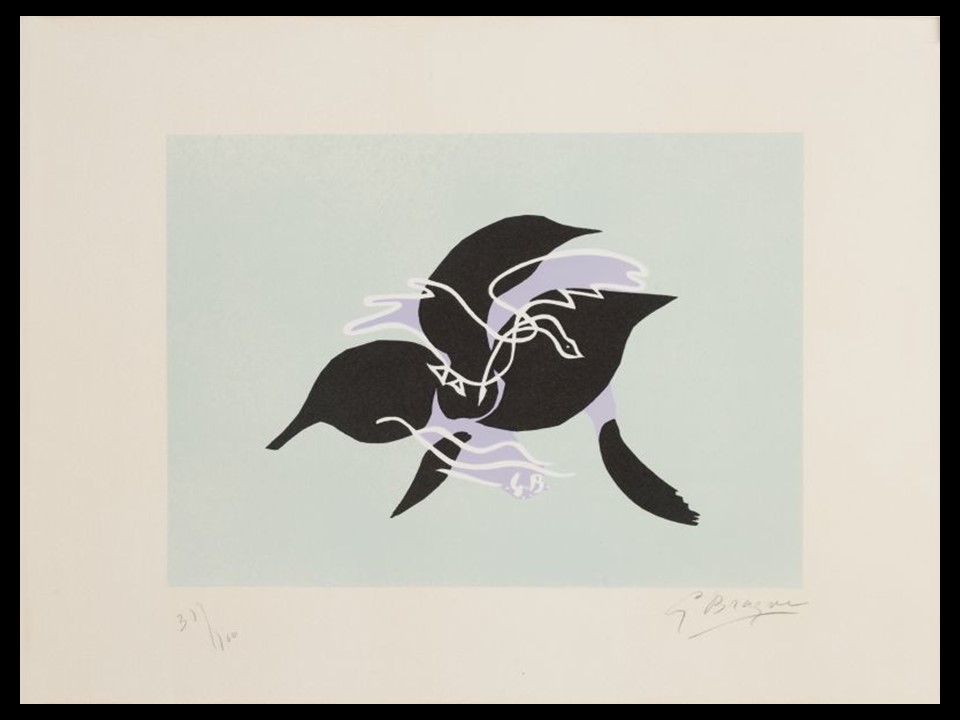 There is a small Georges Braque Lithograph, at the Basil & Elise Goulandris Foundation in Athens, titled The Flight. It caught my attention and my thoughts ran wild. I saw a soft lilac bird run, a heavy black duck dancing and a white bird, beautifully outlined over the black one, fly… away! It reminded me of Nietzsche's idea of …dancing before flying and I felt good, content and accomplished. Please don't ask why, this small Lithograph felt like a monumental accomplishment, like steps to freedom.
For George Braque, experimenting with the motif of birds in flight, started in1949 and never ended. He even visited the famous bird sanctuary in Camargue, in the south of France. This experience, as you can read, broadened his interest in birds flying, and led to his "metamorphose" bird motif "afresh."
"One summer, few years ago, I was in the Camargue. I saw some huge birds flying above the waters. From that vision I derived aerial forms. Birds have inspired me, and I try to make the best use of them that I can in my paintings. While they interest me as living animal species, I have to burry in my memory their natural functions as birds. This concept, even after the shock of inspiration which has brought them to life in my mind, must be deleted, so that I can draw closer to my essential preoccupation: the construction of pictorial art. Painting alone must impose its presence on what relates to it, and metamorphose it afresh; everything that goes to make up the picture must be integrated in this presence, and must efface itself before it."
More on Braque's fascination with Birds, "Apropos another bird painting, Braque talked to me about his visits to the Camargue, where our mutual friend the ornithologist Lukas Hoffmann… had established a vast bird reserve, La Tour du Valat. …Braque told me how the apparition of a heron flying low above the marshes had inspired his large 1955 Bird Returning to Its Nest, of all the late paintings the one that meant the most to him. Maybe because I shared his feelings for the Camargue, Braque gave me an oil study for this haunting work. I remember him saying how, on still, grey days, the sky seemed to reflect the lagoons rather than the other way round, and the birds seemed to swim through the air… "
The Art Book Tradition in Twentieth-Century Europe, Edited by Kathryn Brown, Tilburg University, The Netherlands, 2013 by Ashgate Publishing, page 54 https://books.google.gr/books?id=zEMrDwAAQBAJ&pg=PA54&lpg=PA54&dq=Braque+and+Camargue&source=bl&ots=sLPlE6IiJu&sig=ACfU3U29l5ZOfxZgXeBAxTBGDRKti-F73g&hl=el&sa=X&ved=2ahUKEwigrvj2lcLmAhVNKuwKHZkyDkIQ6AEwAXoECAkQAQ#v=onepage&q=Braque%20and%20Camargue&f=false
Inside the Artist Studio of Georges Braque by John Richardson, November 13, 2019, The Sorcerer's Apprentice. Copyright © 1999 by John Richardson Fine Arts Ltd. Published by Knopf on November 12th with a new introduction by Jed Perl https://lithub.com/inside-the-artist-studio-of-georges-braque/
A PowerPoint of my favourite paintings of Birds and Flying, by George Braque… HERE!