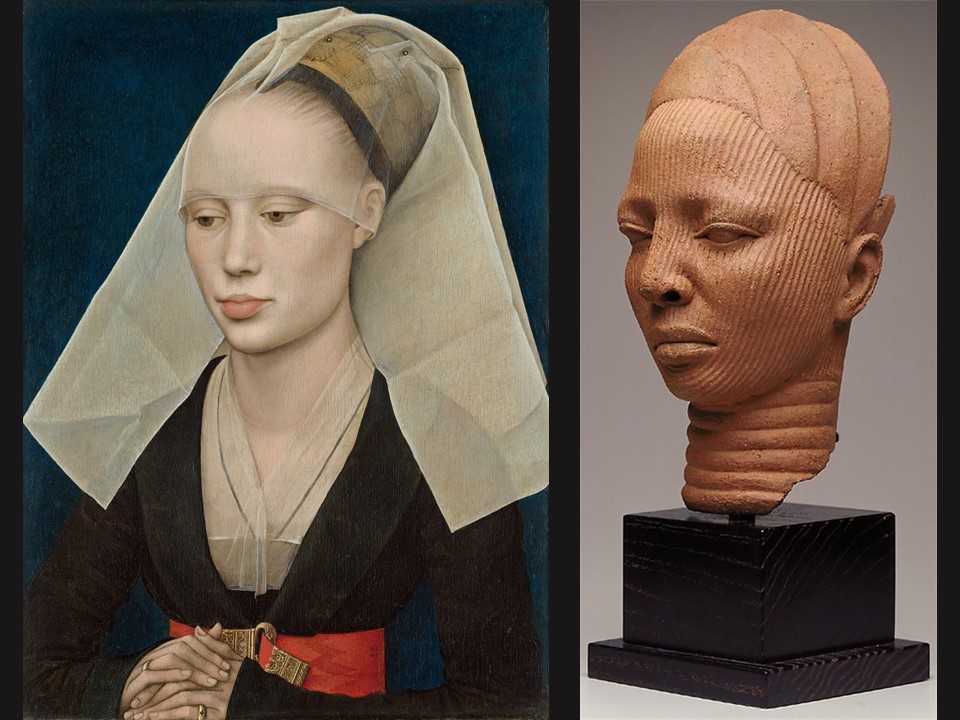 They are both beautiful and aristocratic, they look demure but haughty, they represent two different cultures… two different continents, yet they share an "attitude" I find intriguing! Can they be compared? An Unlike Comparison is a RWAP (Research-Writing-Art-Project) my students like a lot!!!
The Yoruba people have a long tradition in creating unique terracotta portrait sculptures characterized by naturalism and a sense of individuality and humanism. The Minneapolis Institute of Art Shrine Head is striking… blending aesthetic charisma with strong technical skills. The Ife Lady in Minneapolis has a lovely oval face with almond-shaped eyes under heavy lids, full cheeks, and fleshy lips. She has a condescending attitude in the way she carries her posture, she looks decorously downwards, yet, you can easily "imagine the glint in her eye and the gleam of her lips." The unknown artist of this amazing portrait follows the Yoruba fashion of the time and the face is rendered with "vertical lines following the natural contours of the woman's face…" This is a tradition "associated with scarification, the practice of cutting designs into the skin as marks of beauty and lineage." There is, however, a new theory among scholars suggesting that "the lines may be shadows cast by the veiled royal crown worn in her day." https://collections.artsmia.org/art/4866/shrine-head-yoruba
Rogier van der Weyden is an unquestionably charismatic portraitist. He has the ability to "grasp" the essence of the sitter and "deliver" it, pure and genuine. He is also able to create balanced compositions, combining the elements of art and expressing "an aristocratic ideal of control." The NGA Portrait of a Lady, a member of the flamboyant court of Philip the Good, Duke of Burgundy, is one such example. May I say, my favorite? Her name may be lost to us, but her high position in Burgundian court is, however, undisputed. She poses as the grand lady she is, in three-quarters view, resting her clasped hands under her chest, exquisitely groomed and dressed, eyes cast down, tranquil… lost in her thoughts. Is she? Rogier van der Weyden rendered her with great "affection." Every aspect of the composition is well thought… the fall of the veil, the V of the neckline, the triangles formed by dark color schemes, the sharp juxtaposition of black and white in the sitter's dress, and finally, la pièce de résistance, the bright red ornate belt, in the lowest part of the painting, behind her clasping hands, heightening up her rosy, fleshy lips. How masterful can Rogier be! https://www.nga.gov/collection/highlights/van-der-weyden-portrait-of-a-lady.html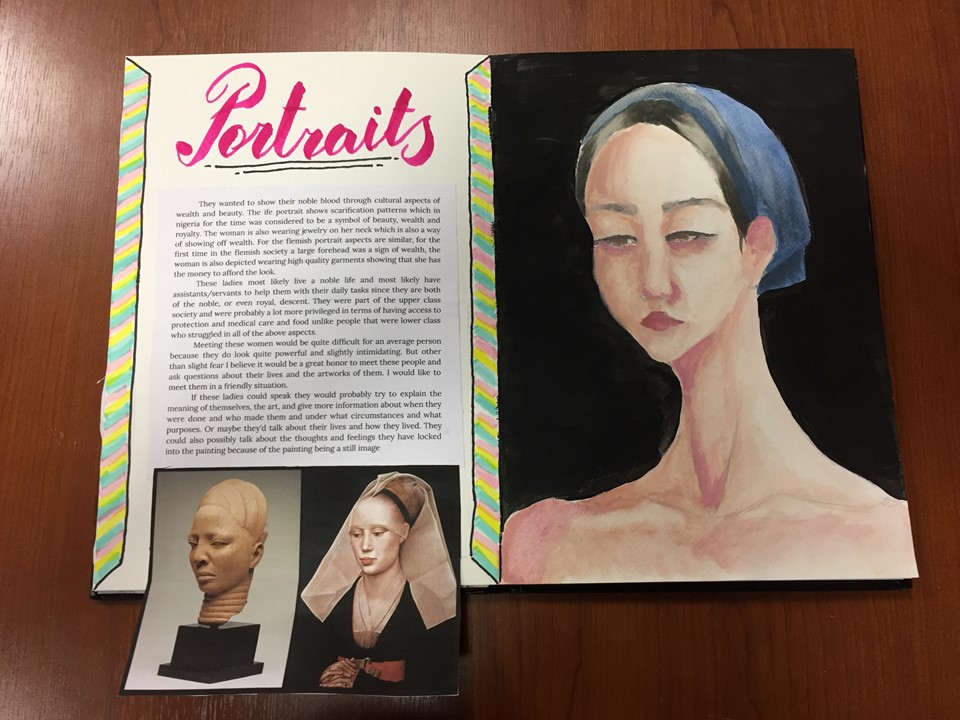 This is An Unlike Comparison, we love to talk about in my Secondary School Art History class and a RWAP (Research-Writing-Art-Project) my students really like to explore.
For the Student RWAP, please… click HERE!
For a PowerPoint, please… click HERE!