Julia Felix, daughter of Spurius was very lucky indeed! After the earthquake of 62 AD her sumptuous Villa in Pompeii, today known as the House of Julia Felix, unscathed and extending over an area corresponding to two insulae, could easily be divided into parts and rented out to ease the difficulties caused by the shortage of accommodation in the city. Her first step was to open her private bath to the public. She then, offered private apartments and shops… she even advertised on the façade of her house… "elegant bathing facilities, shops with annexed apartments upstairs and independent apartments on the first floor are offered for rent to respectable people". She was apparently, a smart businesswoman offering, as she further advertised, a long-term lease, of a period of five years "from August 1st next to August 1st of the sixth year."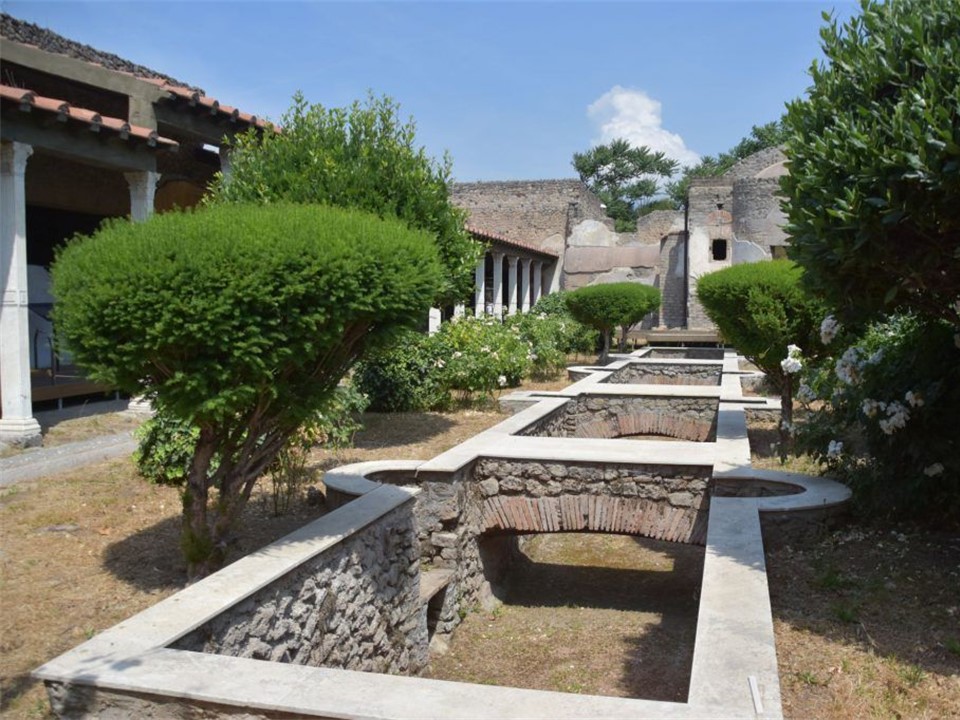 The house was easily divided into three parts. The baths, with access from Via dell'Abbondanza, were provided with all the required facilities and an open swimming pool. Julia Felix kept her own accommodations looking out onto a magnificent garden with a water channel surrounded on all sides by original marble-embellished quadrangular columns. Lastly, there were the shops, some of which opened onto Via dell'Abbondanza and some onto the side-street leading to the Large Palestra where the ground-floor rented lodgings were situated as well. http://www.pompeii.org.uk/m.php/museum-house-of-julia-felix-pompeii-en-92-m.htm
The Julia Felix's Villa was one of the first Pompeiian buildings to be excavated or rather "hunted" for treasure, back in 1755 under the direction of R.J de Alcubierre, a military engineer in the Spanish Army, and his assistant Karl Jakob Weber (1712 – 1764) a Swiss architect and engineer who was in charge of the first organized excavations at Herculaneum, Pompeii, and Stabiae, under the patronage of Charles III of Naples. Weber joined the excavations in 1749, was against the R.J de Alcubierre method of "treasure hunting" and fervently argued against it. The detailed drawings of his excavations assisted the European intelligentsia became aware of the importance of what was recovered in Campagna at the time. It is essential to stress that Weber drew plans of the excavated buildings and labeled where objects or paintings had been originally discovered and later removed from. His architectural plans and notes prove priceless for reconstructing today the details of buildings, like the House of Julia Felix, where a taberna, luxurious baths, and richly decorated formal garden dining rooms were revealed since the very first excavations of 1754/55. https://sites.google.com/site/ad79eruption/dramatis-personae/since-the-re-discovery
My favourite House of Julia Felix Frescoes are the small Still Life Scenes of the 4th Pompeian style, which date to 62-79 AD, and were discovered in the House Tablinum (Room j in the provided plan) on July 13th, 1755. This beautiful fresco composition was removed from the original wall and inserted in a wooden frame, is now exhibited in the Museo Archeologico Nazionale di Napoli. https://www.museoarcheologiconapoli.it/en/room-and-sections-of-the-exhibition/frescoes/
The four small paintings at the top of the composition form a frieze depicting… starting on the left… a display of Bread exhibited on built shelves and a presentation of various kinds of fresh fish. The next two scenes show a set of silver vessels with a spoon and a platter containing some eggs in addition to hanging quail, and a napkin and exhibited on the final scene, two shelves with a bag of coins and the instrumentum scriptorium (an inkwell, a stylus, and a papyrus).
For More Information on the Pompeian Villa, please… Check https://sites.google.com/site/ad79eruption/pompeii/regio-ii/reg-ii-ins-4/house-of-julia-felix and https://www.pompeiiinpictures.com/pompeiiinpictures/R2/2%2004%2010.htm
For a short but nice Video on the Pompeian Villa, please… Check http://pompeiisites.org/en/archaeological-site/praedia-of-giulia-felice/
For a Student Activity on how to bake Roman Bread, please… Check HERE!