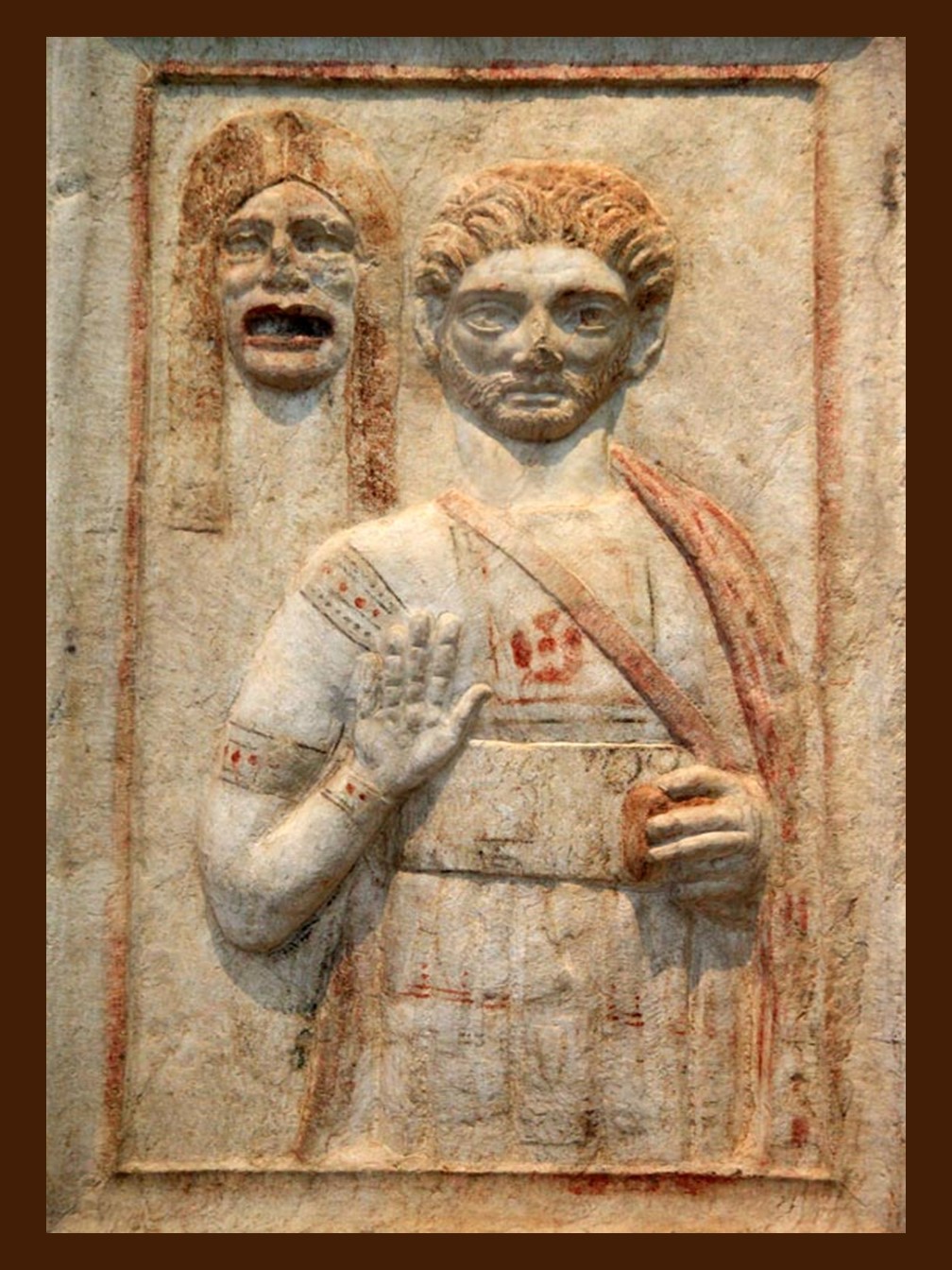 O man, with your wonderful dower, / O woman, with genius and grace, / You can teach the whole world with your power, / If you are but worthy the place. / The stage is a force and a factor / In moulding the thought of the day, / If only the heart of the actor / Is high as the theme of the play.     …     No matter what role you are giving, / No matter what skill you betray, / The everyday life you are living, / Is certain to colour the play./ The thoughts we call secret and hidden / Are creatures of malice, in fact;/ They steal forth unseen and unbidden, / And permeate motive and act. Ella Wheeler Wilcox (1850-1919) was an American author and poet who wrote THE ACTOR…an appropriate, in my humble opinion, introduction to our new POST… Areskon is my Name and I am an Actor.  http://www.ellawheelerwilcox.org/poems/pactor.htm     https://en.wikipedia.org/wiki/Ella_Wheeler_Wilcox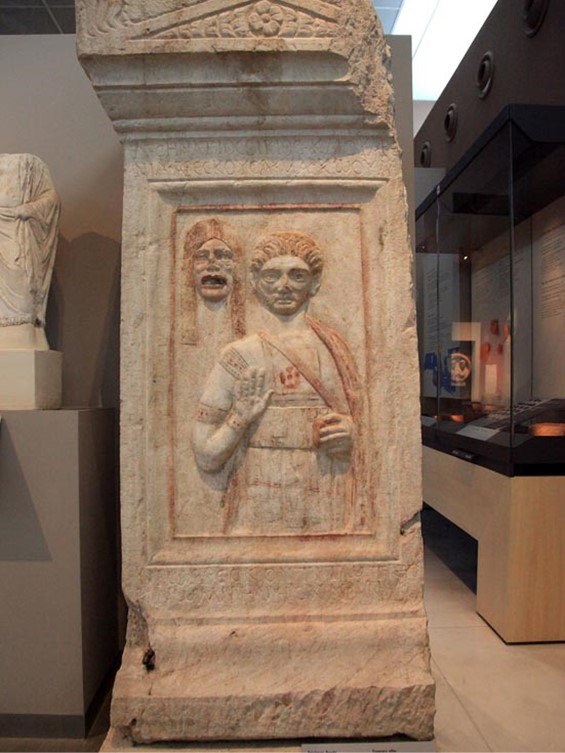 Marcus Varinius Areskon… I seek him out every time I visit the Archaeological Museum of Thessaloniki. I introduce him to my students every time I guide them around this wonderful "shrine" of the Muses… and yet I know so little about him. An inscription introduces himself.  Carved above his portrait and under it, the epitaph inscription reads… Λ(ούκιος) Σηνάτιος Οἴκιος καὶ Οὐαρε | νία Ἀρέσκουσα Μάρκῳ Οὐαρ[ε] | νίῳ Ἀρέσκοντι τῷ τέ | κνῳ μνήμης χάριν Lucius Senatius (probably an unknown member of the family) and Var(e)inia Areskousa to her son Marcus Var(e)inius Areskon in memory… I am intrigued… can the portrait of a young man and an inscription help us unravel the knot?     https://www.amth.gr/en/exhibitions/highlights
Areskon was the son of Var(e)inia Areskousa, he was related? to Lucius Senatius, he was Roman, he lived in Thessaloniki, and he died painfully young. This beautiful funerary memorial, in marble and vividly painted, the colours remain remarkably well-preserved, testifying to the economic ability of the family to honour their young demised member with a worthy memorial.     https://m.flickr.com/photos/69716881@N02/50914350016/in/faves-36551225@N05/
Areskousa and Areskon, mother and son, members of a popular family of actors, were probably entertainment "stars" of the time. This is what their names connotate (Areskon/Areskousa= one who pleases, who is popular). The mother was probably an actress of the popular mime theatre, while the son managed to elevate himself and become a young, versatile tragic actor of fame and fortune. His funerary monument is a proper testament to his popularity and wealth.
The portrait on his rectangular funerary altar shows him en face, upright, attired in military gear. His right hand is raised in salutation, the left seems to hold a sword?  In the upper left corner of the composition, still beautifully coloured, a mask, worn by male actors for a female theatrical role, identifies the male portrait as an actor of versatile abilities.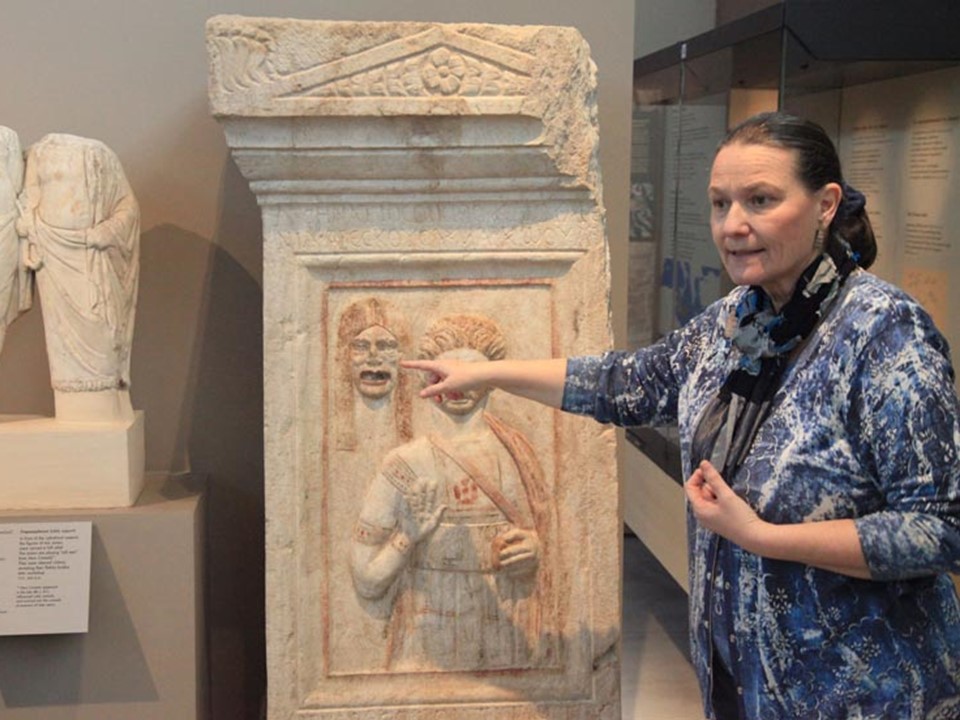 The Portrait of Areskon is shown in the middle of a simple yet elegantly proportioned structure described by the Museum archaeologists as a funerary altar. It is simply framed, sits on a pedestal and is crowned by an inscribed pediment with a central rosette, leaves and stylized acroteria. It was discovered near the eastern fortification walls of Thessaloniki, almost embedded in an apartment building of modern times. Today, exhibited in the Archaeological Museum of Thessaloniki, it is considered one of the Museum's highlights!
For a PowerPoint presenting a School Trip to the Archaeological Museum of Thessaloniki and the Funerary Altar of Areskon, please… Check HERE!
For a StudentActivity, please… Check HERE!