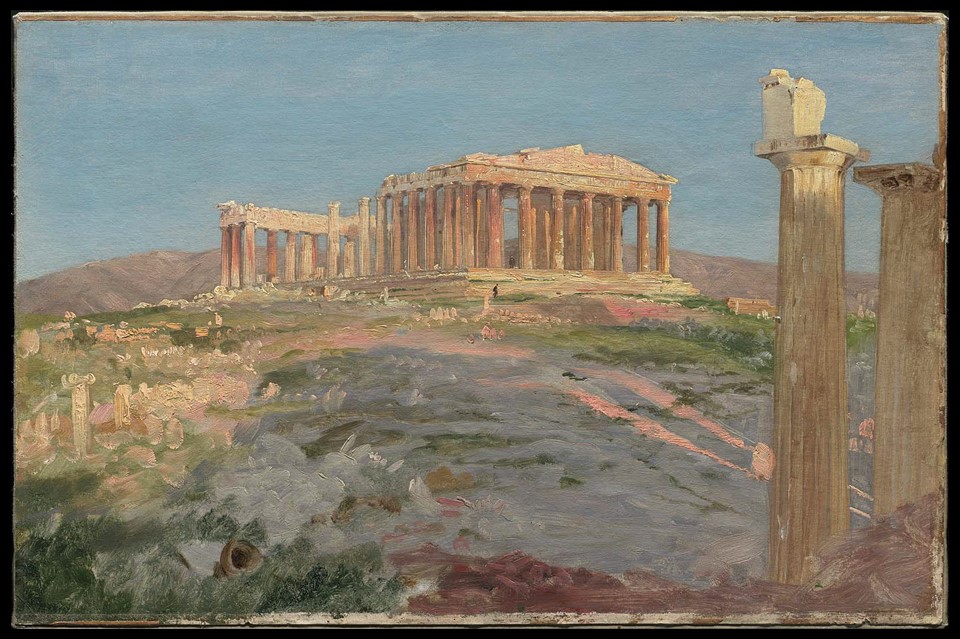 The Parthenon by Frederic Edwin Church in the Museum of Fine Arts in Boston is one of my favorite paintings of all time. I look at it and think of the artist, who wrote to his friend William O. Osborn on the 14th of April 1869… The Parthenon is certainly the culmination of the genius of man in architecture. Every column, every ornament, every molding, asserts the superiority which is claimed for even the shattered remains of the once proud temple over all other building by man… I have made architectural drawings of the Parthenon and fancied before I came to Athens that I had a good idea of its merits. But, I knew it not. Daily I study its stones and feel its inexpressible charm of beauty growing upon my senses. I am glad – and shall try and secure as much material as possible. I think a great picture could be made of the ruins. They are very picturesque as well as imposing, and the colour is superb… American Paradise: The World of the Hudson River School by Avery, Kevin J., Oswaldo Rodriguez Roque, John K. Howat, Doreen Bolger Burke, and Catherine Hoover Voorsanger, 1987, The Metropolitan Museum of Art, pp. 263-265 https://www.metmuseum.org/art/metpublications/American_Paradise_The_World_of_the_Hudson_River_School
And the colour Church employs for his MFA Study for "The Parthenon" is indeed superb! More so than the finished painting of the Parthenon in the Metropolitan Museum, Church's MFA Study captures the unique Athenian light… its shocking ability to change into all the colours of 'Iris' in the course of a day… its vibrant, warm, and eloquent qualities… its ability to touch the Pentelic marble and give it meaning, significance, and a pulsating inner world… In April 1869 Frederic Edwin Church outdid himself… creating a superb representation of a superb architectural creation.
For Frederic Edwin Church traveling to Greece was part of a three-continent Grand Tour that included England, France, Egypt, Lebanon, Jerusalem, Syria, Turkey, Austria, Switzerland, and finally Rome in Italy. The trip started late in 1867, it included the whole year of 1868 and ended in 1869. In April 1869 Church sailed to Athens, where he spent several weeks. Impressed by the Parthenon, he wrote to his sculptor friend Erastus Dow Palmer… I recently visited Greece – Athens – I was delighted – the Parthenon is a wonderful work of the human intellect – but it must be seen – no photograph can convey even a faint impression of its majesty and beauty – fragments of sculpture are strewn all about – and let me say that I think Athens is the place for a sculptor… The Greeks had noble conceptions. They gave a large-godlike air to all they did and the fragments and bits are full of merit. I spend over two weeks there with immense pleasure and profit – and when I returned – Rome with its gross architecture looked cheap and vulgar. https://www.metmuseum.org/art/metpublications/American_Paradise_The_World_of_the_Hudson_River_School
Back in the United States, in January 1870, Church wrote once more to his friend William O. Osborn… I shall commence a large picture of the Parthenon soon, probably. This picture is now part of the Metropolitan Museum Collection. My favorite Picture of the Parthenon is, however, housed in the Boston MFA. It is one, of the finest in my humble opinion, of ten carefully recorded Studies the artist did before embarking on his final representation of the Parthenon.
Celebrating UN International Day of Democracy, allow me to quote UN Secretary-General António Guterres saying… Let us commit to safeguarding the principles of equality, participation and solidarity, so that we can better weather the storm of future crises… and enjoy the eternal symbol of Democracy… The Parthenon as painted by the great American representative of the Hudson River School of Painting, Frederic Edwin Church.
For a PowerPoint on Frederic Edwin Church's 1869 trip to Athens, please… Check HERE!