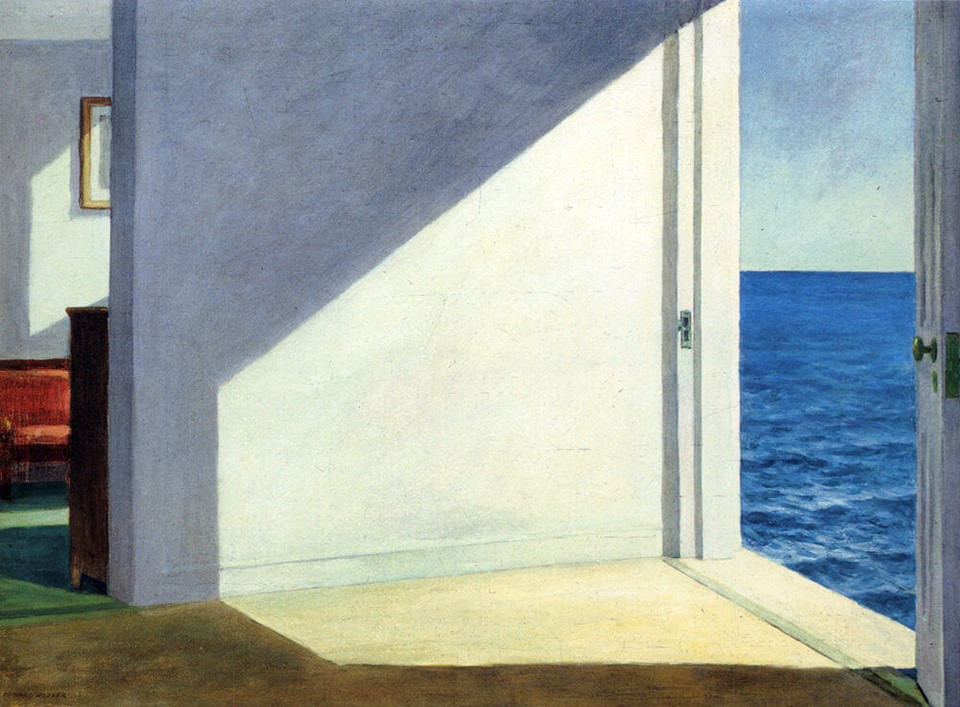 John Keats (1795-1821), as a true Romantic… dwells in Solitude, alone, in pleasant surroundings rather than in a city populated by murky buildings… O solitude! (he writes) if I must with thee dwell, / Let it not be among the jumbled heap / Of murky buildings; climb with me the steep,— / Nature's observatory—whence the dell, / Its flowery slopes, its river's crystal swell, / May seem a span; let me thy vigils keep / 'Mongst boughs pavillion'd, where the deer's swift leap / Startles the wild bee from the fox-glove bell. / But though I'll gladly trace these scenes with thee, / Yet the sweet converse of an innocent mind, / Whose words are images of thoughts refin'd, / Is my soul's pleasure; and it sure must be / Almost the highest bliss of human-kind, / When to thy haunts two kindred spirits flee. Edward Hopper (1882–1967) with his painting Rooms by the Sea creates, visually, an Icon of his own Solitude! https://www.poetryfoundation.org/poems/46561/ode-on-solitude and https://artgallery.yale.edu/collections/objects/52939
Ever since Hopper visited Cape Cod, back in 1930, he fell under its spell… As Gregory Dicum of the New York Times wrote… At low tide, the warm water of Cape Cod Bay recedes to expose banks of smooth sand, which swarm with kids, dogs, and blissfully vacationing parents. As the sun sinks toward Provincetown, it cuts through a hazy summer sky, shimmering off the quicksilver bay. Hopper was enchanted! Summers on Cape Cod were welcoming and joyful… so in 1934, he and his wife, Josephine, built a modest summer house/studio, a classic Cape, but for a huge north-facing window. For nearly 40 summers, Hopper returned to this simple dwelling to enjoy and paint… the ease of an open landscape of beach, heath, and woodlot.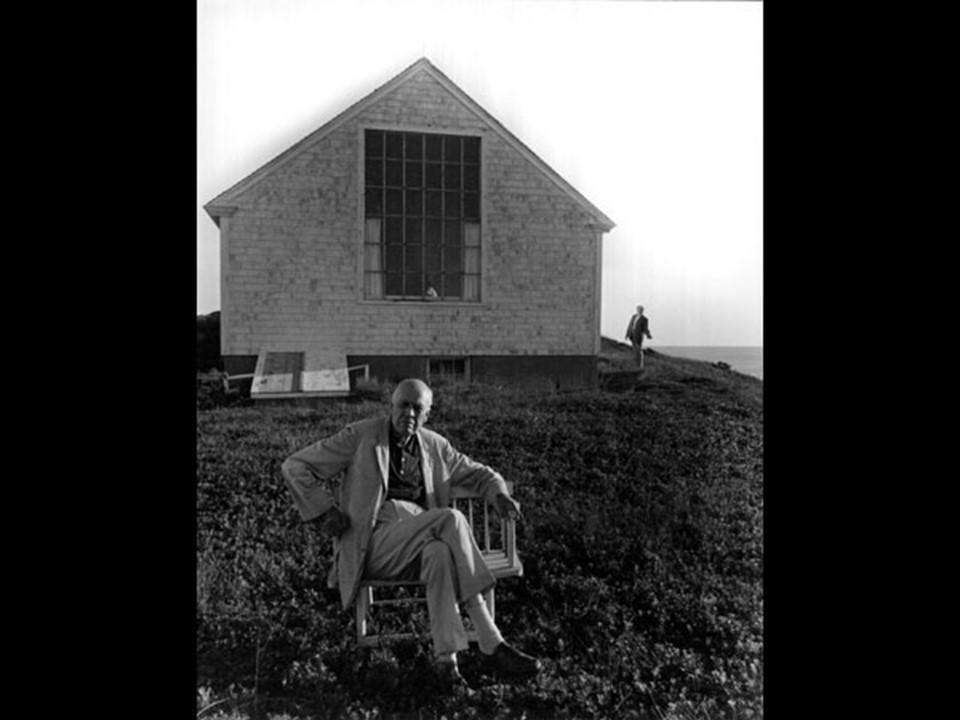 In 1951, a mature Edward Hopper painted Rooms by the Sea, a view of what Hopper would have seen out the back door of his studio… the expanse of the Cape Cod sea and the bright sunlight. What an interesting, awkward,  composition! A white, wide wall dominates the center of the composition, dividing his canvas into two distinctive parts. The left side depicts an ordinary room glared with boring tones. The right side, bathed in sunshine, presents the vastness of the sky and the energy of the sea. This is the painting of an artist who liked us to focus on mood more than detail, and the mood is that of silence and solitude. Let's not forget that the original title of the discussed painting was Rooms by the Sea. Alias the Jumping Off Place. https://artgallery.yale.edu/collections/objects/52939 and https://www.edward-hopper.org/rooms-by-the-sea/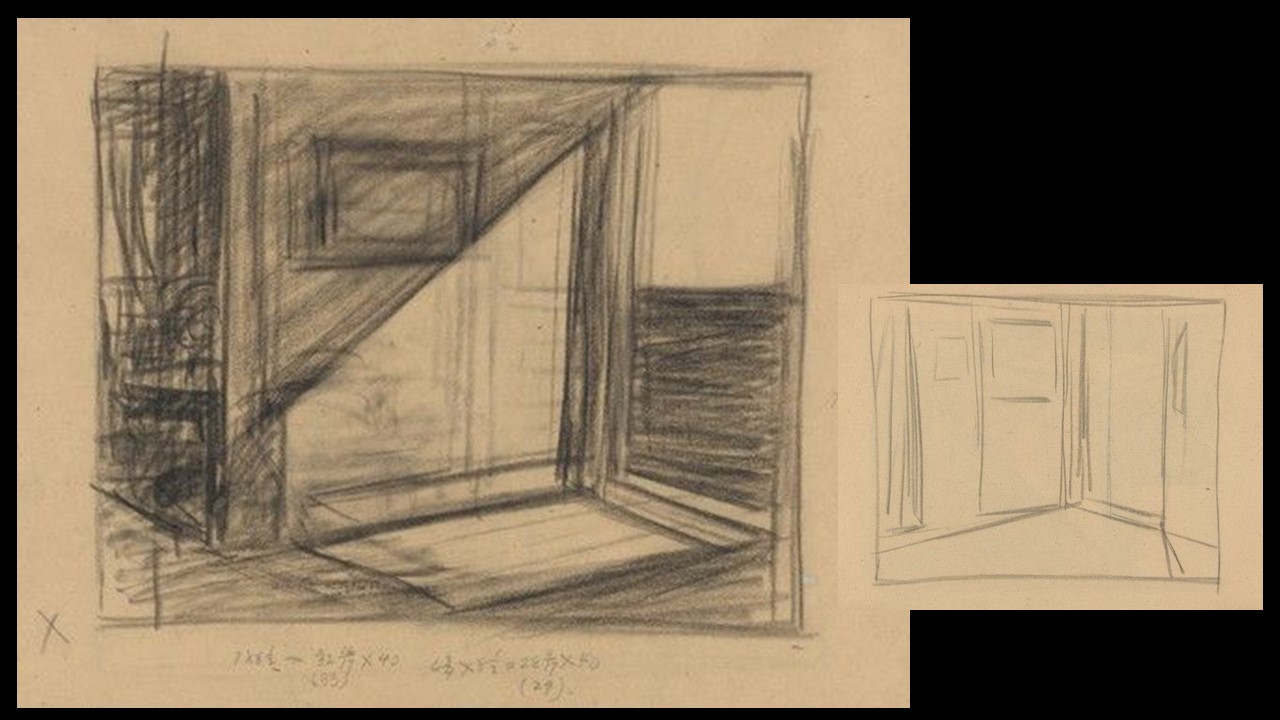 The Art Critic Clement Greenberg persuasively described Edward Hopper as a bad painter but a superior artist. I would like to wrap this presentation up with what Greenberg further wrote: "Hopper is not a painter in the full sense; his means are second hand, shabby, and impersonal, But his rudimentary sense of composition is sufficient for a message that conveys an insight into the present nature of American life for which there is no parallel in our literature, though that insight in itself is literature." So interesting… Reviewed Work: Edward Hopper: An Intimate Biography by Gail Levin, by: Alan Rutenberg, The American Scholar, Vol. 65, No. 4 (Autumn 1996), pp. 628-631 https://www.jstor.org/stable/41212573
For a PowerPoint on Hopper's Cape Cod, please… Check HERE!
An interesting Video, titled Summer On Cape Cod with Edward Hopper, by curator Joachim Homann of Harvard Art Museums… https://www.youtube.com/watch?v=j9KzVQ_9qQI