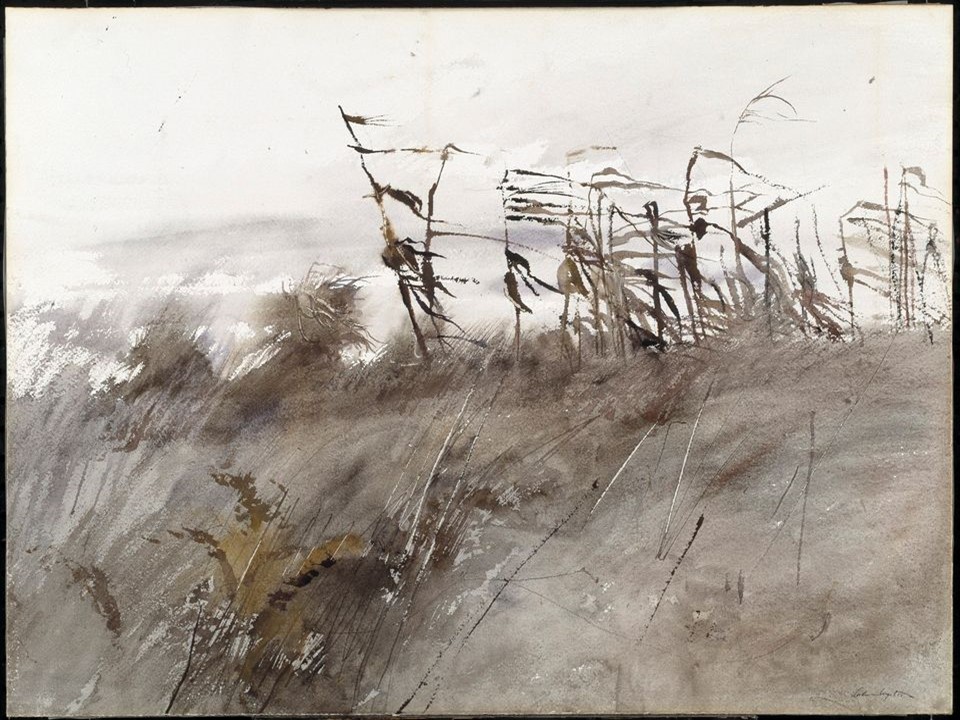 Let me quote Andrew Wyeth… I prefer winter and fall, when you feel the bone structure of the landscape – the loneliness of it, the dead feeling of winter. Something awaits beneath it, the whole story doesn't show… and introduce to you November First, a landscape of loneliness, decay, and renewal. https://www.theartstory.org/artist/wyeth-andrew/
Andrew Wyeth (1917-2009) was a highly acclaimed American artist known for his realistic and detailed paintings, primarily in a style known as American Realism. He was born in Chadds Ford, Pennsylvania, and was the youngest of the five children of the well-known illustrator and artist N.C. Wyeth. He gained widespread recognition for his works that often depicted the rural landscapes and people of Pennsylvania and Maine. He had a deep connection with the natural world, which was reflected in his art. Some of his most famous works include Christina's World, a haunting and iconic painting depicting a young woman lying in a field, and the Helga Testorf series, which portrayed a German model and became a subject of much interest and controversy.
The artist masterfully captured for example, textures, surfaces, and subtle variations in light and shadow, creating a sense of hyper-realism in his paintings. His work centered around nature, landscapes, and rural scenes showing a deep appreciation for the natural world and often depicting it with great accuracy and sensitivity. He preferred a subdued and muted colour palette, typically using earth tones, greys, and muted greens. This choice of colours and the interplay of light and shadow in his paintings contributed to the quiet and contemplative mood of his works, evoking a sense of isolation, solitude, and introspection, quiet contemplation, and emotional depth. Depicting scenes and characters from rural America, Wyeth managed to capture the essence of American rural life, and portray its beauty, simplicity, and the passing of time.
Wyeth primarily used two main painting techniques, egg tempera and watercolour. Egg tempera involves mixing pigment with a water-soluble binder made from egg yolk, resulting in a luminous and finely detailed surface. Watercolour, on the other hand, allowed for a more fluid and transparent approach.
Created in 1950, November First is a watercolour painting on paper mounted on paperboard. Part of the Smithsonian American Art Museum, Wyeth's painting depicts tattered cornstalks in a harvested field, and captures the cold damp of late autumn, portraying the inevitable cycles of decay and renewal… The cornfield shown in this watercolor was located near his studio in Chadds Ford, behind the house of Dr. Margaret Handy, the pediatrician who cared for Wyeth's two children. https://americanart.si.edu/artwork/november-first-32150
Employing a subdued and muted colour palette that resonates with the November scenery, shades of ochre, gray, muted greens, and hints of blue, dramatic contrasts of light and shadow, and a range of brushwork techniques in watercolour, including washes, and drybrush, Wyeth created a painting that evokes the distinct feelings associated with the month of November. His composition is simple yet elegant, focusing on the beauty and essence of the seasonal landscape, emphasizing a sense of quietude, contemplation, and peacefulness often associated with late autumn and winter.
For a PowerPoint presentation, please… Check HERE!