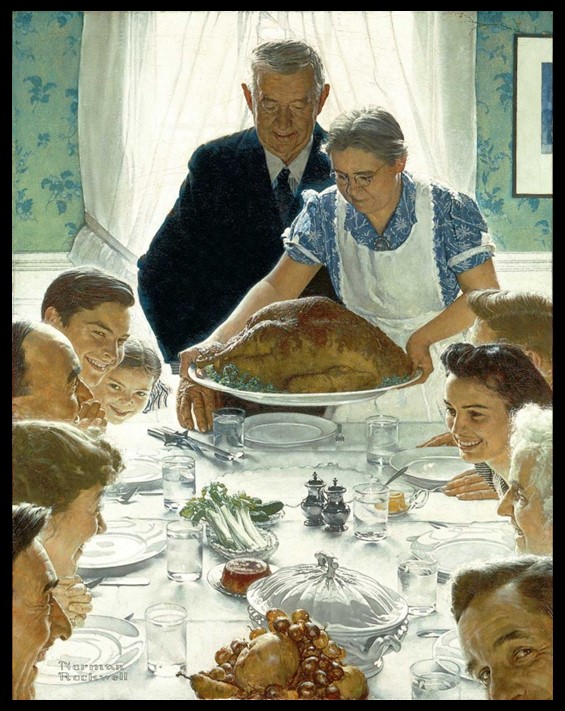 On Thanksgiving Day remember Ralph Waldo Emerson (18031882) and Give thanks for each new morning with its light, / For rest and shelter of the night. / For health and food, / For love and friends, / For everything they goodness sends… and 'feast' your eyes with Freedom From Want by Norman Rockwell.
The 'Four Freedoms' speech, the 1941 State of the Union Address by US President, Franklin D. Roosevelt, is the only Presidential speech in American history that inspired a multitude of books and films, the establishment of its own park, a series of paintings by a world famous artist, a prestigious international award and a United Nation's resolution on Human Rights. On the 6th of March 1943, The Saturday Evening Post published Norman Rockwell's Freedom From Want, a painting inspired by the 'Four Freedoms' speech, and one of my favourite Rockwell paintings. https://fdr.blogs.archives.gov/2016/01/06/four_freedoms/
Norman Rockwell had a long-standing collaboration with The Saturday Evening Post, which he considered to be the greatest show window in America. The collaboration started in 1916, when the 22-year-old Rockwell painted his first cover for the magazine, and continued over the next 47 years. By 1963, when the collaboration with the Post ended, 322 Rockwell paintings had appeared on the cover of the magazine. https://www.nrm.org/about/about-2/about-norman-rockwell/
Freedom From Want is an iconic Rockwell painting we associate with Thanksgiving. Did Norman Rockwell paint Freedom from Want to celebrate a Thanksgiving feast?
No, he did not! Freedom From Want was one in a series of four paintings Rockwell made in response to Franklin Delano Roosevelt's 1941 State of the Union address known as the "Four Freedoms." (The other freedoms were "freedom of speech," "freedom of worship," and "freedom from fear.") He offered the series to the Office of War Information (OWI). The Office turned him down 'unceremoniously,' answering back to him… 'The last war, you illustrators did the posters. This war, we're going to use fine arts men, real artists.' https://news.artnet.com/art-world/norman-rockwell-thanksgiving-freedom-from-want-three-facts-1926485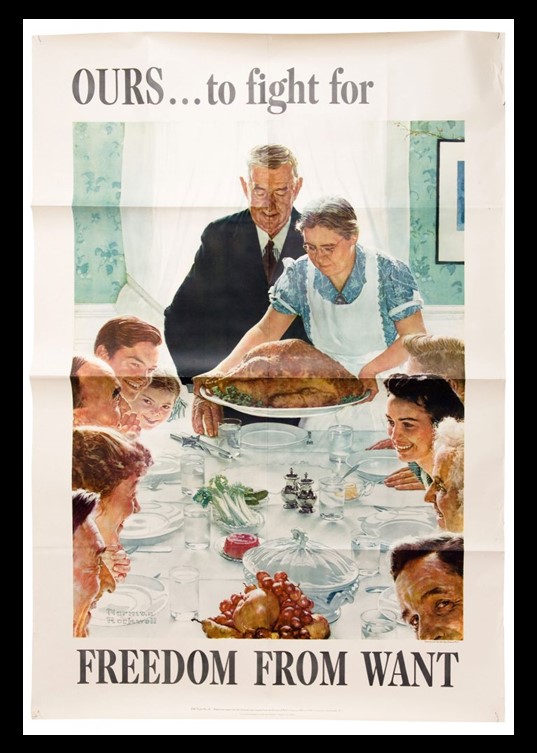 However, Ben Hibbs, editor of the Saturday Evening Post, Rockwell's devoted 'employer,' had a different opinion! Rockwell's paintings of the Four Freedoms were published, and they became so popular, that the magazine decided to offer prints for sale. The OWI, which had turned down Rockwell just a few months earlier, asked to use prints of the paintings in a war bond campaign that would ultimately garner over $132 million in bonds and stamps. Bottom line, millions of posters of Rockwell's paintings were distributed across the country and posted in schools, libraries, and post offices. https://news.artnet.com/art-world/norman-rockwell-thanksgiving-freedom-from-want-three-facts-1926485
Freedom From Want depicts an idealistic white, middle-class family seated around a crisply adorned dinner table. The patriarch, placed at the head of the table, presides over the holiday gathering accompanied by the family matriarch, who presents a roasted turkey, the 'piece de resistance' of the artist's painting. In a typical Rockwell manner, the people portrayed in the painting were his friends, family, and neighbors in the town of Arlington, Vermont, whom he photographed in his studio and painted into the complex composition individually (they never sat together). https://news.artnet.com/art-world/norman-rockwell-thanksgiving-freedom-from-want-three-facts-1926485  and https://www.nrm.org/2012/10/collections-four-freedoms/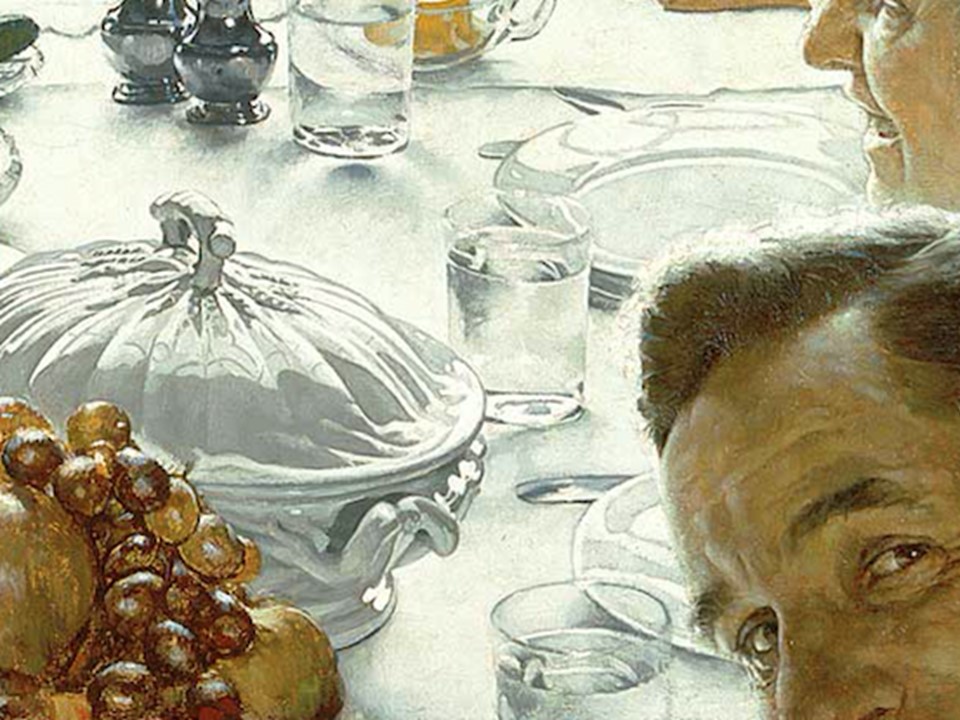 Rockwell's painting has its critics and its supporters. Even Rockwell himself thought that it 'lacked a wallop.' There are, however, many more who treasure it. Like Deborah Solomon, his biographer, who goes so far as to call the light-filled canvas 'one of the most ambitious plays of white-against-white since Whistler's Symphony in White, No. 1.' For me, the composition is highly organized, the colour tones are warm (even the whites), and light is soft. This is a family scene we have all experienced, a moment we cherish, and a Norman Rockwell painting we love! https://news.artnet.com/art-world/norman-rockwell-thanksgiving-freedom-from-want-three-facts-1926485
I would like to draw your attention to page 82 of Picturing America, and how masterfully the controversy over Rockwell the artist, or Rockwell the illustrator, is addressed… Rockwell had been born into a world in which painters crossed easily from the commercial world to that of the gallery, as Winslow Homer had done. By the 1940s, however, a division had emerged between the fine arts and the work for hire that Rockwell produced. The detailed, homespun images he employed to reach a mass audience were not appealing to an art community that now lionized intellectual and abstract works. But Rockwell knew his strengths did not lie in that direction: "Boys batting flies on vacant lots," he explained in 1936, "little girls playing jacks on the front steps; old men plodding home at twilight, umbrella in hand — all these things arouse feeling in me." https://picturingamerica.neh.gov/downloads/pdfs/Resource_Guide/English/English_PA_TeachersGuide.pdf
For a PowerPoint on Norman Rockwell's paintings of the 'Four Wants,' please… Check HERE!