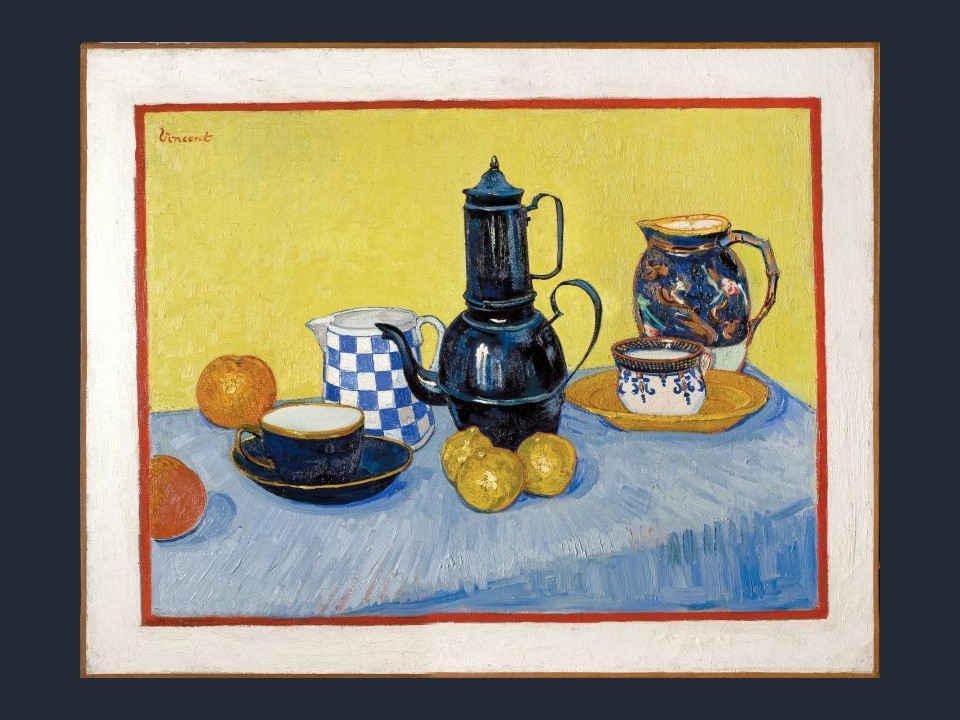 The three primary colours, red, blue yellow, a touch of orange… and how you can create a masterpiece! Still Life à la cafetière in the Basil and Elise Goulandris Foundation, at Athens, is a case to study!!!
"Painting Still Lifes is the beginning of everything," Van Gogh said back in the winter of 1884/85, and as Dutch in origin, he was so right! Let's not forget the Netherlandish attachment to this genre. During his prolific career that did not last more than a decade, from 1881 until his death in 1890, Van Gogh painted more than 170 Still Lifes! https://www.museum-barberini.com/en/van-gogh/
He started by "paying tribute" to his Dutch, 17th-century tradition of painting Still Lifes with sombre, melancholy, earthy tones. We can describe these early Still Life paintings as experiments in colour! Direct, powerful, and sincere, these early Still Life studies were created while living with his parents in Nuenen. Across a dark background, he used humble everyday objects that were probably used by his family for their everyday meals. By mixing primary colours himself, his palette was dark, brown and greyish, and the objects he was presenting were brought to life with touches of white paint. His painting, titled Still life with three bottles and earthenware, is a perfect example. https://www.vangoghmuseum.nl/en/collection/s0138V1962?v=1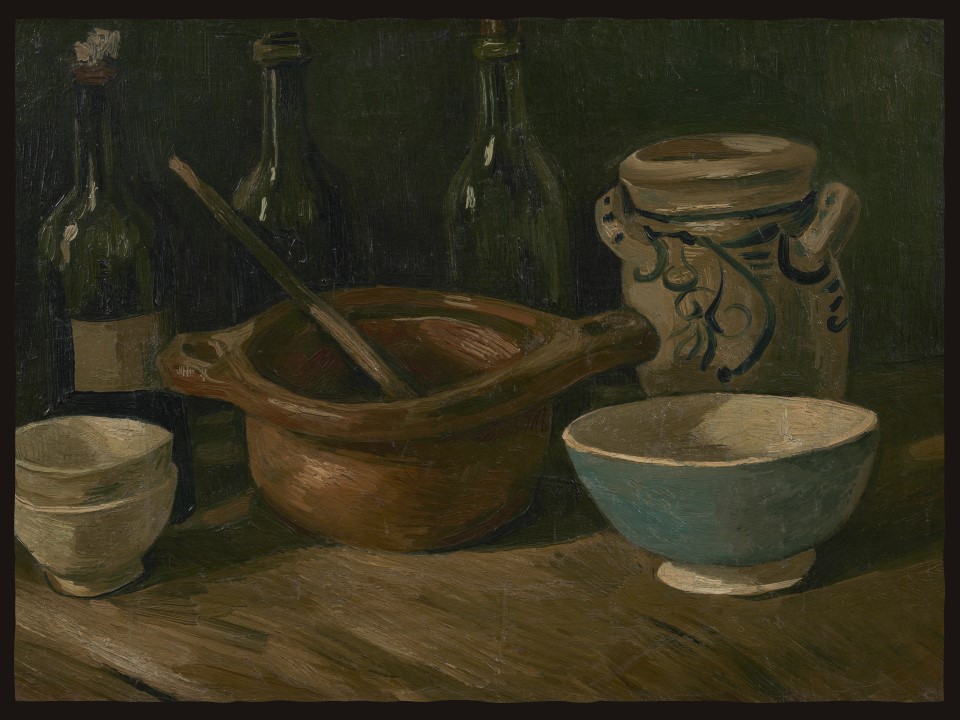 That was not enough for Van Gogh! He felt the need to develop and evolve, to practice and struggle in getting better… and so, he travels to Paris, gets in touch with Impressionism, and his Still Life paintings gradually acquire the bright Mediterranean colours of Southern France, which he so loved. Painting Still Lifes during the Paris period is very important for him. He studies every book he can get on the fundamentals of "Colour Theory" and experiments until his colour palette dramatically changes. He doesn't mix colours any more, he uses them separately, he combines complementary colours and gets rid of the use of browns. In Paris, painting flowers fascinates him, changing his technique intrigues him, communicating his feelings as well as what he sees becomes his objective. The newly authenticated Vase with Poppies at the Wadsworth Atheneum is such a representative example of his efforts at the time. https://www.theartnewspaper.com/blog/two-van-gogh-exhibitions-in-a-single-week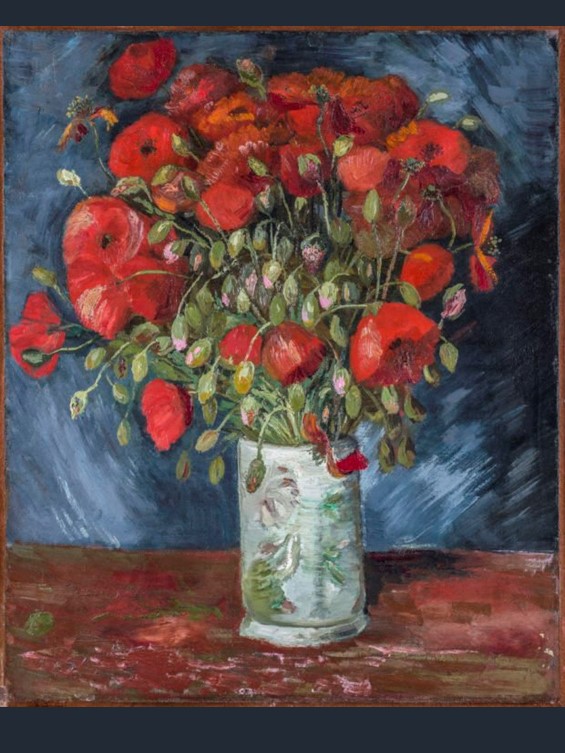 Vincent van Gogh moved to Arles in early 1888, and his palette positively explodes with colour and vibrant brushstrokes. The Basil and Elise Goulandris Foundation painting Still Life à la cafetière is an amazing example of his final period. Quoting a description of the painting in a Van Gogh letter to his brother Theo, we read… "A coffee pot in blue enamel, a cup (on the left) royal blue and gold, a milk jug checkered light blue and white, a cup (on the right) white with blue and orange patterns on a plate of earthenware yellow-grey, a pot of barbotine or majolica blue with red, green, brown patterns, finally two oranges and three lemons; the table is covered with a blue cloth, the background yellow-green, thus six different blues and four of five yellows and oranges." The art of simplicity at it's best. Once more, dispassionate items of his everyday life, search for immediacy and turn into a moving painting of extraordinary vitality. The three primary colours, lots of blues and greens, an amazing red borderline that encloses the painting, juxtapose to "touches" of complementary oranges. A diagonal composition with crossed lines animates the composition. Incredible brushstrokes forcefully convene in the enamel coffee pot, creating a sense of perspective. He works like a man in a frenzy and creates a world, his world, that feels ALIVE! Color, Space, and Creativity: Art and Ontology in Five British Writers, by Jack Stewart, 2008, Rosemont Publishing & Printing Corp., page 224, and https://goulandris.gr/en/artwork/vincent-van-gogh-still-life-coffee-pot
For a Student Activity, please… check HERE!