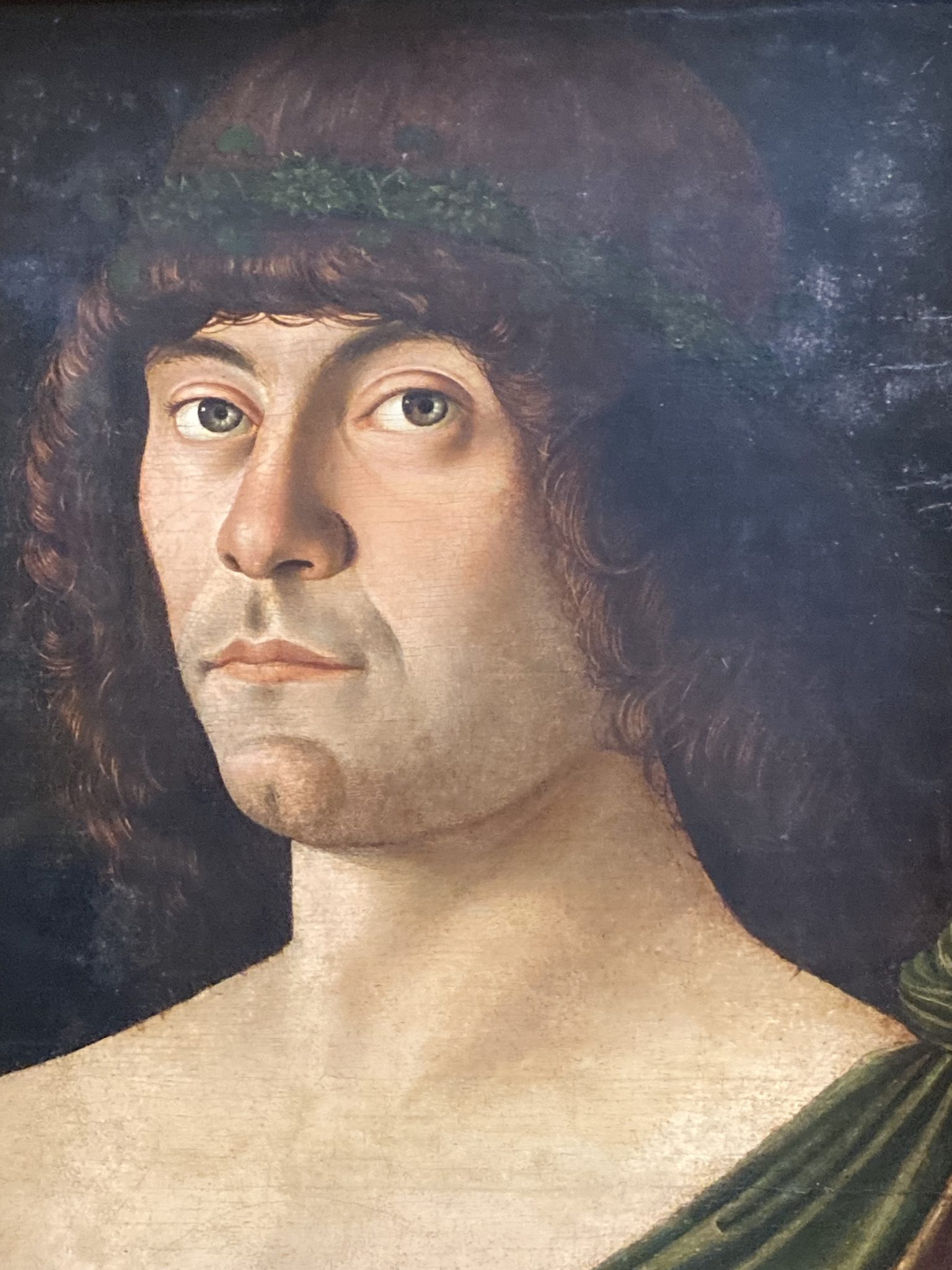 Born into a family of artists, Giovanni Bellini frequented, with his brother Gentile, the studio of their father, Jacopo Bellini, a painter of Gothic training who soon mastered the principles of Florentine Renaissance art. The young artist, write the Musée Jacquemart-André experts, Neville Rowley and Pierre Curie, introducing the Exhibition GIOVANNI BELLINI Influences croisées (Paris, from 3 March to 17 July 2023), immersed himself in the art alongside his father, brother and his brother-in-law Andrea Mantegna, whom his sister Nicolosia had just married. Classicism, sculptural forms, and a good command of Mantegna's perspective had a great influence on the artist… Is Bellini's Portrait of a Young Man à l'Antique, presented in the exhibition, the Portrait of Andrea Mantegna? https://www.musee-jacquemart-andre.com/en/giovanni-bellini
Mantegna's marriage to Nicolosia Bellini was a positive development for both parties involved. Giorgio Vasari describes the event in his own, matter of fact, way… Andrea, thus left alone in the said chapel (Chapel of S. Cristofano, which is in the Church of the Eremite Friars of S. Agostino in Padua), painted the four Evangelists, which were held very beautiful. By reason of this and other works Andrea began to be watched with great expectation, and with hopes that he would attain to that success to which he actually did attain; wherefore Jacopo Bellini, the Venetian painter, father of Gentile and Giovanni, and rival of Squarcione, contrived to get him to marry his daughter, the sister of Gentile. Hearing this, Squarcione fell into such disdain against Andrea that they were enemies ever afterwards; and in proportion as Squarcione had formerly been ever praising the works of Andrea, so from that day onward did he ever decry them in public. http://www.travelingintuscany.com/art/gutenberg/vasarilives3.htm
The marriage of Andrea Mantegna to Nicolosia Bellini was significant in several ways. The marriage, for example, brought Mantegna into contact with the Bellini family, which had a significant influence on the development of Venetian art. Mantegna was already a highly respected artist in his own right, but his marriage to Nicolosia helped to solidify his reputation and establish him as a leading figure in the Italian Renaissance. For the younger brother-in-law, Giovanni Bellini, the marriage led to a cross-pollination of ideas and approaches between the two brothers-in-law. In fact, there is evidence to suggest that the two artists had, occasionally, a close working relationship. Mantegna's influence on Bellini can be seen in his use of perspective, which was a technique that Mantegna had mastered. Furthermore, it is believed that Giovanni Bellini was influenced by Mantegna's interest in classical antiquity, his Portrait of a Young Man à l'Antique is evidence enough, of the use of color, light, and shadow to create a sense of depth and three-dimensionality.
While in Paris, attending the brilliant Exhibition GIOVANNI BELLINI Influences Croisées, at the Musée Jacquemart-André, I was surprised, most pleasantly, by Bellini's Portrait of a Young Man à l'Antique. The Exhibition curators present this unusual painting as a possible portrait of Andrea Mantegna. Searching the history and provenance of the painting, I came upon different identification names… Portrait of a young man à l'Antique, Portrait of a Humanist, or Poeta Laureato. Not just so, this is, I believe, a little-known painting with a complicated history of credit. It has been attributed to Antonello da Messina, Alvise Vivarini, and Giovanni Bellini. The depicted young man has been identified as the painter Andrea Mantegna, or the poet Raffaele Zovenzoni. Do I know the true identity of the artist and the represented young man? The answer is No! What I know is that the Portrait I saw was eye-catching, magnetic, bold, and alluring.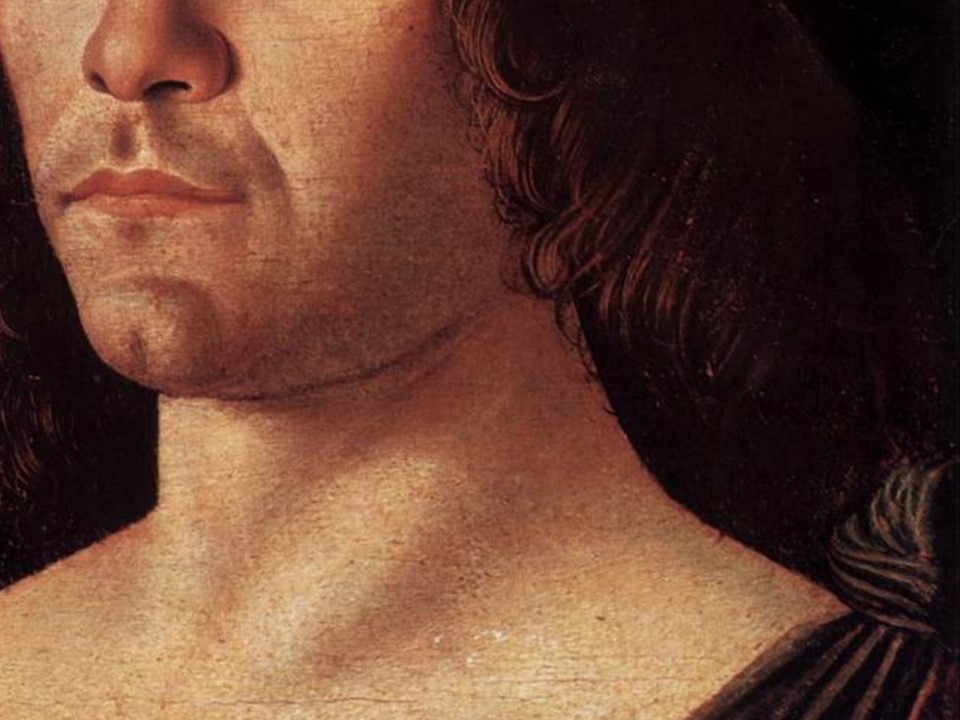 The painting depicts a young man dressed in classical clothing, with a serene expression on his face. The background of the painting is a neutral brown color, which helps to emphasize the figure's features and clothing. What I found striking is the incredible level of detail in the young man's face, which, painted with great care and with subtle gradations of color, creates a lifelike appearance. Painted in front of a dark background, the young man is depicted wearing an olive-green and brown garment à l'Antique. His rich auburn hair is crowned by a wreath of myrtle, he features a strong chin, a straight nose, and olive-green coloured eyes! Whoever the young man is, I would like to believe this is a liking of Andrea Mantegna, Giovanni Bellini's painting is a beautiful example of Renaissance portraiture, characterized by its attention to detail, lifelike rendering, and incorporation of classical imagery. The painting is a testament to Bellini's skill as an artist and his contribution to the development of Renaissance art in Venice.
For a Student Activity, please… Check HERE!