I am still dreaming of Paris and the wonderful Exhibitions I saw! Today's BLOG POST titled Perhaps… a Portrait of Hatshepsut! presents the Head of a Royal Figure of the New Kingdom era, the 18th Dynasty to be specific, that captured my eye and soul. It is exhibited at the Hôtel de la Marine, on the Place de la Concorde, in the heart of Paris, and it is part of the fabulous Al Thani Collection.
The Head of a Royal Figure is a testament to the skill of ancient Egyptian sculptors and their ability to capture the essence and power of their subjects. It is also a valuable artifact that provides insight into the art and culture of the New Kingdom period and the representation of pharaohs during this time.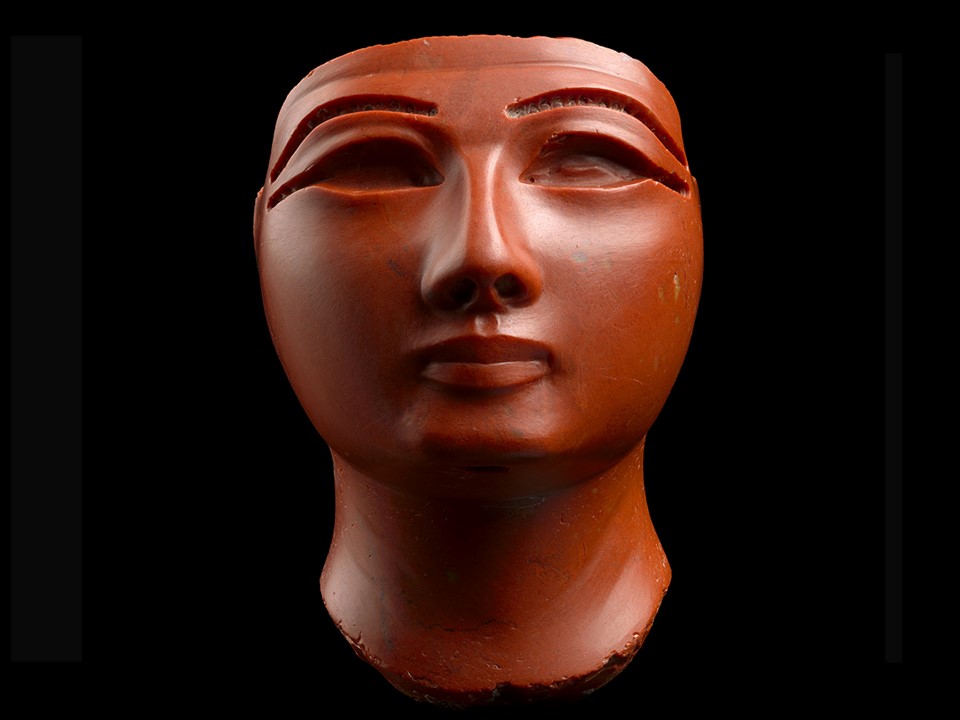 This wonderful small jasper Royal Head was part of an ancient Egyptian composite statue, a type, that is, of sculpture that combines multiple elements to create a single figure. These statues were typically made of various materials, including stone, wood, and bronze, and were often created to represent gods, pharaohs, and other important figures in Egyptian society. The Al Thani Head of a Pharaoh would have been completed by a faience crown and the bronze beard of the god Osiris.
The Egyptian artist who created this Royal Head Figure used an exceptionally pure red jasper stone. Red Jasper is a variety of chalcedony, which is a mineral in the quartz family. It was a popular material used in ancient Egyptian sculpture, particularly during the New Kingdom period (1550-1070 BC). Often used to create small-scale figurines and amulets, like the Al Thani Royal Head, red jasper was believed to have protective and healing properties. It was also valued for its rich, warm color and smooth texture. Polished to a high sheen ancient Egyptian objects made of red jasper have an enduring beauty and power that continue to inspire people today.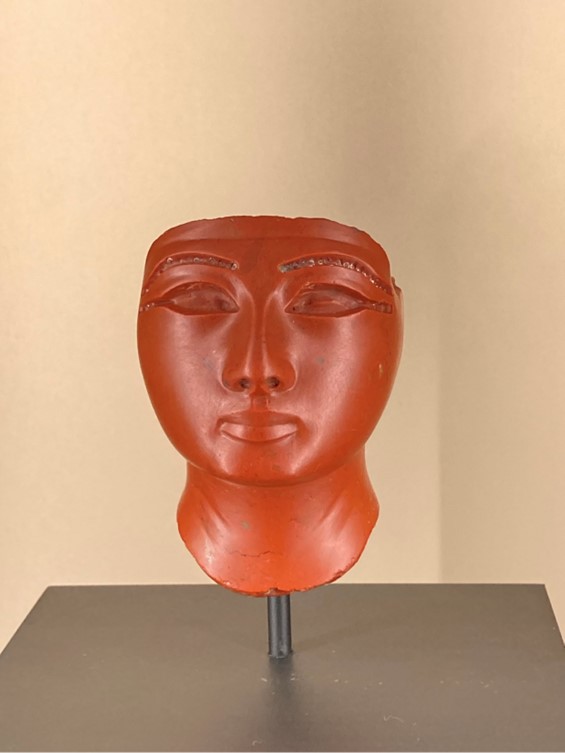 The identity of the Pharaoh represented in the Al Thani Head of a Royal Figure is not absolutely clear. Carved in the 18th Dynasty, a high point of ancient Egyptian civilisation, this head is believed to depict either Queen Hatshepsut or King Thutmosis III. Its perfect state of preservation and outstanding artistic quality have earned this head a privileged place among sculpture of the New Kingdom.https://www.hotel-de-la-marine.paris/en/The-visit/The-visitor-circuits/La-visite/The-Al-Thani-Collection/Elements-Collection-Al-Thani/Repertoire-Highlights-Collection/Head-of-a-Royal-Figure
My personal wish… is that the Al Thani Egyptian Portrait represents Hatshepsut. I am particularly fond of this amazing woman… who ruled as any powerful pharaoh would during the 18th dynasty, accomplished successful military campaigns, finished ambitious building projects, like the funerary Temple at Deir el-Bahri, and undertook daring, explorative campaigns, like the expedition to the land of the Punt. The Al Thani Portrait depicts a Pharaoh with a round face, plump cheeks, large almond-shaped eyes, a straight nose slightly curved at the tip, and full lips. What a Portrait!!!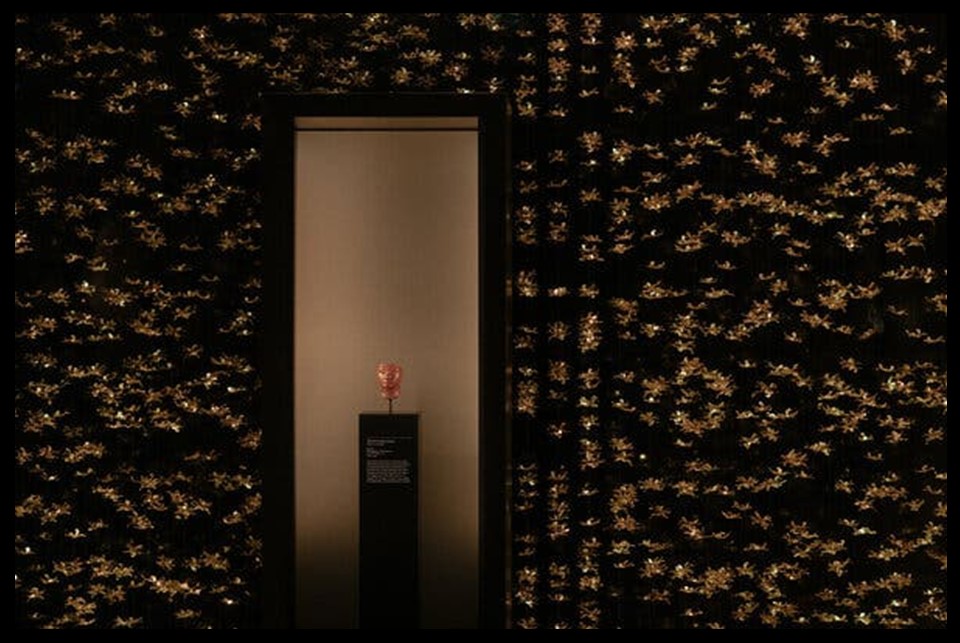 Representing Hatshepsut or Thutmosis III, the ancient Egyptian Royal Head is part of the fabulous Al Thani Collection. Since November 2021, highlights from The Al Thani Collection have been on public exhibition at a dedicated museum space at the Hôtel de la Marine in Paris. The Collection contains an exceptional array of artworks spanning the ancient world to the present day. Encyclopaedic in its approach, and representing a diverse range of cultures and civilisations, this extraordinary collection celebrates creativity and the universal power of art through the ages. I spent a fulfilling morning, dazzled, once more, by the 'beauty' of art! https://www.thealthanicollection.com/
For a Student Activity, inspired by today's BLOG POST titled Perhaps… a Portrait of Hatshepsut! please… Check HERE!